Profiteroles, Choux a la Creme or Cream Puffs  are made from light choux pastry and filled with whipped cream, pastry cream, ice cream or whatever you choose!  They are out of this world and easy to make!
I can't get enough of these babies! I make them bite size, which is probably a mistake, because then I just keep popping them in my mouth and forgetting how many I've eaten!  I love them any way you can serve them up.  The whipped cream is light and airy and the pastry cream is rich and creamy.  With ice cream and some chocolate syrup, these are over the top!  I think I may try the more savory route for my next recipe and make them with some chicken salad or another filling.  That would be perfect at a luncheon.  Well, make sure you give these a go.  They are much easier to make than you would imagine and people will think you some kind of cooking genius when you serve them these! Get your apron out and make some Cream Puffs!
What's your favorite dessert recipe?  Pastry recipe?  Holiday dessert?  Leave me a comment! Go to this Recipe on YouTube or visit my Facebook Page! Let me know if there's something you'd like to see.  What you're craving could be my next recipe!
Get my Pastry Cream Recipe here >> Pastry Cream Recipe – Creme Patissiere
Learn how to make homemade Whipped Cream >> Whipped Cream Recipe
Watch the video!  Learn How To Make Cream Puffs!                                  Recipe by: Diane Kometa
Get updated when I release New Recipes!  It's Free! Do It! 
Don't Miss An Episode!
Cream Puffs Recipe / Profiteroles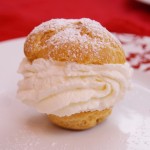 Prep time:
Cook time:
Total time:
Yield:

24 small puffs

Difficulty:

easy

Recipe type:

Dessert, Pastry
Ingredients:
½ cup water

¼ cup unsalted butter – at room temperature

½ cup flour

2 to 3 eggs

Pinch of salt

½ tsp. sugar

Note: This recipe is for a single batch and makes about 24 puffs. In the video demonstration I used more eggs, as well as other ingredients, because I made a double batch. Follow this recipe for 24 puffs, using 2-3 eggs NOT 4-5 eggs, as I demonstrate. I froze the second batch before baking, which is why you never see them. Btw, I baked the frozen ones 2 weeks later and they were just as good as the first batch! Great idea when planning ahead for parties or family gatherings!
Directions:
Preheat oven to 400 degrees F
Line a baking sheet with parchment paper
In a bowl, whisk to together flour, sugar and salt until thoroughly combined.
Place a pot over medium high heat. Add the water and softened butter. Bring to a full boil.
Dump the flour mixture into the pot of water all at once and immediately stir vigorously with a firm spoon or spatula. . Don't use anything that will bend, because the mixture will thicken into dough and you have to be able to stir it fast. Adjust temperature as necessary, so as not to brown the dough. The dough will produce a lot of steam at first. Continue to stir vigorously. As the dough cooks, moisture is evaporating. Enough moisture must evaporate from the dough for it to absorb the fat from the eggs. The dough will form a ball and a film will develop at the bottom of the pot. Once this occurs, remove the pot from the heat and place the dough into a bowl to cool. Let the dough rest for about 5 minutes. I sometimes spread the dough out in the bowl, by pressing it up against the sides and bottom of the bowl to help it to cool.
To the cooled dough, add one of the eggs and stir vigorously to combine. The dough will come apart into pieces when you begin to stir in the egg and as the egg is absorbed into the dough it will come back together again. When it comes back together and the egg is thoroughly combined, add another egg. The same thing will occur, but this time after the second egg is completely combined, check the consistency of the dough. See video. Scoop some of the dough up onto your spoon and raise the spoon above the bowl and turn the spoon to see if the dough falls slowly back into the bowl or if it just sticks to the spoon or falls off in a big lump, you need to add another egg and test again after it is combined with the dough. When the dough falls slowly from the spoon, you're ready to make the puffs.
Using either two spoons, a piping bag fitted ½ inch tip or a small ice cream scoop, place dough onto the lined baking sheet about two inches apart. See video. I make small bite size puffs, which are perfect for entertaining. They're also nice this size served three on a plate. Once all of the dough is on the sheet, dampen your finger tips with some water and gently smooth any tiny pieces of dough sticking out from the puffs. If not smoothed, they will cook faster than the puffs, so they will be darker or could even burn.
Place the baking sheet on the center rack of your preheated oven and bake for 10 minutes at 400 degrees F and then reduce the heat to 375 degrees F and continue to cook for about 15-20 minutes or until the inside of the puffs has dried. You will have to check them to determine if they're done. Do this by cutting open one of the puffs. The inside should not be sticky or moist. See video. If it is, you can simply return the puffs to the oven and check them again in about 5 minutes. Another option is to either poke a hole in the side of each puff with a tooth pick or make a small slice on the side of each puff, where you plan on cutting them to fill them and then return them to the oven for another 5 minutes and check them again. Poking the hole or making the slice will assist in drying the puffs, as it will allow any steam to escape. Always remember to allow a few puffs for testing in every batch. The cook gets to eat the test puffs, so it's not such a bad thing! Once the puffs are done, allow them to cool on the baking sheet. Fill and serve immediately. Cooled unfilled puffs can be stored in an airtight container until ready to serve.
To reheat unfilled puffs: Preheat oven to 300 degrees F and warm for about 3 minutes.
To fill puffs, slice each profiterole in half and fill the puffs with my whipped cream, pastry cream, buttercream or ice cream. They are also nice topped with a chocolate glaze or some powdered sugar. They are also nice topped with a chocolate glaze or some powdered sugar. They're so small that you just pop them into your mouth and they're gone! Try not to eat too many! Enjoy!
Note: The puffs are best eaten the day they are made, but I've stored unfilled puffs for a couple of days in an airtight container or plastic bag and reheated them as described above. If you're serving to guests, you may want to just make them early the same day, so they're at their best or make them ahead and freeze them. To do this, make the dough and put the puffs on the baking sheet and smooth them, but do not cook them. Place the baking sheet into the freezer, uncovered. When the puffs are frozen, you can then cover them with foil, plastic wrap or take them off of the sheet and put them into a freezer safe bag. When you're ready to bake them, remove them from the freezer and bake on a baking sheet at the 400 degrees F for 10 minutes and then 375 degrees F until they're done. This will take at least 20-25 and longer. You should do a test run on something like this, before attempting it the day of gathering. It's best to be sure of the outcome concerning times and temperatures, as oven temperatures vary. Puffs filled with whipped cream, buttercream or pastry cream should be served immediately or should be refrigerated. Recipe by: Diane Kometa
Published on by Dishin' With Di
Tagged: butter, choux pastry, Christmas, cream, cream puffs, Desserts, Diane Kometa, Dishin With Di, dough, Easter, easy, eggs, flour, from scratch, homemade, How To Make, ice cream, Mother's Day, New Year's, New Year's Eve, pastry, pastry cream, pate a choux, profiteroles, quick, Recipe, salt, St. Joseph's Day, sugar, Thanksgiving, Valentine's Day, video, water, whipped, YouTube