Cream Cheese Frosting is perfect for cakes, cupcakes, desserts, breads, muffins…   I could keep goin' here!  It's delish!
Watch the Video Demonstration!
Learn How to Make Cream Cheese Frosting!
Subscribe to Dishin' With Di's YouTube Channel for the latest recipes! It's FREE! Leave me a comment! Go to this Recipe on YouTube or visit my Facebook Page! Let me know if there's something you'd like to see. What you're craving could be my next recipe!
Cream Cheese Frosting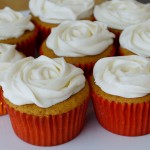 Prep time:
Cook time:
Total time:
Yield:

Frosts about 24 Cupcakes (if you pipe, it may be fewer)

Difficulty:

easy

Recipe type:

Dessert
Ingredients:
Ingredients

8 ounces Cream Cheese – room temperature

½ cup butter – room temperature

2 tsp. vanilla extract

3-4 cups powdered sugar – sift if you like – use more if needed

Add a little Pumpkin Spice/Pumpkin Pie Spice, if you'd like! My recipe link for that is below!
Directions:
In a bowl using a hand or stand mixer, beat the cream cheese until smooth.
Add the butter and beat until creamy.
Add the vanilla extract and combine thoroughly.
Gradually add powdered sugar, until smooth and creamy scraping down the sides as necessary. Add the sugar to your taste and desired consistency. Note: If what you will be applying the frosting to is sweet, then you may not want the frosting to be too sweet. You be the judge on the taste, but I usually use between two and four cups for the full recipe.
Chill in the refrigerator for about 30 minutes or more, before frosting or piping.
Pipe or spread as desired on cupcakes, cakes or the dessert of your choice. Enjoy!

Note: This frosting and anything you put it on must be refrigerated.  It may seem soft after making it, but it does firm up in the fridge.  I've made this days ahead and have also frozen it for about a month.  Be sure to put plastic wrap directly on the frosting in an air tight container, so that it does not dry and become crusty.  When you are ready to use it, if frozen, let it thaw in the fridge and then let it sit at room temp just long enough to be able to beat it with the mixer to restore it's creamy texture.

Perfect with my Red Velvet Cupcakes! Pumpkin Cupcakes! Add my Pumpkin Pie Spice for some extra flavor!
Published on by Dishin' With Di
Tagged: 4th of July, best, brownies, buns, butter, Cake, cheese, Christmas, confectioners, cookies, cream, cream cheese, cupcakes, demonstration, Dessert, Desserts, Diane Kometa, Dishin With Di, Easter, easy, Father's Day, from scratch, Frosting, Halloween, homemade, How To Make, Icing, Labor Day, Memorial Day, Mother's Day, muffins, New Year's, New Year's Eve, Old Fashioned, powdered, quick, Recipe, St. Patrick's Day, sugar, Super Bowl, Thanksgiving, tutorial, Valentine's Day, vanilla, video, YouTube