Everyone loves Crab Dip!  Well, everyone I know does!  This is an Easy, Hot Appetizer Recipe that I make all year round.  Crab Dip is always a hit!
Watch the Video Demonstration!  Learn How to Make Crab Dip!
Subscribe to Dishin' With Di's YouTube Channel for the latest recipes! It's FREE! Leave me a comment! Go to this recipe on YouTube or visit my Facebook Page! Let me know if there's something you'd like to see. What you're craving could be my next recipe!
Crab Dip Recipe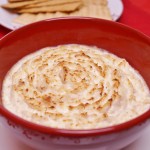 Prep time:
Cook time:
Total time:
Yield:

6

Difficulty:

easy

Recipe type:

Appetizer
Ingredients:
1-8 ounce package of regular or reduced fat cream cheese-softened

1-4.5 ounce can of lump crab meat-drained

1-tablespoon of sweet onion – minced

½ tablespoon of butter

Salt & pepper to taste
Directions:
Preheat oven to 425 degrees F
Melt the butter in a small pan over medium heat. Add in the onion and cook just until the onion is soft.
In a bowl, combine the cream cheese and crab meat with a fork.
Add the onion and the butter and season with salt and pepper to taste. Stir to combine.
Place in an oven safe bowl and cook for about 25 minutes or until the top starts to slightly brown.
Serve warm with crisp crackers, tortillas, toasted French or Italian bread or whatever you'd like!
Note: Make ahead and reheat in the microwave. Store any unused portion in the refrigerator. It's soo simple and has always been a crowd pleaser for me. I serve it all year round! It's delish just the way it is, but I've added some Old Bay for a kick and other times a bit of nutmeg for a change. Make it your own! Enjoy!
Published on by Dishin' With Di
Tagged: appetizer, appetizers, butter, cheese, Christmas, Crab, cream cheese, demonstration, Diane Kometa, dip, dips, Dishin With Di, easy, from scratch, homemade, hot, How To Make, onion, quick, Recipe, Seafood, shell fish, snack, Thanksgiving, tutorial, vegetable, vegetables, video, YouTube