Corn Dogs Recipe! Learn How To Make Corn Dogs At Home! It's Easy! Make the Best Corn Dog Recipe Ever!  Homemade Corn Dogs are made with a simple batter like cornbread and I used beef hot dogs, which are best and  taste much better than frozen corndogs. Just like the corn dogs at the fair or carnival! Fun Food! Enjoy my Quick and Easy Corn Dogs Recipe and learn how corn dogs are made.
What's your favorite Hot Dog recipe? Fair Food Recipe? Leave me a comment! Go to this Recipe on YouTube or visit my Facebook Page! Let me know if there's something you'd like to see.
What you're craving could be my next recipe!
Watch The Video! Learn How To Make Corn Dogs From Scratch!
Recipe by: Diane Kometa

Subscribe for updates on my latest recipes! It's FREE!  Do It!
Don't Miss An Episode!
Corn Dogs Recipe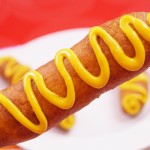 Prep time:
Cook time:
Total time:
Yield:

6-8

Difficulty:

easy

Recipe type:

entree, appetizer, snack
Ingredients:
6 all-beef hot dogs – or the hot dogs of your choice – rinsed and patted dry

1 cup flour

1 cup fine cornmeal – not instant

2 1/2 tsp. baking powder

1/2 tsp. salt

3 Tbs. sugar

1 cup milk

1 large egg

2-3 tbs. flour for dredging

6 Bamboo skewers

About 24 ounces or more of vegetable oil, canola oil or peanut oil

10 inch frying pan (skillet) with high sides

Candy thermometer

Tongs

Tall glass or jar

Paper towels

Mustard, ketchup, barbecue sauce or dipping sauce of choice
Directions:
Place the flour, corn meal, salt, baking powder and sugar into a large bowl and whisk thoroughly to combine.
In a separate smaller bowl or measuring cup, whisk together the egg and milk.
Pour the wet ingredients into the dry and mix until smooth. Cover with plastic wrap and set aside for 30 minutes to rest and come to room temperature, while you prepare the hot dogs and then heat the oil. You will notice that the batter will expand and puff up a quite a bit while it rests.
Insert a bamboo skewer lengthwise into the center of each hot dog. Set aside on paper towels to keep dry as they come to room temperature. Note: Be sure that the skewered hot dogs will fit into your pan. I cut my skewers a bit before inserting into the hot dogs.
After the batter has been resting for about 15 minutes, place a 10 inch skillet with high sides over medium heat and fill about half way with oil. Heat the oil to 350 degrees F.
Place some paper towels on a plate or baking sheet to drain the cooked dogs.
Fill a tall glass or jar with the batter. Set any remaining batter aside to use as needed.
Dredge the skewered hot dogs lightly in the flour and then brush off any excess.
Holding the skewer, place each hot dog into the batter one at a time and twirl slowly to coat with batter. Lift the coated hot dog from the glass and let any excess batter drip off. Carefully lower the corn dogs into the hot oil and release gently to avoid splashing, cooking no more than 3 corn dogs at a time. Cook and turn the corn dogs gently with tongs, until all sides are golden brown, about 3 minutes. If the oil is too shallow, the corn dogs may stick to the bottom of the pan, so do not allow them to rest in one spot too long.
Using a pair of tongs, remove the cooked corndogs from oil to the paper towel lined plate or baking sheet to drain. Repeat the cooking process with remaining hot dogs. Note: Do not pierce the corn dogs with a fork to remove them from the hot cooking oil, as moisture may release from the hot dogs into the hot oil and cause dangerous spattering.
Allow the corn dogs to cool slightly before eating. Serve with your favorite dipping sauce. I like a pretty squirt of yellow mustard on my corn dog or some barbecue sauce. Enjoy! Recipe by: Diane Kometa
Published on by Dishin' With Di
Tagged: appetizer, appetizers, batter, Beef, beef dogs, best, bread, bun, carnival, cook, corn, corn dogs, corn muffins, cornbread, corndogs, cornmeal, demonstration, Diane Kometa, Dishin With Di, dog, dogs, easy, eating, eggs, fair, fair food recipes, fast, flour, fried, from scratch, fry, fryer, frying, fun, homemade, hot dogs, How To Make, in a pan, meal, meat, milk, mini, Old Fashioned, on the stove, quick, Recipe, sausages, Simple, snack, sugar, Summer, Super Bowl, tutorial, video, without fryer, YouTube