Delicious and Easy Coleslaw Recipe! Learn How To Make Mom's Best Coleslaw Dressing Recipe with simple ingredients, like shredded cabbage and carrots, a basic cole slaw mix. An American classic, this coleslaw dressing recipe is perfect with pulled pork or on 4th of July with bbq ribs. A little sweet, a little tangy and really tasty, just like mom's!
Coleslaw is the perfect casual side dish for fish, chicken, pork and beef, but makes it's more formal appearance alongside a ham dinner during the holidays. I especially love coleslaw piled high on a corned beef sandwich on rye bread! I remember my dad surprising me at work with one of those delicious New York deli style sandwiches and it would always put a smile on my face.  Mmmm  Try it sometime!   I hope you enjoy my quick, easy and delicious coleslaw recipe.   Watch out KFC! Enjoy! Di 😉
What's your favorite way to serve Cole slaw? Leave me a comment! Go to this Recipe on YouTube or visit my Facebook Page! Let me know if there's something you'd like to see.
What you're craving could be my next recipe!
Watch The Video! Learn How To Make Coleslaw!

Subscribe to Dishin' With Di's YouTube Channel for the latest recipes! It's FREE!
Don't Miss An Episode!
Classic Coleslaw Recipe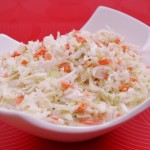 Prep time:
Cook time:
Total time:
Yield:

10-12

Difficulty:

easy

Recipe type:

side dish, side
Ingredients:
16 ounces Coleslaw mix – shredded cabbage and shredded carrots

½ cup mayonnaise

2 Tbs. white distilled vinegar

2 Tbs. fresh lemon juice

¼ cup sugar

1 Tbs. finely minced sweet onion

¼ tsp. celery salt

¼ cup buttermilk – shake well before pouring

2 Tbs. milk (optional)

¼ tsp. salt or to taste

Several grates freshly ground pepper or to taste
Directions:
Dump the coleslaw mix onto a large cutting board and give it a chop to be sure there are no large pieces. The pieces should all be about ½ inch. Put the chopped coleslaw into a large mixing bowl.
In a smaller bowl, combine the mayonnaise, buttermilk, onion, vinegar, lemon juice, sugar, celery salt, salt and pepper, until thoroughly combined.
Pour the mixture over the coleslaw and then mix well until thoroughly coated. Add 1-2 tablespoons of milk for a thinner dressing, if desired and mix again. Cover and refrigerate for a several hours or overnight to chill and marry the flavors. This also gives the acids in the dressing a chance to soften the cabbage a bit. I've made this coleslaw two days ahead and the flavor was even better! While chilling, stir occasionally, if possible. Mix thoroughly before serving. Place in small serving bowls and serve alongside of the main meal or spoon over a sandwich! Pulled pork topped with coleslaw is one of my favorites! Enjoy! Di
Published on by Dishin' With Di
Tagged: American, Basic, buttermilk, cabbage, cabbage salad, carrots, celery salt, chopped, Christmas, Classic, cole, coleslaw, demonstration, Diane Kometa, Dishin With Di, dressing, Easter, easy, fast, from scratch, green, homemade, How To Make, mayo, mayonnaise, milk, Old Fashioned, onion, pepper, pulled pork, quick, Recipe, red, salad, salt, sauce, shredded, Sides, Simple, slaw, standard, sugar, Summer, Thanksgiving, Traditional, tutorial, vegetable, vegetables, video, vinegar, YouTube