Mom's Easy Coffee Cake Recipe From Scratch! This coffee cake recipe, a classic 'crumb' coffee cake, is typically served for breakfast. The cake has a light moist texture with a crunchy crumb mixture that sits on top. That crunchy crumb topping has a little cinnamon in it and it really makes the cake taste great! This coffee cake is perfect served warm from the oven or at room temperature, but also stores beautifully and can be made ahead! Perfect for the holidays or any gathering!  Whenever I make it, there's never a crumb left!  Pun intended!  I hope you enjoy this delicious and easy to make old fashioned coffee cake recipe! P.S. I've been told it tastes just like Entenmann's Coffee Cake!
What's your favorite cake recipe?  Dessert recipe?  Leave me a comment! Go to this Recipe on YouTube or visit my Facebook Page! Let me know if there's something you'd like to see.
What you're craving could be my next recipe!
Watch The Video!  Learn How To Make Coffee Cake From Scratch!
Recipe by: Diane Kometa
Subscribe to Dishin' With Di's YouTube Channel for the latest recipes! It's FREE!
Don't Miss An Episode!
Coffee Cake Recipe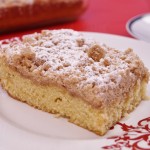 Prep time:
Cook time:
Total time:
Yield:

12

Difficulty:

easy

Recipe type:

Dessert, Breakfast
Ingredients:
Topping:

10 Tbs. melted unsalted butter

1 cup sugar

2 cups flour

1 Tbs. baking powder

2 teaspoons cinnamon

1/8 tsp. fine salt – I use sea salt

Cake:

1/2 cup unsalted butter – room temperature

1 cup sugar

2 large eggs – room temperature – lightly whisked

1 teaspoon vanilla bean paste or pure vanilla extract

3/4 cup buttermilk – room temperature

2 cups flour

1 ½ teaspoons baking powder

1/2 tsp. baking soda

¼ tsp. sea salt or fine salt

For dusting cake:

¼ cup powdered sugar for dusting after baking
Directions:
Preheat oven to 350 degrees F
Grease a 9×13 baking pan with butter or non-stick cooking spray
Make the topping: To a medium size bowl, add the flour, sugar, baking powder, cinnamon and salt. Whisk together until thoroughly combined. Pour in the melted butter and toss to coat. Use your hands or a pastry cutter to blend until crumbly and sticking together. Place in the refrigerator to chill, while you make the cake.
Make the cake: In a medium bowl, add the flour, baking powder, baking soda and salt. Whisk together until thoroughly combined. Set aside.
Add the butter into the bowl of a stand mixer or use a hand mixer and beat for about a minute, until smooth and creamy. With the mixer on low, gradually add the sugar. Beat with the mixer on medium speed until light and fluffy, about 3 minutes. Scrape bowl as needed.
With the mixer on low, gradually add half of the eggs. Beat until combined. Add the rest and beat until combined. Scrape the bowl. With the mixer off, add the vanilla. Beat with the mixer on low until combined.
With the mixer on low, add 1/3 of the flour mixture. Mix until combined. With the mixer on low, add ½ of the buttermilk. Mix only until combined. Add another 1/3 of the flour and mix until just moistened and then add the last of the buttermilk until just combined. Add the last of the flour and beat only until moistened. Turn off the mixer and scrape the sides and bottom of the bowl with a spatula to make sure all flour is mixed in. Be gentle and do not stir. Pour the batter into the prepared pan and spread evenly with a spatula.
Remove topping from refrigerator and sprinkle evenly over top of batter.
Place baking pan on center rack of preheated oven and bake for about 25-30 minutes or until a tooth pick inserted into the center comes out clean. Place on wire rack to cool.
Dust with powdered sugar when cool. Cut into squares and serve! Enjoy! Recipe by: Diane Kometa
Published on by Dishin' With Di
Tagged: bake, baking, best, breakfast, butter, Cake, Christmas, cinnamon, coffee cake, crumb cake, crumb coffee cake, crumb topping, Desserts, Diane Kometa, Dishin With Di, Easter, easy, eggs, flour, from scratch, homemade, How To Make, milk, Old Fashioned, quick, Recipe, Simple, snack, spice, spiced, streusel, sugar, Thanksgiving, topping, tutorial, vanilla, video, YouTube