Easy Chocolate Chip Cookie Bars Recipe with Coconut! NO EGGS! Easier to make than Chocolate Chip Cookies or Brownies!  Made without eggs (eggless), a mixer, baking soda, butter or flour! Simple Step by Step Recipe Ready in Minutes! Soft, Chewy and Simple to Make!
Want to see more easy cookie bar recipes!  Recipes with chocolate chips?  Request a Recipe or Leave me a comment! Go to my this Coconut Chocolate Chip Cookie Bar Recipe Video on YouTube or my Facebook Page and let me know if there's something you'd like to see.  What you're craving could be my next video!
Watch The Video!
Learn How To Make Coconut Chocolate Chip Cookie Bars!                         Recipe by: Diane Kometa
Subscribe to my Dishin With Di YouTube Channel for the latest recipes! It's FREE!
Don't Miss An Episode!
Coconut Chocolate Chip Cookie Bars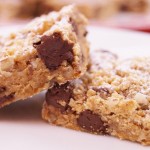 Prep time:
Cook time:
Total time:
Yield:

13×9 Pan – Cut as big or small as you'd like!

Difficulty:

easy

Recipe type:

Dessert, snack
Ingredients:
2 Cups graham cracker crumbs – 24 whole graham crackers

1 – 14 ounce can sweetened condensed milk

1 cup sweetened flaked coconut

¾ chopped pecans

1 cup semi-sweet chocolate chips

1 tsp. pure vanilla extract

Pinch salt
Directions:
Preheat oven to 350 degrees F
Spray a 13×9 baking dish or pan with cooking spray and line it with parchment paper or aluminum foil leaving a few inches overhang on each side. Spray the parchment or foil. Set aside.
Place graham crackers into a large plastic zip-lock bag. Crush by smacking with and rolling with a rolling pin. Set aside.
Into a bowl, add the chips, coconut, pecans. Stir to combine. Add the sweetened condensed milk, vanilla extract and salt and everything until well combined.
Pour mixture into prepared pan and spread evenly with a spatula or the back of a spoon.
Bake for 15-18 minutes or until edges turn golden brown.
Place pan on wire rack to cool completely.
Grab the overhang sides of baking pan and lift cookie bars up and onto a cutting board. Cut into desired sizes. Store in an airtight container. Enjoy!
Note: Great served warm and topped with some vanilla ice cream and drizzled with chocolate syrup! Recipe by: Diane Kometa
Published on by Dishin' With Di
Tagged: bar, bars, best, chip, chocolate, chocolate chips, Christmas, coconut, Cookie, cookie bars, cookies, demonstration, Desserts, Diane Kometa, Dishin With Di, Easter, easy, eggless, Father's Day, from scratch, graham crackers, Halloween, homemade, How To Make, Labor Day, Memorial Day, Mother's Day, New Year's, New Year's Eve, nuts, Old Fashioned, pecans, quick, Recipe, snack, snacks, squares, Super Bowl, sweetened condensed milk, sweetened shredded coconut, Thanksgiving, tutorial, Valentine's Day, vanilla, video, YouTube