Great pasta salad for summer picnics, parties or served with ham dinner for Easter. This is a traditional macaroni salad recipe, that you'll find on any summer party menu. Recipes vary and some people like macaroni salad with tuna, with egg or with cheese. I've also seen it made with condensed milk and fruit cocktail for a really sweet macaroni fruit salad, but I like it simple, just the way my mom made it. She also made a similar macaroni salad recipe with shrimp, which is another favorite of mine, but this side dish couldn't be easier to make. Simply toss some cooled, cooked elbow macaroni, shredded carrots, chopped celery, red onion and red bell pepper, with a creamy dressing made with mayonnaise, sugar, mustard and vinegar and you have yourself a delicious, classic macaroni salad! With Tuna or with chicken added, it's a meal! I made this side dish for Memorial Day and it will be on the menu again for 4th of July, Labor Day and most of my summer get-togethers. I love it with my Brown Sugar BBQ Chicken, burgers, ribs or just about any picnic food!
Want more salad recipes?  Pasta recipes? Leave me a comment! Go to my YouTube Channel or my Facebook Page and let me know if there's something you'd like to see.  What you're craving could be my next video!
Watch The Video!  Learn How To Make Macaroni Salad!                            Recipe by: Diane Kometa

It's FREE!  Do It!  Subscribe to Dishin With Di YouTube Channel for the latest recipes!
Don't Miss An Episode!
Classic Macaroni Salad Recipe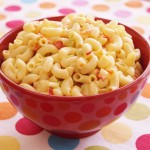 Prep time:
Cook time:
Total time:
Yield:

About 6 Servings

Difficulty:

easy

Recipe type:

side dish, appetizer
Ingredients:
2 cups dried elbow macaroni

1/3 cup celery – fine chop

1/4 cup red bell pepper – seeded -fine chopped

1/4 cup carrots – shredded

2 Tbs. white vinegar

1/4 cup granulated white sugar

3/4 tsp. salt

1/8 tsp. freshly ground black pepper

1/2 cup mayonnaise

1 Tbs. prepared yellow mustard

1/4 cup red onion – fine chopped – soaked in cold water for 5 minutes and drained

1/4 cup milk
Directions:
Cook macaroni according to package directions, until tender. Be sure to salt the water. Drain and rinse cooked macaroni. Set aside to cool completely, while you chop your vegetables.
Into a small bowl, add the mayonnaise, mustard, sugar, salt, pepper and vinegar. Whisk thoroughly to combine.
Pour half of the mayonnaise mixture into the macaroni. Stir to coat the macaroni.
Add the onions, carrots, celery and red bell pepper. Stir to combine thoroughly.
Add the remaining mayonnaise mixture.
Add the milk. Stir to combine. The mixture will look very moist, but the macaroni will absorb that. Cover with plastic wrap and refrigerate for at least several hours or overnight, to allow the flavors to mingle. If necessary, add another splash of milk to moisten. Serve cold. Try with my Brown Sugar Barbecue Chicken! Recipe by: Diane Kometa
Published on by Dishin' With Di
Tagged: 4th of July, American, bell pepper, best, carrots, celery, Christmas, Cinco de Mayo, Classic, Cold, demonstration, Diane Kometa, Dishin With Di, Easter, easy, elbow macaroni, from scratch, homemade, How To Make, Labor Day, macaroni, macaroni salad, mayo, mayonnaise, Memorial Day, milk, mustard, Old Fashioned, onion, onions, original, pasta, pasta salad, peppers, picnic, quick, red onion, salad, side dish, Sides, sugar, Summer, summer salad, Thanksgiving, Traditional, tutorial, vegetables, video, YouTube