These Cinnamon Sugar Tortilla Chips are sooo addictive!  They're baked not fried so it's a healthy snack, but I had these sweet cinnamon and sugar snacks with some ice cream and even though the photo shows just one tortilla chip, I ate about 10 chips!  They would also be great with apple pie dip or my pumpkin cheesecake dip and serving them with yogurt and fruit salsa are healthy, fat free choices.  These sweet, crispy chips actually remind me of snickerdoodle cookies, but with a lot less work! lol  Using canola oil cooking spray instead of butter and because they are baked in the oven and not fried tortilla chips, it makes them very diet friendly and I also prefer baking, because there's very little clean up!  You could try them with corn tortillas, but I think the flour tortillas come out light and crispy with a nice flavor.  I reserve my corn tortillas for nachos with cheese and my Mexican 7 layer dip or my guacamole!  These cinnamon sugar snacks do make the perfect addition to a Cinco de Mayo party or Mexican dinner night with little effort, but don't miss out on them with the ice cream!  It is sooo good! You really have to try it that way!  Simple and delicious!  It's ok to treat yourself with something naughty and sweet once in a while and why not go the homemade route with these babies! They're not actually from scratch, but I'm not gonna tell anyone.  After all you're making them at home, so they are home made!  lol  It doesn't get any easier than this though and when you plan a party, you have to have simple things like this on the menu.  They're good as a little snack for just any old time too though.  I was enjoying them instead of popcorn, while watching a movie.  My hub usually has a bowl of popcorn and puts nuts and candy into the mix.  He loves his popcorn!  Anyway, I hope you get in the kitchen and give these a try!
Watch the Video!
Learn How To Make These Cinnamon Sugar Tortilla Chips!
Recipe by: Diane Kometa
Visit me on my YouTube Channel and Subscribe  to get my latest recipes!
Leave me a comment!  Go to my YouTube Channel or my Facebook Page and let me know if there's something you'd like to see.
Cinnamon Sugar Tortilla Chips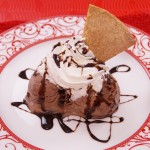 Prep time:
Cook time:
Total time:
Yield:

32 Chips

Difficulty:

easy

Recipe type:

Snack, Dessert, appetizer
Ingredients:
4 Flour Tortillas – 8"

½ cup white granulated sugar

1 ½ tsp. ground cinnamon

1/8 tsp. salt

Non-stick canola cooking spray

Large zip-lock plastic storage bag
Directions:
Preheat oven to 375 degrees F
Line a baking sheet with parchment paper
On a cutting board, place a tortilla and spray each side with non-stick spray. Continue with all tortillas, stacking them on top of each other as you go.
Into the plastic storage bag, add the sugar, cinnamon and salt. Seal the bag and shake to combine ingredients.
Place some of the tortillas into the bag and shake to coat thoroughly. Place coated tortilla triangles onto the baking sheet. Continue with remaining tortillas.
Place baking sheet into preheated oven and bake for about 8-10 minutes. Cooking times vary, as some tortillas are thinner than others. Tortillas are done when they are crisp and just starting to lightly brown.
Place baking sheet on rack to cool slightly. Serve immediately or store in an air tight container or zip-lock bag.
Note: Perfect with ice cream (a little too perfect lol), dips, fruit salsa or served alone. Try with my Easy Rocky Road Ice Cream (no ice cream maker needed) or my pumpkin cheesecake dip. Highly addictive! Enjoy! Recipe by: Diane Kometa
Published on by Dishin' With Di
Tagged: appetizer, baked, Christmas, Cinco de Mayo, cinnamon, cinnamon sugar, demonstration, Desserts, Diane Kometa, dip, Dishin With Di, easy, flour, from scratch, healthy, homemade, How To Make, Mexican, quick, Recipe, snack, sugar, Sweet, Thanksgiving, tortilla chips, tortillas, tutorial, video, YouTube