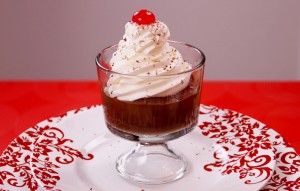 Delicious Homemade Chocolate Pudding! This is a simple & easy lesson on How To Make Homemade Chocolate Pudding just like Grandma's.  There's not much better than creamy, homemade Chocolate Pudding, that's silky smooth with that rich chocolate flavor.  My homemade Chocolate Pudding is a cinch to make and is perfect with my whipped cream recipe and both only require a few ingredients.  So get in the kitchen and get this Chocolate Pudding started with Dishin' With Di!
Watch the Video!  Learn How to Make Chocolate Pudding!
Visit me on my YouTube Channel and Subscribe  to get my latest recipes!
Leave me a comment!  Go to my YouTube Channel or my Facebook Page and let me know if there's something you'd like to see.
Chocolate Pudding Recipe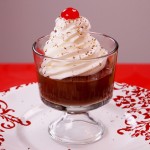 Prep time:
Cook time:
Total time:
Yield:

Approx. Four – 1/4 cup or Two 1/2 cup servings

Difficulty:

easy

Recipe type:

Dessert
Ingredients:
¼ cup Granulated sugar

1 ½ Tbs. Corn starch

2 Tbs. Unsweetened cocoa powder

1 Tbs. Unsalted butter

½ cup Semi sweet chocolate chips

½ Cups Heavy cream (double cream)

1 1/3 cups Milk

2 eggs yolks – lightly whisked

1 tsp. Vanilla extract

1/8 tsp. salt

Plastic wrap
Directions:
Into a medium pot, pour sugar, cornstarch and salt. Sift in unsweetened cocoa powder. Whisk to come thoroughly.
To the pot, gradually add a small amount of the milk and whisk to combine. Whisk in the rest of the milk. Whisk in the heavy cream.
Over medium heat, stir constantly until the mixture comes to a boil. Boil and stir for 1 minute. Reduce heat to low if necessary.
Into the egg yolks, add about two tablespoons of the hot liquid and whisk quickly with a fork. Repeat until eggs are heated. Add heated egg mixture to the pot while stirring constantly. Cook and stir for 1 minute.
Remove from heat. Stir in the chocolate chips until melted. Add the vanilla extract and stir to combine. Add the butter and mix through.
Spoon or ladle mixture into serving cups. Place plastic wrap directly on pudding to prevent skin from forming. Place in the fridge until chilled.
Serve topped with whipped cream, chopped nuts, some chocolate shavings and a cherry! ENJOY!!
Note: Check out my Easy Whipped Cream Recipe!
Published on by Dishin' With Di
Tagged: best, butter, chocolate, chocolate pudding, Christmas, cocoa powder, cream, custard, dairy, demonstration, Desserts, Diane Kometa, Dishin With Di, Easter, easy, egg yolks, eggs, from scratch, heavy cream, homemade, How To Make, milk, New Year's, New Year's Eve, Old Fashioned, pudding, quick, Recipe, semi sweet chocolate, sugar, Thanksgiving, tutorial, Valentine's Day, vanilla, vanilla extract, video, YouTube