Learn how to make a Chocolate Mug Cake Recipe! Easy Chocolate Cake in a Mug or Cup in minutes! It's so fast and simple to make this cake in the microwave and you will not believe how delicious it is!  I've many so many different mug cake recipes and finally figured out that you just can't mix the cake in the mug and expect it to be tender, so that's why I mix it in a bowl and then pour it in the mug or cups. I know it's an extra step, but I'm pretty fussy and I would not share a recipe with you that I would not eat myself and would not eat it if I mixed it in the mug, because it comes out really tough and rubbery. Try it out, don't over mix it and be sue to top it with some ice cream if you can, because it takes this cake to a whole different level!  I will definitely serve it to guests!  It's that good!  I hope you enjoy this Easy Chocolate Mug Cake Recipe!
AKA – 2 Minute Cake, 5 Minute Mug Cake, 3 Minute Cake, Cake in a Cup, Cup Cake or Cup Cakes for Two, 5 minute desserts, 5 minutes recipes
P.S.  If you like this, you may also like my Molten Chocolate Lava Cakes Recipe!  That's another easy dessert recipe that's sinfully delicious!
Want more quick and easy recipes?  Leave me comment! 
Go to this recipe on YouTube  or visit my Facebook Page and let me know what video recipes you'd like see.  What you're craving could be my next recipe!
Watch The Video Recipe!
Learn How To Make a Chocolate Mug Cake!  Recipe by: Diane Kometa
Subscribe for FREE to Dishin' With Di's YouTube Channel for the latest recipes!
Don't Miss An Episode!
Chocolate Mug Cake Recipe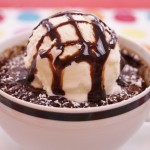 Prep time:
Cook time:
Total time:
Yield:

1 Large or 2 Small

Difficulty:

easy

Recipe type:

dessert,
Ingredients:
1 large egg

3 tablespoons milk

1/3 cup white granulated sugar

1/8 tsp. salt

2 ½ tablespoons unsweetened cocoa powder

2 tablespoons regular butter, melted

1 tablespoon vegetable oil

1/4 teaspoon pure vanilla extract

1/4 cup all-purpose flour

1/4 teaspoon baking powder

A little confectioners' sugar for dusting, if desired

Toppings: Use vanilla ice cream, chocolate syrup and whipped cream to top the whole thing off, if you really want to really treat yourself special!

1 large mug, about 16 ounces or two smaller mugs or tea cups
Directions:
In a medium sized bowl, add the egg, sugar, salt, vanilla, vegetable oil and melted butter and mix thoroughly with a fork or whisk, until combined. Add the cocoa powder (I sift it in, because it always has lumps) and mix through thoroughly and then add the milk and mix again, until everything is thoroughly combined.
Into a small bowl, add the flour and baking powder and mix thoroughly with a fork, until combined. Add flour mixture into the batter and mix just until combined and no more lumps of flour remain.
Immediately pour the batter into a 16 ounce mug or divide evenly between 2 smaller mugs or tea cups. Place the mug or cup in the microwave on a paper towel to catch possible overflow. Mug cakes must be cooked one at a time, for best results. Cook on High for about 1 minute 30 seconds or 45-60 seconds, if dividing the batter between 2 smaller cups or mugs. Double, triple or quadruple the cake batter for multiple servings. The batter will rise up over the top of the mug and then collapse.
When the cake is done, it should hold its shape, but still be moist to the touch. See video. Carefully remove the hot mug from the microwave and let it rest for 2 to 3 minutes before eating. The cake will continue to cook from the heat of the mug, as it cools. Note: As the cake rises, the batter my pour over the sides of the mug a bit or a lot if the mug is too small. It will still be delicious, so simply wipe the mug before serving. If the cake rises a bit lopsided, you can gently press the top down into the cup to even it out.
Lightly dust the top of the cake with confectioners' sugar, if desired. Top with vanilla ice cream, chocolate syrup and whipped cream for an added bonus! The cake should be moist, tender and delicious and may even be a bit gooey at the bottom, if cooking all of the batter in one large mug. Yum! I hope you enjoy this delicious Chocolate Mug Cake! Recipe by: Diane Kometa
Published on by Dishin' With Di
Tagged: 5 minute, best, brownie, butter, Cake, cakes, chocolate, chocolate mug cake, Christmas, cocoa, cup, cup cake, cupcake, cupcakes, demonstration, Dessert, Desserts, Diane Kometa, Dishin With Di, Easter, easy, egg, eggs, fast, flour, from scratch, fudge, Halloween, homemade, How To Make, microwave, milk, moist, molten, mug, mug cake, no bake, Old Fashioned, oven, pudding, quick, Recipe, Simple, sugar, Summer, tutorial, Valentine's Day, vanilla, video, YouTube