Chocolate Ganache is perfect for filling macarons or to pour over and cover a cake with a smooth and shiny chocolate glaze.  Many use chocolate ganache as a glaze or frosting for cupcakes or as a simple drizzle on desserts, while others make chocolate ganache for cake decorating and use it under fondant.  My favorite is as a filling for French Macarons!  Mmmmm  Delish!  How many m's should be in "Mmmmm" anyway?   I guess it depends on how good the food is.  I'll give it 5 M's! (5 being the highest Mmmmm honor) LOL
French Macaron Recipe Click Here
Note: This Chocolate Ganache tutorial includes a demonstration on how to pipe chocolate ganache to fill macarons and a brief demonstration of how to pour ganache on a cake.
What's your favorite way to use Ganache ? Favorite Chocolate Recipe ?  Leave me a comment! Go to this Recipe on YouTube or visit my Facebook Page! Let me know if there's something you'd like to see.
What you're craving could be my next recipe!
Watch The Video! Learn How To Make Chocolate Ganache!
Recipe by: Diane Kometa
Subscribe to Dishin' With Di's YouTube Channel for the latest recipes! It's FREE!
Don't Miss An Episode!
Chocolate Ganache Recipe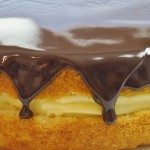 Prep time:
Cook time:
Total time:
Yield:

2 Cups

Difficulty:

easy

Recipe type:

Dessert
Ingredients:
Bittersweet or semi-sweet chocolate or a combination of the two – chopped into small uniform pieces, as thin as possible, so they melt easily. Use 8 ounces of chocolate for a thinner pourable ganache and 10-12 ounces for a slightly thicker ganache

1 cup heavy cream – 35-40% fat content – also known as heavy whipping and double cream

1 Tablespoon unsalted butter – room temperature

Optional: 1 tablespoon brandy, cognac or liqueur of your choice, ½ tsp. vanilla extract, 1 tsp. espresso or coffee powder or flavoring of your choice. If you'd like to use 1 tsp. of instant coffee granules instead of coffee powder, add that a step # 2.

Note: Using a serrated knife is helpful for shaving very large pieces of chocolate.
Directions:
Place chocolate evenly on the bottom of a heat proof bowl. You just don't want it in a big pile in the middle of the bowl. Set aside. Heat cream and butter in a small pot, over medium heat, until it begins to boil and foams. This can also be done in the microwave in a microwave safe bowl. Remove from heat. Slowly pour the hot cream evenly over the chocolate. Do not stir. Let stand for 5-7 minutes. Add a flavoring, if desired and then stir slowly with a rubber spatula, spoon or whisk, from the center outward, so that you do not create any air bubbles. Continue to stir, until the chocolate has melted and mixture is very smooth and shiny. This may take several minutes. If the mixture looks a little lumpy or separated, continue to stir, as the stirring actually helps to break down the chocolate and melt it. Using a wire whisk can aid in smoothing out very small pieces of chocolate, but whisk gently, as not to incorporate too much air into the mixture. If the chocolate is not melting, the mixture may need to be reheated. This can be done over a double boiler, but I just pop it in the microwave for 15 second intervals and then stir gently. Do not try to reheat the mixture in a pot directly on the stove, as this can scorch the chocolate. Once the chocolate has completely melted and the ganache is smooth and shiny, allow it to cool slightly, before pouring or drizzling over cakes, desserts or cupcakes. You can also simply dip cupcakes in the ganache while it's still warm. For piping consistency, cover with plastic wrap, by placing the plastic directly onto the surface of the ganache, to prevent a crust from forming and cool for several hours at room temperature. Piping instructions below. Ganache can be refrigerated once cooled completely. Reheat in the microwave, stirring gently every 15 seconds or over double boiler to restore pouring consistency.
For Covering Cakes: If the cake is to be refrigerated after applying the ganache, before pouring ganache, chill cake for at least 30 minutes, as this will help keep the ganache shiny. Place a wire rack on top of a baking sheet, to catch any dripping chocolate and then place the cake on the rack. I also place my cake directly on a cake stand and simply put some pieces of parchment paper around the bottom edges of the cake to catch any drips, but only when using the thicker (10-12 ounces of chocolate) ganache, as the thinner recipe mixture will pool at the bottom. Pour the desired amount of ganache into the center of the cake slowly, so no air bubbles are created. Using an metal spatula or a knife, in long even strokes, gently push the ganache from the center over the sides of the cake. Allow the ganache to set on the cake, before covering, refrigerating or eating. Enjoy!
For Filling Macarons – For Piping: Be sure to use 10-12 ounce of chocolate for piping. Before piping, allow ganache to come to room temperature for several hours, until thick. Place thick ganache into a piping bag fitted with a 1/2 inch round tip or use a plastic storage bag and cut the corner off. Onto the flat side of one macaron cookie, pipe about 1 teaspoon of ganache into the center, leaving the edges of the cookie showing. Place the flat part of another macaron onto the ganache creating a sandwich cookie and press gently. Enjoy!! Recipe by: Diane Kometa
Published on by Dishin' With Di
Tagged: baking, bittersweet, boston cream pie, brandy, butter, cacao, Cake, cakes, chocolate, chocolate chips, chocolate ganache, Christmas, coffee, cognac, cream, creme, cupcakes, decorating, decoration, demonstration, Desserts, Diane Kometa, dipping, Dishin With Di, double cream, drizzle, Easter, easy, espresso, filling, filling recipe, flavor, flavored, flavoring, fondant, French, from scratch, Frosting, fruit, ganache, Ghirardelli, glaze, heavy cream, homemade, how to, How To Make, Icing, liqueur, macaron filling recipe, macarons, making, melting, Mother's Day, orange, piping, quick, Recipe, sauce, semi sweet chocolate, semisweet, Simple, Tart, Thanskgiving, topping, tutorial, Valentine's Day, vanilla, video, whipping cream, YouTube