The Best Old Fashioned Chocolate Cupcakes Recipe! This Chocolate Cupcakes recipe gives you tender, moist and fluffy homemade cupcakes from scratch.  Just like Grandma used to make! The cake is light and airy and practically melts in your mouth.  I get together with some girlfriends to celebrate birthdays and these cupcakes are always requested.  Perfect topped with buttercream frosting or cream cheese frosting!
Click links for Frosting Recipes: Buttercream Frosting Recipe, Chocolate Buttercream Frosting Recipe, Cream Cheese Frosting Recipe, Raspberry Buttercream Frosting Recipe 
Request a Recipe OR Leave a Comment!  Want to see more Cake and Cupcake Recipes? Dessert Recipes? Let me know!  Go to this Recipe on YouTube or my Facebook Page! What you're craving could be my next recipe!
Watch the Video Demonstration!
Learn How to Make Light, Fluffy Chocolate Cupcakes!                                Recipe by: Diane Kometa
Get updated on my Latest Recipes!  It's FREE!  Do It!
Don't Miss An Episode!
Chocolate Cupcakes Recipe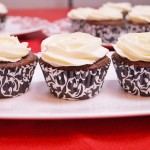 Prep time:
Cook time:
Total time:
Yield:

12 Cupcakes

Difficulty:

easy

Recipe type:

Dessert
Ingredients:
¼ cup unsalted butter – softened

¾ cup granulated sugar

1 egg – lightly whisked – room temperature

½ tsp vanilla extract

¾ cup buttermilk – room temperature

¾ cup plus 1½ Tbs. flour

1/3 cup unsweetened cocoa powder – try to use a better brand – it makes a big difference in flavor

½ tsp. salt

¾ tsp. baking soda
Directions:
Preheat oven to 325 degrees F
Line a cupcake tin with 12 cupcake liners
Sift unsweetened cocoa powder. It usually has lumps in it, so it's important not to skip this step.
In a medium bowl, whisk together flour, cocoa powder, salt and baking soda until thoroughly combined. Even distribution is important. Set aside.
Using a stand mixer or hand mixer, beat softened butter for about 30 seconds.
Starting with the mixer on low, gradually add sugar. As the butter and sugar combine, gradually increase the speed to high. Beat until very well incorporated about 2-3 minutes. Scrape down the sides as necessary. Refer to video for how it should look.
With the mixer on low, gradually add the egg. Increase speed to high and beat until light and fluffy. Scrape down as necessary.
Gradually add vanilla extract. Beat until combined. Scrape sides if necessary.
With the mixer on low, gradually add about half of the dry ingredients. Mix until thoroughly combined.
Lightly whisk the buttermilk to be sure nothing has settled at the bottom. With the mixer on low, gradually pour the buttermilk down the side of the bowl. Increase speed to medium and just mix until combined. Scrape down the side of the bowl. With stand mixers there is usually something at the very bottom, so be sure to scrape the bottom well.
Add half of the remaining flour and mix until combined.
Slowly add the rest of the buttermilk until combined.
Add the remaining flour on low. Don't over mix. Use a spoon or spatula and stir to combine.
Using an ice cream scoop, measuring cup or spoon fill the cupcake liners half way. Tap the cupcake tin on the counter a few times to get out any air bubbles.
Bake @ 325F for about 20 minutes. When a tooth pick inserted into the center of a cupcake comes out clean, they're done. You can also touch the top center of the cupcake with your finger and if it springs back it's done.
Set the tin on a cooling rack for about 10 minutes, then remove from the rack, take cupcakes out of the tin and place the cupcakes on the rack to cool completely.
Frost cupcakes with my Buttercream or Cream Cheese Frosting or the frosting of your choice! Enjoy!! Recipe by: Diane Kometa
Published on by Dishin' With Di
Tagged: airy, baking soda, best, birthday, butter, buttercream, buttercream frosting, buttermilk, Cake, cakes, chocolate, Christmas, cocoa, cocoa powder, cream, cream cheese, cup, cupcake, cupcakes, demonstration, Desserts, Diane Kometa, Dishin With Di, Easter, easy, eggs, flour, fluffy, from scratch, Frosting, Halloween, homemade, How To Make, Icing, light, milk, moist, New Year's, New Year's Eve, Old Fashioned, quick, Recipe, salt, snack, sugar, tender, Thanksgiving, tutorial, Valentine's Day, vanilla, video, YouTube