Rich and Moist Chocolate Cupcakes with Chocolate Ganache Frosting! One of my Best, Easy to Make, from scratch recipes for Chocolate Cupcakes filled with Chocolate Flavor!  Simple, Homemade Chocolate Cupcakes that are just Delicious! A Decadent Sweet Treat!  Add Decorations for a bakery style dessert served at home for any Occasion! In the video recipe tutorial, I share some simple ideas on how to decorate cupcakes for any occasion.  You can see from my cupcake photos that these cupcakes can look cute or elegant.  Making these cupcakes perfect for birthday parties, or even for weddings.  Be creative or keep it simple!  Cupcakes are just fun!  Why make one chocolate cake, when you can have lots of little individual chocolate cakes!
I made and decorated these chocolate ganache cupcakes in no time. So, grab yourself some icing decorations for cakes and cupcakes, sprinkles, candy, dried fruit or nuts or whatever you'd like and customize these cupcakes for any holiday or special occasion.  Or, don't decorate them at all!  The dark, smooth and shiny chocolate ganache makes a beautiful presentation on its own.  Simple and delicious! You don't have to go to the bakery for delicious and beautiful desserts!
Now, this is not quite a devil's food cake batter, but I felt like I was doing something really bad when I was eating these moist chocolate cupcakes with their rich chocolate ganache icing, so they do fit the bill in that way!   Moist and rich, but tender and light at the same time and the chocolate ganache has just the perfect amount of sweetness. That's what love about these cupcakes.  They're not overly sweet or too moist either, which can be a bit sickening.  I want to feel like I'm eating cake and I don't want just one or two bites and be done with it, because it's too rich. That's what fudge is for, right?
To deepen the chocolate flavor, I used the old trick of adding hot coffee to the batter, which also helps the cocoa powder dissolve or bloom, as they say, for a more chocolaty tasting cupcake.  Btw, I've been going back and forth with the spelling: chocolatey or chocolaty?  I've seen both and the from what I've read both are correct, but spell check seems to disagree and doesn't like the "e".  Anyway, I also used some pure vanilla extract to enhance the chocolate flavor a bit too.  I read that good-quality pure vanilla extract can enhance the flavor of chocolate and other flavors and that imitation vanilla doesn't work as well when it comes to flavoring cakes.  Just a tidbit of info for you to add to the confusion of baking.  So then, to add a moist richness to the cupcakes, in this recipe I use melted butter, as opposed to vegetable oil.  The butter just does a better job in the flavor department, although the oil generally keeps cakes fresh longer.  No matter to me though, because these babies don't last long enough to get anywhere near stale.  You can trust my scale on that one.  Look at them!  I bet you're drooling a little right now.  I know I am.  Just go make them!  Enjoy! Di  😉
Want to see more Easy Dessert Recipes?  Cake and Cupcake Recipes?  Go to this Recipe on YouTube  or my Facebook Page and Request a Recipe OR Leave a Comment! What you're craving could be my next recipe!
**All recipes are tested 😉
Watch The Video Recipe Tutorial!
Learn How To Make Chocolate Cupcakes with Chocolate Ganache Frosting  Recipe by Diane Kometa
Subscribe for the Latest Recipes!  It's FREE!  Do It!
Don't Miss An Episode!
Chocolate Cupcakes with Chocolate Ganache Frosting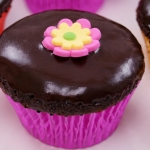 Prep time:
Cook time:
Total time:
Yield:

12

Difficulty:

easy

Recipe type:

dessert, cake
Ingredients:
Cupcakes:

1 cup sugar, plus 2 Tbs. – scooped – 213 grams

1 cup flour – poured and leveled – 116 grams

½ tsp baking soda

1 tsp. baking powder

½ tsp salt

½ cup milk– 4 ounces – room temperature

4 Tbs. unsalted butter – softened

1 large egg – room temperature

½ cup unsweetened cocoa powder – poured and leveled – 43 grams

½ cup very hot coffee or 1/2 cup hot water with 1 tsp. instant coffee granules or 1/2 to 1 tsp. espresso powder – 1/2 cup very hot water can be used, in place of the coffee

1 tsp. pure vanilla extract

Ganache Frosting:

1/3 cup heavy cream ( double cream or heavy whipping cream)

4 ounces semi sweet chocolate cut or broken into small pieces or semi sweet chocolate chips

2-3 tablespoons powdered sugar (icing sugar, confectioners sugar) optional – See note in # 7

Icing decorations: candy, sprinkles, dried fruit, nuts, etc., if desired
Directions:
Preheat oven to 350 degrees F and place oven rack in the center position. Line a muffin tin with 12 cupcake liners. Set aside. Note: The dark cupcakes will block out the color and designs on most thin paper liners. Use decorative foil liners (baking cups) or heavy paper liners to customize cupcakes for any occasion.
In a large bowl with a spout, if possible or the bowl of a stand mixer fitted with the paddle attachment, add the flour, sugar, baking powder, baking soda, salt and cocoa powder (I sift the cocoa, to avoid lumps). Mix until thoroughly combined.
In another small bowl or measuring cup, whisk together the milk, egg and pure vanilla extract. Set aside.
Add the butter to the hot coffee and heat in the microwave, until the butter has melted. Stir to combine. Set aside. This can also be done in a small pot on the stove.
Using an electric mixer on low speed, pour half of the milk mixture into the dry ingredients, until combined. Stir the coffee and melted butter again to combine and then, with the mixer on low, slowly pour half of the hot coffee mixture into the batter and mix through. Scrape down the side and bottom of the bowl and then beat in the remaining milk mixture followed by the coffee mixture, until thoroughly combined and the batter is smooth. Scrape the sides and bottom of the bowl again to be sure all of the batter has been mixed through. Batter often sits at the bottom of stand mixers.
Evenly pour the batter into the cupcake liners, about 3/4 full. Bake for about 18 minutes or until a tester inserted into the center of a cupcake comes out with a few moist crumbs or the tops of the cupcakes spring back when touched lightly with your finger. Cool cupcakes in tin for about 5-10 minutes and then remove cupcakes to a rack to cool completely. If using a regular muffin tin (not a non-stick), there is a chance that the some of the tops may slightly stick to the pan, especially if the batter dripped on the edge of the cup. Use a knife to gently free the cupcake from the pan and then remove it. If the cupcakes are not completely cooled when you apply the ganache, they may crack as you handle them and crumbs could get into the ganache and ruin it.
Make the Ganache: Fill a small sauce pan with about 1-2 inches of water and bring it to a low simmer on the stove over medium to medium low heat. Place the chocolate into a heat proof bowl, that's bottom is larger than the pot. Place the bowl over the opening of the pot and make sure that the bottom of the bowl does not touch the water. Add the heavy cream. as the chocolate and cream begin to heat and the chocolate starts to melt, slowly stir the mixture from the center outward, so that you do not create any air bubbles. If the water begins to boil, reduce the heat. Continue to stir the mixture slowly, until it becomes very smooth and shiny. Remove the bowl from the heat to cool for about 20-30 minutes, stirring occasionally, before frosting the cupcakes. The ganache should still be warm not hot. If the ganache is still hot after 30 minutes or if it appears greasy, separated or clumpy, stirring should resolve either problem. Stir it slowly from the center outward until warm to the touch, smooth and shiny. This can take several minutes. Note: A few tablespoons of powdered sugar can be added with the cream and chocolate, if you'd like the ganache a bit sweeter, but it may get a bit crusty on the cupcakes as it sets. I prefer it as is with just the semi sweet chocolate, but give it go if you'd like.
Place a sheet of wax paper or parchment paper on your work surface. Dip the top of each completely cooled cupcake into the ganache. Twirl it as you quickly lift the cupcake and turn it right side up. It may drip, so simply wipe any drips with your finger and then place each cupcake on the paper to set. After all of the cupcakes are coated with ganache and it has begun to set, you may apply a second coating. Test one cupcake to see the results and continue, if desired.
Decorate the cupcakes: The cupcakes can be decorated for any occasion. Top each cupcake with your favorite icing decorations, if desired. Allow cupcakes to set for about 30-60 minutes before serving. Store leftover cupcakes in an air tight container in the fridge for 3-4 days. Allow to come to room temperature or eat them cold like me, because you can't wait that long! The cupcakes are always best when eaten the same day they are made, but below are some helpful hints to preserve their freshness and appearance, if you'd like to make them in advance. Enjoy! 😉
Notes: Make Ahead and Refrigeration: The cupcakes can be made one day in advance, before icing and refrigerated in an air tight container, once cooled completely. Allow cupcakes to come to room temperature before frosting. Frosted cupcakes can be refrigerated, but the ganache must be completely cooled first. Carefully place cooled, frosted cupcakes on a baking sheet or large platter in the fridge to chill, so the ganache can harden slightly, then transfer the cupcakes to an airtight container, in a single layer and refrigerate for 2 days. You may be able to refrigerate them longer, but I've never done it. Allow the cupcakes to come to room temperature before serving. Recipe by: Diane Kometa
Published on by Dishin' With Di
Tagged: baking powder, baking soda, best, butter, Cake, cakes, chocolate, chocolatey, chocolaty, Christmas, cocoa, coffee, confectioners, cream, cup, demonstration, Dessert, Desserts, Diane Kometa, Dishin With Di, Easter, easy, eggs, flour, Frosting, fudge, fudgy, ganache, glaze, heavy cream, Icing, milk, Mother's Day, New Year's, New Year's Eve, Old Fashioned, powder, quick, Recipe, salt, semi-sweet, Simple, Spring, sugar, Sweet, Thanksgiving, tutorial, unsweetened cocoa, Valentine's Day, vanilla, vanilla extract, video, water, whipping, YouTube