Learn how to make Chocolate Chip Macaroons: A QUICK, EASY macaroon cookie recipe made with NO EGGS, NO FLOUR and few ingredients!
Coconut Macaroons are popular holiday cookies and easy cookies to make when entertaining. Macaroons appear on holiday dessert tables for Christmas, Thanksgiving and Chunakah (Hanukkah), but coconut macaroons are the "perfect" cookies for Passover and Easter. Cookie recipes that are easy to prepare are the best! Coconut and chocolate are a classic combination, so these cookies with shredded coconut and chocolate chips are a match made in heaven. Get in the kitchen and start baking! Written recipe below.
Get updated when I release New Recipes! It's Free! Do It! Don't Miss An Episode! Thanks for Watching!
Have a recipe question or recipe request? Leave a comment! Go to my YouTube Channel or Facebook Page! What you're craving, could be my next video!
Chocolate Chip Coconut Macaroons Recipe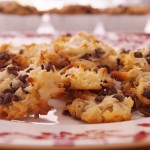 Prep time:
Cook time:
Total time:
Yield:

20

Difficulty:

easy

Recipe type:

Dessert, Cookie Recipe
Ingredients:
1 1/3 cups Shredded Coconut – Sweetened Flake

6 Tablespoons sweetened condensed milk

½ tsp. vanilla extract

1/3 cup mini semi-sweet chocolate chips

Pinch of salt
Directions:
Preheat oven to 350 degrees F
Line a baking sheet with parchment paper
Pour sweetened condensed milk into a medium size bowl.
Add the vanilla extract and the salt. Stir to combine.
Add the shredded coconut. Stir to combine thoroughly.
Stir in the semi-sweet chocolate chips.
Using and small ice-cream scoop or two spoons, place a heaping teaspoon of the coconut mixture onto the parchment lined baking sheet about two inches apart. Using the back of a spoon, press each cookie down slightly.
Bake for about 10 minutes or until lightly browned.
Remove from oven, but leave the cookies on the sheet to rest for about two minutes, before placing on wire rack to cool. If you try to move them right away they'll fall apart.
Enjoy when completely cooled! I prefer them the next day, after they've had a chance to set.
Note: These cookies store well, but you cannot freeze them. I store them in single layers in an airtight container, with parchment paper between each layer. (See my video) They look lovely and make a beautiful addition to your holiday dessert table and are wonderful on a cookie gift try, as they do not crumble easily. People ask me for them every year. I hope your enjoy them!
Published on by Dishin' With Di
Tagged: best, chocolate, chocolate chips, Christmas, coconut, demonstration, Desserts, Diane Kometa, Dishin With Di, easy, flake coconut, from scratch, homemade, How To Make, macaroons, milk, New Year's, New Year's Eve, quick, Recipe, semi-sweet, sweetened condensed milk, sweetened shredded coconut, Thanksgiving, tutorial, vanilla, vanilla extract, video, YouTube