I love when I can sneak some chocolate into a recipe! Mom's best homemade chocolate chip scones are quick and easy to make and go perfectly with a cup of coffee, tea or a glass of milk. A scone is a quick bread and these scones are a cross between a biscuit and a cake or muffin. They have a slightly crisp exterior and a light and tender interior, as long as you handle the dough properly. The key to making tender scones is having cold ingredients, especially cold butter, and a light touch.  I place my cut up butter in the freezer for about 20 minutes before I make scones.  I also leave my wet ingredients: cream, milk or buttermilk (depending on the recipe) vanilla and eggs in the fridge, until I'm ready to use. If it's blueberry scones, pumpkin, banana, cranberry orange scones, strawberry or raisin scones, those ingredients get chilled too.  If it's exceptionally warm in the house, I also put my vanilla, chocolate chips and dry ingredients ( flour, sugar, salt, baking powder and baking soda) in the freezer for a few minutes to chill them. Even if you have air conditioning, the interior of cabinets can become very warm in the heat of summer, especially those that sit along an outside wall, so pop those ingredients in the fridge for 30 minutes or the freezer for 15 and you'll be happier with your results.  The only other advice I have is to be gentle.  Overworking the dough will make it tough.  Just watch and see how to do it!  It's easy!  Note: Unlike my scone recipe, traditional English/British scones, as well as Irish or Scottish scones, are usually made without eggs and are typically served with clotted cream and jam.
Watch The Video!
Learn How to Make Chocolate Chip Scones At Home!
Recipe by: Diane Kometa
Subscribe to Dishin With Di for the latest recipes!
It's FREE!  Do It!  Don't Miss an Episode!
Leave me a comment! Go to this recipe on YouTube or visit my Facebook Page! Let me know if there's something you'd like to see. What you're craving could be my next recipe!
Chocolate Chip Scones Recipe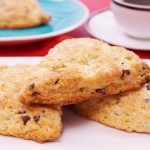 Prep time:
Cook time:
Total time:
Yield:

8 Scones

Difficulty:

easy

Recipe type:

Breakfast, Dessert,
Ingredients:
2 cups all-purpose flour – spoon into measuring cups do not scoop

1/3 cup sugar

1 ½ tsp. baking powder

¼ tsp. baking soda

½ teaspoon salt

½ cup – 8 Tbs. unsalted butter – cut into 16 small pieces then chilled in freezer for about 20 minutes

3/4 cup heavy cream

1 tsp. vanilla bean paste or pure vanilla extract

1 large egg

2/3 cup (4 ounces) chocolate chips

2 Tbs. heavy cream for brushing scones

Demerara Sugar – course sugar for topping
Directions:
Place oven rack in center and preheat oven to 400 degrees F.
In a large bowl add the flour, sugar, baking powder and salt. Whisk together until thoroughly combined.
Remove the pieces of butter from the freezer and dump it into the flour mixture. Cut the butter into the flour with a pastry blender or your fingers, until mixture looks crumbly. Do this quickly. There should be varying sizes of crumbs, with some pieces of butter visible and some sandy flour. Stir in the chocolate chips.
Get the ¾ cup of cream and egg from the fridge. Pour the cream and the egg into a large measuring cup or small bowl. Add the vanilla bean paste or extract. Stir with a fork or whisk until thoroughly combined.
Make a well in the dry ingredients and dump the liquid ingredients into the dry ingredients all at once. Toss with a spatula or fork until the mixture begins to come together. Dump dough onto lightly floured surface. Very gently press dough together into a ball and gently pat it down into about and 8 inch circle. Using a sharp knife or pastry cutter gently cut the dough into 8 triangles. Wipe excess sticking dough from the knife with a paper towel and dust with flour in between cuts. Transfer scones to a baking sheet lined with parchment paper and place about two inches apart. Brush the tops of the scones with some cream or milk and then sprinkle with some sugar. Bake for about 16-18 minutes or until lightly golden brown and a toothpick inserted into the center comes out clean. Place on wire rack to cool for about 5-10 minutes. Enjoy warm or at room temperature! Recipe by: Diane Kometa
Published on by Dishin' With Di
Tagged: best, biscuits, bread, breakfast, butter, Cake, chocolate, chocolate chips, Christmas, cream, demonstration, Desserts, Diane Kometa, Dishin With Di, easy, eggs, flour, from scratch, homemade, How To Make, milk, muffins, Old Fashioned, pastry, quick, quick bread, scones, sugar, Thanksgiving, tutorial, Valentine's Day, vanilla, video, YouTube