Di shows you how to make a Chocolate Chip Muffins Recipe! Double style!! Chocolate Muffins /Chocolate Chip Muffins with Chocolate chips and Double the Chocolate! Easy, moist muffin batter! The best part is they're quick to make; in and out of the oven and BOOM!  MUFFINS for breakfast! Get some milk and bananas and make it meal!  Or NOT! They're bordering Cupcakes, so it sinfully delicious! Cake-like muffins! Oh boy!  Make a double batch! Chocolate Chocolate Chip Muffins!  What's not to LOVE!  Don't forget to share with your friends!
Want to see more Muffin Recipes, Breakfast Recipes or Chocolate Recipes??  Leave me a Comment or Request a Recipe!  Go to this Recipe on YouTube or my Facebook Page!  What you're craving could be my next recipe!
More Recipe you may like!
Chocolate Chip Banana Muffins Recipe 
Chocolate cupcakes Recipe with Chocolate Ganache Frosting
Cinnamon Rolls Recipe, Coffee Cake Recipe 
Watch the Video!  Learn how to make these sinfully delicious Chocolate Chip Muffins!  Double Chocolate!  Recipe by:  Diane Kometa
Get updated when I release New Recipes!  It's Free! Do It! 
Don't Miss An Episode!
Chocolate-Chocolate Chip Muffins Recipe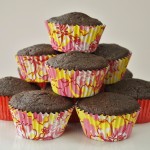 Prep time:
Cook time:
Total time:
Yield:

12

Difficulty:

easy

Recipe type:

Breakfast, bread, quick bread, dessert
Ingredients:
1 1/3 Cups all-purpose flour – measured by pouring into measuring cups – see video

¾ cups granulated sugar

¾ tsp. baking soda

1/3 cup unsweetened cocoa powder – sift after measuring, to be sure there are no lumps

½ tsp. salt

3/4 to 1 cup mini semi-sweet chocolate chips – depends how chocolaty you want them – I used about ¾

2/3 cup buttermilk – room temp

1 egg – lightly whisked – room temperature

1/3 cup canola oil or vegetable oil (not olive oil) –room temperature

1 ½ tsp. Vanilla extract

½ cup strong coffee – room temperature–OR – ½ cup water combined with 2 tsp. instant coffee
Directions:
Preheat oven to 375 degrees F. Place the oven rack in the center position
Line a regular muffin tin with 12 cupcakes liners
Into a large bowl, add the flour, sugar, salt, baking soda and unsweetened cocoa powder. Whisk well to combine thoroughly. Add the chips and mix through. Make a well in the center of the flour. Set aside.
Into another bowl, add the buttermilk, egg, oil, coffee and vanilla. Whisk to combine.
Dump the wet ingredients into the dry ingredients all at once. Stir, until just moistened. Be sure to get the bottom, but do not over mix.
Using a ¼ cup ice cream scoop or ¼ cup measuring cup, dip the scoop into the batter and level off with the edge of a knife. Distribute the batter evenly into the 12 cupcake liners. They should be about ¾ full.
Bake for 18-20 minutes or until top springs back when touched. Don't use a toothpick to check, because the melting chocolate chips will just get all over the toothpick.
Place the tin on a wire rack for 5 minutes to cool. Remove muffins from tin to a rack to cool completely.
NOW EAT YOUR BREAKFAST!! YUM! ENJOY!!! Recipe by: Diane Kometa
Published on by Dishin' With Di
Tagged: batter, best, bread, breakfast, chocolate, chocolate chocolate chip, Christmas, cupcake, demonstration, Desserts, Diane Kometa, Dishin With Di, double chocolate, easy, eggs, flour, from scratch, Halloween, homemade, How To Make, milk, muffin, New Year's, New Year's Eve, Old Fashioned, quick, quick bread, Recipe, snack, sugar, Thanksgiving, tutorial, Valentine's Day, vanilla, video, YouTube