Homemade Chocolate Chip Cookies From Scratch! Easy Step by Step Recipe! Mom's Best Cookie Recipe with semi sweet and milk Chocolate Chips! These are my son's favorite cookies!  When he came home from school, cookies would be freshly baked and waiting for him.  Over the years, I've made a lot of chocolate chip cookie recipes. I've tried combinations of brown sugar and white sugar, eggs, unsalted butter and chocolate chips. I've even tried vegetable shortening, along with the butter and the texture was good, but flavor was lacking.  With a the perfect balance of ingredients, you will be able to make a delicious cookie! These cookies are light and crisp and perfect with a glass of milk!  If you prefer them a bit more soft and chewy,  then simply bake don't bake them quite as long.  There are also instructions in my recipe for storing cookies, so you can keep them fresh longer.  Follow my step by step video recipe and you'll learn how to make the best chocolate chip cookies! Well, that's what my kids and my husband call them, so they must be right, for once anyway!  LOL  😉
Check out my dog at the end of the video!  He likes the cookies too! I usually bake a cookies just for him without chips..  Don't worry, that was the only piece he had with chips and I checked with my veterinarian about this before and 3 chocolate chips won't hurt him (he's over 50 pounds), but a half a pound of chips could be a problem. Dark and unsweetened baker's chocolate are more dangerous in smaller amounts though, with 5-10 times more theobromine as semi sweet and milk chocolate.  Just an FYI.
What's your favorite Cookie recipe?  Chocolate Chip Recipes?  Leave me a comment! Go to this Recipe on YouTube or visit my Facebook Page! Let me know if there's something you'd like to see.
What you're craving could be my next recipe!
Watch The Video! Learn How To Make Chocolate Chip Cookies From Scratch!
Old Fashioned Chocolate Chip Cookies are perfect anytime!
Subscribe to Dishin' With Di's YouTube Channel for the latest recipes! It's FREE!
Don't Miss An Episode!
Chocolate Chip Cookies Recipe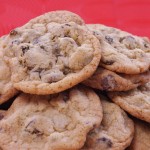 Prep time:
Cook time:
Total time:
Yield:

4 dozen

Difficulty:

easy

Recipe type:

Dessert, Cookie Recipe
Ingredients:
2 ¼ cups flour – spooned and leveled – do not tap or pack down

1tsp. salt – I use fine sea salt

1 tsp. baking soda

1 cup unsalted butter – room temperature

3/4 cup sugar – lightly dip measuring cup into sugar and level – do not tap down or pack

3/4 cup light brown sugar – lightly packed

2 tsp. pure vanilla extract

1egg – room temperature

1cup milk chocolate chips

1 cup semi-sweet chocolate chips
Directions:
Preheat oven 350 degrees F. Place oven rack in center position. Line 2 baking sheets with parchment paper.
Add the butter to the mixing bowl and beat for a minute until smooth. Add the brown sugar and white sugar and turn the mixer up to medium high speed and beat for 2 minutes, until pale in color and light and fluffy looking. Scrape the bowl as needed.
While the butter and sugar are beating, to a separate bowl, add the flour, baking soda and salt. Mix dry ingredients thoroughly with a wire whisk. Set aside. In a small bowl, add the egg and vanilla and lightly whisk with a fork.
With the mixer on low, gradually add the egg mixture to the butter and sugars. Mix until combined. Scrape the bowl as needed.
With the mixer on low, gradually add the flour mixture and mix just until the flour disappears. Do not over mix. Scrape the bottom and sides of the bowl and then add the chocolate chips. Use a large rubber spatula or wooden spoon and mix through by hand.
Use a small ice cream scoop or scoop heaping tablespoons of dough onto a baking sheet and space about 2 inches apart. Try to keep the dough balls about the same size, so they cook evenly.
Bake for about 10-12 minutes or until golden brown. For softer cookies baked about 10 minutes and for crisper cookies bake about 11-12 minutes. Ovens vary and so will bake times. While one sheet cooks, fill the other sheet with dough balls. Dough must be placed on a cool baking sheet to cook evenly and avoid spreading.
Let cookies rest on baking sheet for 2 minutes and then, using a spatula, carefully move them to a wire rack to cool completely. Enjoy!
Notes: 1) Cookies must be completely cooled on a wire rack before storing or stacking on a plate, as steam released will cause them to become soggy. 2) How to store cookies: Line a large air tight container with waxed or parchment paper. Add a single layer of cookies and cover with a layer of paper. Continue to layer cookies between paper. Place paper over the final layer, before sealing the lid. Cookies will stay crisp and fresh for about 10 days.
Published on by Dishin' With Di
Tagged: all purpose flour, bake, baked, baking soda, best, brown sugar, butter, Chips, chocolate, chocolate chip, chocolate chip cookies, chocolate chips, Christmas, Classic, cook, cookie dough, cookie recipe, cookies, demonstration, Desserts, Diane Kometa, Dishin With Di, Easter, easy, eggs, flour, from scratch, Halloween, homemade, how to, How To Make, milk chocolate, New Year's, New Year's Eve, Old Fashioned, quick, Recipe, salt, semi sweet chocolate, snack, storing cookies, sugar, Thanksgiving, Traditional, tutorial, Valentine's Day, vanilla, vanilla extract, video, YouTube