A perfect Fall or Thanksgiving Breakfast idea!  Made with Pumpkin Pie Spice / Pumpkin Spice, these muffins have a Chocolate Chip Streusel Topping and are filled with Banana and Pumpkin flavor!  Like Pumpkin Bread or Banana Bread with some extra crunch and Chocolaty deliciousness!  Is that a word?  Well, they are The Best, to me anyway.  I just Luv them!  If you've tried other pumpkin or chocolate chip banana muffin recipes, you just must Try These! They're great with a cup of coffee!
What's your favorite muffin?  Pumpkin or banana recipe?  Thanksgiving breakfast recipe! Leave me a comment! Go to this recipe on YouTube or visit my Facebook Page! Let me know if there's something you'd like to see.
What you're craving could be my next recipe!
Subscribe to Dishin' With Di's YouTube Channel for the latest recipes! It's FREE!
Don't miss an episode!
Chocolate Chip Banana Pumpkin Streusel Muffins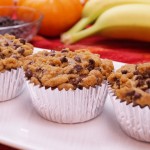 Prep time:
Cook time:
Total time:
Yield:

12 muffins

Difficulty:

easy

Recipe type:

Breakfast
Ingredients:
½ cup ripe bananas – mashed

½ cup pumpkin puree – (Not pumpkin pie mix)

1/3 cup granulated sugar

1 Tablespoon light brown sugar – packed

¼ cup vegetable oil

1 large egg – lightly whisked

1 cup all purpose flour

½ tsp. baking soda

1 tsp Pumpkin Spice – I have a substitute recipe if you don't have any – link below

½ tsp. salt

1 tsp. vanilla extract

Topping

1/3 cup flour

½ cup light brown sugar – firmly packed

¼ cup unsalted butter – softened

½ cup mini semi-sweet chocolate chips
Directions:
Preheat oven to 350 degrees F
Line a muffin tin with cupcake liners and set aside.
Thoroughly combine flour, baking soda, salt and pumpkin spice in a medium bowl. Set aside.
In a large bowl, whisk together the pumpkin puree and the mashed banana. Add the egg and the sugars and whisk until well combined.
Add the oil and the vanilla and combine.
Add the dry ingredients to the wet all at once. Stir until combined, but do not over mix. It's ok if there are a few small lumps of flour. They will work themselves out in hot oven, but if you mix it too much you may end up with a tough muffin, not to be confused with a tough cookie. Wink, wink.
Fill the liners with the batter about half way. It's not going to look like enough batter, but you still have to add the topping. Also, there is just enough batter for 12 muffins, so just try to distribute the batter evenly.
In a small bowl combine the flour and brown sugar. Add in the butter and mix until well incorporated. I use my hands. Add the mini chips and mix through.
Distribute the topping evenly over each muffin. It should come up to the top. I use my hands for this as well, but you can use a spoon. Use it all! It looks like a lot, but it's not.
Bake on center oven rack for about 20 minutes or until the tops of the muffins are light brown. Let set for 5-7 minutes and then remove muffins to rack to cool. Enjoy!
Published on by Dishin' With Di
Tagged: banana, bread, breakfast, butter, chocolate, Christmas, demonstration, Desserts, Diane Kometa, Dishin With Di, easy, eggs, flour, from scratch, Halloween, homemade, How To Make, muffin, pumpkin, quick, Recipe, sugar, Thanksgiving, tutorial, vanilla, video, YouTube