Chocolate Buttercream Frosting Recipe for cupcakes, icing cake, brownies, decorating.  Best, quick and easy chocolate frosting recipe/icing recipe with cocoa powder, powdered sugar (icing sugar), milk, butter and vanilla. It's an easy chocolate icing recipe to work with and I think it's the perfect chocolate frosting for piping roses! A bakery-style or Swiss buttercream frosting is made with eggs and shortening.  This recipe is very creamy, delicious and made without shortening and without eggs! The recipe is sometimes called an American buttercream frosting, confectioner's frosting or just simple buttercream frosting. Homemade Chocolate Frosting from scratch, made from cocoa powder and with powdered sugar and of course with butter, can be whipped up in minutes!  No need to buy canned frosting ever again! Making homemade frosting for cake, cupcakes and desserts is simple and during the holidays adds a special touch. My family loves this icing and it's always on something on my dessert menu. I make my raspberry buttercream or vanilla buttercream frosting, topped on old fashioned chocolate cupcakes or vanilla cupcakes.  I love this chocolate buttercream frosting on vanilla cupcakes, banana chocolate cupcakes or vanilla cake. Well, really I love it on a lot more than that and especially on a spoon!  It's also a great piping frosting for decorating cakes, cupcakes, cookies and many desserts. It also is nice for simple spreading or icing.  Get in the kitchen!  Make Chocolate Buttercream Frosting From Scratch!  It's Easy!!
What's your favorite chocolate recipe? Dessert recipe?  Frosting recipe?  Leave me a comment! Go to my YouTube Channel – Dishin With Di or visit my Facebook Page! Let me know if there's something you'd like to see.  What you're craving could be my next recipe!
Learn How To Make Chocolate Buttercream Frosting!                                Recipe by: Diane Kometa
Subscribe for the Latest Recipes!  It's FREE!  Do It!
Don't Miss An Episode!
Chocolate Buttercream Frosting Recipe / Icing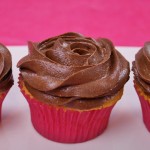 Prep time:
Cook time:
Total time:
Difficulty:

easy

Recipe type:

dessert
Ingredients:
¾ cup unsalted butter – softened – 12 Tablespoons

3 cups powdered sugar – sifted (sift after measuring)

1 cup unsweetened cocoa powder – sifted (sift after measuring)

7-8 Tbs. milk – room temp

1 ½ tsp. pure vanilla extract

Makes about 3 cups
Directions:
Using a hand mixer or stand mixer, beat the butter until fluffy and very pale in color, about 3-5 minutes. Start with the mixer on low and move it up to about medium-high. Scrape down the sides of the bowl as necessary.
With the mixer on low, gradually add the cocoa powder. Beat well to combine. Scrap down the sides and bottom of the bowl.
Turn the mixer off and add the vanilla extract. Mix until thoroughly combined.
With the mixer on low, add about one half cup powdered sugar. Mix until combined. Then add about 1-2 tablespoons of milk and mix until combined. Continue to add the sugar and milk alternately. Beat thoroughly after each addition.
Once all of the sugar and milk have been added, check for sweetness and add more powdered sugar if desired, but be sure to sift it first to avoid lumps. Beat for about 3 minutes, until smooth and creamy or desired consistency. If not using immediately, cover with plastic wrap placed directly on the frosting, to keep moist, until ready to use. If the frosting is exposed to the air for too long, it can become dry and form a crust, which will ruin its texture for spreading or piping.
Store in the refrigerator in an air tight container, with a piece of plastic wrap placed directly on the frosting to block any air, for up to two weeks. You can also freeze the frosting for a couple of months. Either way, when you're ready to use it, let it soften to room temperature and then beat it with the mixer to fluff it back up again.
Notes: Frosting is soft at room temperature and firm when refrigerated. If frosting becomes too warm and soft to work with, cover frosting with plastic wrap placed directly on the surface and refrigerate until piping consistency. Place frosted desserts in refrigerator, until about 30 minutes before serving, so frosting has a chance to soften. Recipe by: Diane Kometa
Published on by Dishin' With Di
Tagged: American buttercream, bakery, bakery style, best, birthday, birthdays, brownies, butter, butter cream, butterceam, Cake, cakes, chocolate, Christmas, cocoa, cocoa powder, confectioner's sugar, confectioners, cookies, cream, creamy, cupcake, cupcakes, decorating, demonstration, Dessert, Desserts, Diane Kometa, Dishin With Di, Easter, easy, eggless, from scratch, frost, Frosting, fudge, homemade, How To Make, Icing, icing sugar, making, milk, no eggs, no shortening, Old Fashioned, piping, powdered sugar, quick, Recipe, roses, spreading, Thanksgiving, topping, tutorial, Valentine's Day, vanilla, video, whipped, YouTube