When you're missing Thanksgivng and that delicious turkey dinner, here's a way to get it all in one bite any time of year!
Watch the Video!  Learn How To Make It!
Visit me on my YouTube Channel and Subscribeto get my latest recipes!
Leave me a comment!  Go to my YouTube Channel or my Facebook Page and let me know if there's something you'd like to see.
What you're craving, could be my next video!
Thanksgiving Chicken Sandwich Recipe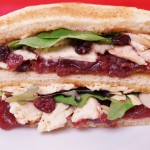 Prep time:
Cook time:
Total time:
Yield:

1

Difficulty:

easy

Recipe type:

Entree, Main Course, snack
Ingredients:
Sliced roast chicken breast – I buy a rotisserie chicken at the grocery store (whole cooked chicken)

2 slices Toasted bread of your choice

Mayonnaise

Cranberry sauce

Poultry seasoning

Sliced almonds or nuts of your choice

Dried cranberries

Salt and Pepper to taste
Directions:
Spread mayonnaise on both sides of toast
Sprinkle some poultry seasoning on one side of the toast. If you like more then add more!
Add some slices of chicken and season with salt and pepper to taste.
Top with the almonds, dried cranberries, cranberry sauce and some baby greens. Enjoy!
Published on by Dishin' With Di
Tagged: bread, chicken, chicken sandwich, Cranberry, demonstration, Diane Kometa, Dishin With Di, easy, from scratch, homemade, How To Make, meat, nuts, quick, Recipe, sandwich, snack, Thanksgiving, turkey, tutorial, video, YouTube