Visit me on my YouTube Channel and Subscribeto get my latest recipes!
SUBSCRIBE!  I'd love to have you!  Help put me on the YouTube map and give me a try!  Your Subscription does make a difference!  I'd really appreciate it. Thanks Soo Much For Watching!
Leave me a comment!  Go to my YouTube Channel or my Facebook Page and let me know if there's something you'd like to see.
What you're craving, could be my next video!
Thanks so much for visiting!
Chicken Lettuce Wraps Recipe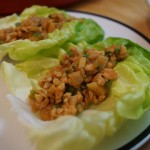 Prep time:
Cook time:
Total time:
Yield:

8-10

Difficulty:

easy

Recipe type:

Main Course, Entree, Appetizer
Ingredients:
8-10 large lettuce leaves- I used Boston lettuce in the video, but I've used Iceberg many times

1 Lb. Ground Chicken (or Turkey)

1-2 tablespoon vegetable or olive oil

1 large onion, chopped

2 Tbs. peanut butter (more or less – I like about 2 Tbs.)

1 Tbs. honey

1 Tbs. water

2 large cloves garlic, minced

2 teaspoons fresh minced ginger

1 tablespoon low-sodium soy sauce

3-4 Tbs. hoisin sauce

1 tablespoon rice vinegar

1 teaspoon Sriracha Hot Chili Sauce (optional-it's hot!)

1 (8 ounce) can water chestnuts, drained, rinsed and chopped

1 bunch green onions, chopped

2 teaspoons Asian sesame oil

Salt to taste
Directions:
Rinse lettuce leaves and pat dry. Set aside.
In a small microwave-safe bowl, heat the peanut butter, honey and water just until softened, about 10 seconds. Stir. Set aside.
In a skillet over medium-high heat, add enough oil to coat the pan and then add the chopped onion and the chicken. Cook and stir frequently, breaking up the meat into small pieces. Cook until onion has softened and chicken is no longer pink and just starting to brown slightly.
Reduce heat to medium. Stir in everything, except the water chestnuts, green onions and sesame oil. The chili sauce can also be added now, but be careful it's hot. You can serve it on the side, so people can add as much as they'd like. Cook and stir for a couple of minutes to combine flavors.
Now add the chopped water chestnuts, green onions and sesame oil. Stir to combine. Cook and stir for about 2 minutes until the green onions are soft.
To serve: spoon a portion of the meat into a lettuce leaf and wrap. To serve family-style, place chicken mixture in a serving bowl in the center of a large platter and arrange lettuce leaves around the bowl. These wraps are great for a light dinner, lunch and also make the perfect appetizers. They look great, taste incredible and take very little effort! Enjoy!
Published on by Dishin' With Di
Tagged: appetizer, appetizers, Asian, chicken, chili sauce, demonstration, Diane Kometa, Dishin With Di, easy, from scratch, Garlic, ginger, green onions, ground chicken, ground turkey, healthy, hoisin sauce, homemade, honey, lettuce, meat, onion, peanut butter, quick, Recipe, scallions, sesamie oil, snack, soy sauce, turkey, tutorial, video, water chestnuts, wraps, YouTube