Learn how to make a Chicken Florentine Recipe: Chicken and Spinach Recipe with a creamy white wine sauce.  This is pan seared chicken cooked in a white wine cream sauce and served over sautéed spinach.  Easy chicken recipes are perfect for weeknights, but this dish would impress guests and suite any holiday or special occasion.  Chicken Florentine is sooo easy to make, that it's ready in minutes!  You can even make it with pasta, like bow ties or with penne.  Pasta in a creamy spinach sauce is delicious!  To make Pasta Florentine with chicken, just make extra sauce for pasta! Simple! Get in the kitchen and give it go!
Do you want to see more Easy Chicken Recipes or Dinner Recipes?  Go to the comments section for this Recipe on YouTube  or my Facebook Page and Request a recipe or leave me a comment!  What you're craving could be my next recipe!
Watch The Video!
Learn How To Make Chicken Florentine! Recipe by: Diane Kometa
Get updated when I release New Recipes!  It's Free! Do It! 
Don't Miss An Episode!
Chicken Florentine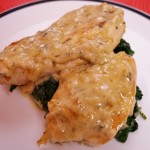 Prep time:
Cook time:
Total time:
Yield:

2-4

Difficulty:

easy

Recipe type:

Entree, Main Course
Ingredients:
2 boneless skinless chicken breasts cut in half lengthwise

Fresh Spinach – about 6 ounces

4 garlic cloves – minced

2 Tbs. sweet onion – minced

1 ½ cups white wine (pinot grigio)

2/3 cup heavy cream

1 tsp. dried parsley

Fresh nutmeg

Salt & pepper

Extra virgin olive oil
Directions:
Season chicken breast with salt and pepper on one side and then dredge lightly in flour. I used a fine quick mixing type of flour and sprinkled it on, but you can use regular flour and just simply coat the chicken lightly if you don't have it. The brand name of the flour is Wondra and it's used to make gravy. It's great for pan searing.
Heat a non-stick pan over medium high heat. Swirl some olive oil in the pan, just enough to lightly coat the bottom. Add the spinach. Season with salt and pepper and toss. Add several grates of fresh nutmeg and toss. Cook until spinach wilts and remove from pan to a plate and cover it with foil to keep warm.
In the same pan, add some olive oil and then add the chicken. Cook the chicken until it gets brown on one side. Turn it over, reduce the heat to medium and brown the other side. Once the chicken has cooked on both sides, remove from the pan to a plate and cover with foil, while you make the sauce.
In the same pan over medium heat, add about a tablespoon of olive oil. Add the garlic and the onion. Season with salt and pepper. Cook for about 2 minutes until the onion softens.
Add the wine. Raise the heat to medium high and cook until it reduces by about half.
While the wine is reducing, chop the spinach and then recover with foil.
Once the wine has reduce, lower the heat to medium and gradually stir in the cream. Add the parsley and several grates of fresh nutmeg. Season with salt and pepper to taste. Stir to combine. If using ground nutmeg, use only a small pinch. Cook for another 3 minutes until the sauce reduces slightly.
Return chicken to the pan with the sauce. Coat chicken with the sauce and cook for about another three minutes or until the chicken is heated through.
Serve: place some of the spinach on a plate and top with the chicken and sauce. Recipe by: Diane Kometa
Published on by Dishin' With Di
Tagged: best, chicken, chicken breasts, Chicken Florentine, chicken with spinach, Christmas, cloves, cooked, cooking, cream, demonstration, Diane Kometa, Dishin With Di, easy, fresh, fresh spinach, from scratch, Garlic, heavy cream, homemade, How To Make, in pan, Italian, meat, New Year's, New Year's Eve, nutmeg, olive oil, on stove, onion, pan, parsley, pepper, pinot grigio, quick, Recipe, salt, sauteed, seared, skinless, spinach, tutorial, vegetable, vegetables, video, white wine, wine, YouTube