Visit me on my YouTube Channel and Subscribe to get my latest recipes!
SUBSCRIBE!  I'd love to have you!  Help put me on the YouTube map and give me a try!  Your Subscription does make a difference!  I'd really appreciate it. Thanks Soo Much For Watching!
Leave me a comment!  Go to my YouTube Channel or my Facebook Page and let me know if there's something you'd like to see.
What you're craving, could be my next video!
Thanks so much for visiting!
Chicken Cacciatore Recipe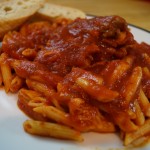 Prep time:
Cook time:
Total time:
Yield:

12-16

Difficulty:

easy

Recipe type:

Entree, Main Course
Ingredients:
8-10 Chicken thighs – skin removed, rinsed and patted dry

4 cans (28oz) tomato sauce

1 can (6oz.) tomato paste

4-5 large cloves of garlic-sliced

2 teaspoons dried oregano

¼ teaspoon ground thyme

1 medium sweet onion – chopped

2/3 cup red wine

Water

Extra Virgin Olive Oil

Salt
Directions:
Add enough oil to cover the bottom of a large pot (Dutch oven). Add garlic and then turn the heat to medium.
When garlic begins to brown, remove it from the oil and discard.
Add the onions and the chicken to the same pot. Brown the chicken on each side and set aside. You may need to do this in batches, as you do need to leave space between each piece of chicken in order for it to brown properly.
After you have removed all of the chicken, add the paste to pot and cook and stir for about 2-3 minutes scraping up the browned bits from the bottom of the pot as you stir. The browned pieces that remain are where you get a lot of flavor.
Add the sauce to the cooked paste. Also add water to each empty can (about ¼ can of water) and give it a swish around to get any remaining sauce from the bottom. You need this water in the recipe, so don't leave this step out. Stir to combine.
Add the remaining ingredients. Stir to combine.
Raise heat slightly. When the mixture begins to simmer, return the chicken to the pot and stir.
Reduce the heat to medium-low and place the lid on the pot, so that it does not completely cover. Cook for about 1½-2 hours or until chicken is fork tender.
Serve over your favorite pasta or rice, along with some crusty bread. This is a large batch, so if you have a lot of sauce left over, simply freeze it in portions. If you remove the chicken, this sauce can also be used for other recipes, just as you would a traditional pasta sauce. Enjoy!
Published on by Dishin' With Di
Tagged: best, braised, chicken, chicken cacciatore, Christmas, demonstration, Diane Kometa, Dishin With Di, easy, from scratch, Garlic, gravy, healthy, homemade, How To Make, Italian, marsala wine, meat, meat sauce, Old Fashioned, olive oil, onion, pasta sauce, pollo alla cacciatora, quick, Recipe, red wine, sauce, tomato, tomato sauce, tutorial, vegetables, video, wine, YouTube