Fritters Recipe! Learn How to make Chicken Fritters with Broccoli and Cheese!  I love delicious, crispy fritters, pancakes/latkes.  Whatever you want to call them! These are soo quick and easy to make and this is a good recipe for leftover chicken and broccoli. I've made zucchini fritters before, which I like, but I like these much better.  I think the chicken makes it more of meal for lunch or for dinner, but you can make them as a snack or appetizer. You could even switch out the broccoli for zucchini or another vegetable, because the fritter batter or pancake batter you could call it, is simple to make.  I really like the garlic and cheese, but I think what really tops these fritters off, besides the crunchy panko breadcrumbs, is my lemon garlic aioli sauce.  It just adds such a fresh flavor and with the crispy fritters it perfect!  They kind of get me thinking about my potato latkes or potato pancakes, which I also love, but you really should try this recipe! It's perfect for a fast and easy weeknight meal and my sons went crazy for them!
Click for >> Lemon Garlic Aioli Recipe
Want to see more Chicken Recipes?  Request a Recipe or Leave me a Comment!  Go to my This Recipe on YouTube or my Facebook Page!  What you're craving could be my next recipe!  😉
Watch the Video! Learn How to Make Chicken Broccoli Parmesan Fritters  Recipe by: Diane Kometa
Get updated when I release New Recipes!  It's Free! Do It! 
Don't Miss An Episode!
Chicken Broccoli Parmesan Fritters Recipe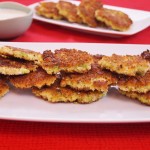 Prep time:
Cook time:
Total time:
Yield:

12-14 Friters 2-3 inches round

Difficulty:

easy

Recipe type:

Entree, Main Course, side dish, snack
Ingredients:
1 ½ cups cooked chicken finely chopped

1 ¼ cups cooked broccoli florets– finely chopped

½ cup freshly grated parmesan cheese

¼ cup milk

2 eggs – lightly whisked

6 Tbs. all purpose flour

½ tsp. baking powder

1 tsp. finely minced garlic

¼ tsp onion powder

½ tsp salt

¼ tsp freshly ground black pepper or to taste

Extra virgin olive oil

Vegetable or canola oil

1-2 cups Panko Bread crumbs
Directions:
Place panko bread crumbs into a pie plate or on a dish. Set aside.
Heat a heavy pan over medium heat.
Line a wire cooking rack or a plate with paper towels. Have some extra paper towel handy, so you can replace them when they get too greasy.
In a medium bowl, combine thoroughly the Parmesan cheese, flour, baking powder, onion powder, salt and pepper. Set aside.
In a large bowl combine the eggs, milk and garlic. Add the chicken and the broccoli and mix through until well combined.
Dumb in the dry mixture and stir just to combine thoroughly.
Add equal amounts of olive oil and canola oil to the pan to coat completely coat the bottom.
Using two soup spoons or your hands scoop up a heaping spoonful of the chicken and broccoli mixture. See video. Move the mixture to the bread crumbs and slide it off with the other spoon. Coat with bread crumbs and then flip to coat the other side. Lift out and carefully place into hot oil. Press down the fritter with the back of the spoon so that it's about ¼ to ½ inch thick and about 3 inches round. Don't worry if they start to fall apart, just push them together and then don't disturb them.
Check for doneness in a few minutes by gently lifting with a spatula. Gently lift and flip using a spatula and a spoon and brown on the other side. Adjust heat as necessary. You may need to add or replace the oil, especially if the pan gets too hot and the cooked bread crumbs laying at the bottom begin to burn. Remove those before adding more oil.
Move cooked fritters to the paper towel lined rack to cool slightly. Serve immediately with my Lemon Garlic Aioli or with a squeeze of fresh lemon juice. ENJOY!! Recipe by: Diane Kometa
Published on by Dishin' With Di
Tagged: appetizer, appetizers, baking powder, broccoli, cheese, chicken, chicken fritters, demonstration, Diane Kometa, Dishin With Di, easy, eggs, flour, fritters recipe, from scratch, Garlic, homemade, How To Make, leftovers, Lemon, lunch, meat, milk, pancakes, panko bread crumbs, Parmesan cheese, quick, Recipe, side dish, Sides, snack, tutorial, vegetable, vegetables, video, YouTube