Chicken and Cheese Empanadas Recipe & Video
Easy Chicken and Cheese Empanadas Recipe! No dough making!  Using pie crust, these empanadas are baked not fried!  Mexican style appetizers packed with flavor and ready in minutes!  Perfect for Cinco de Mayo or any party or Latin/Mexican dinner night!  I serve mine with sour cream, salsa and sometimes with my guacamole recipe.  You can make these empanadas spicy or mild, by simply adjusting some of the ingredients.  I did a little research when I decided to make these and found the origin of authentic empanadas traces back to Portugal and Spain, but they're also popular in South America and various version can be found world wide.  In Mexico, meats and mixed vegetables are used in fillings for empanadas, but they are also served with sweet fillings for breakfast or dessert.  Empanadas served for dessert and breakfast are filled with pumpkin,  sweet potatoes, yams,  cream and a variety of fruit fillings.  Meat Empanadas can be  filled with chicken and cheese, pork or beef.  Traditional empanadas can be served in larger form as a main dish, or smaller for an appetizer, snack or dessert.  My version is a quick method without frying and is suitable for a snack or appetizer, although when I made the video for this recipe, my hub and I ate enough to be considered a main course!  lol  They are tasty and simple to make.  I hope you enjoy them! I also enjoy chicken and cheese enchiladas and chicken and cheese quesadillas, which I'll get around to posting.  You can also try my Turkey Taco Wraps,  Cinnamon and Sugar Tortilla Chips, Homemade Salsa and Famous Guacamole Recipe.  All are easy to make and very tasty.  I test everything, so trust me on that one!
Learn How To Make Easy Chicken and Cheese Empanadas!                      Recipe by: Diane Kometa
Get updated when I release New Recipes!  It's Free! Do It! 
Don't Miss An Episode!
Chicken and Cheese Empanadas Recipe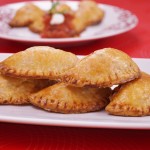 Prep time:
Cook time:
Total time:
Yield:

10-12

Difficulty:

easy

Recipe type:

Appetizer, Entree
Ingredients:
2 ounces Cream Cheese – I used Philadelphia Cream Cheese

½ cup Mexican blend cheeses – fine shredded

½ cup cooked chicken – finely chopped or shredded

1/8 tsp. ground cumin

1/8 tsp. salt

1 Tbs. minced cilantro

1 Tbs. salsa – mild or spicy

1/8 tsp. garlic powder

1 Tbs. green chilies – I used mild

1 egg – beaten

1 prepared pie crust – keep refrigerated until ready to fill

Water in a small bowl

Additional salsa for serving and sour cream – I also add guacamole sometimes
Directions:
Preheat oven to 400 degrees F
Line a baking sheet with parchment paper
In a large bowl, thoroughly combine the cumin, salt, garlic powder, salsa, green chilies, cilantro and cream cheese.
Add the cooked chicken and the shredded cheese and mix well. Set aside.
Onto a cutting board, unroll the pie crust. Using a 3" biscuit cutter or a glass, press down and turn slightly to cut circles into the dough. Place the dough circles onto baking sheet. See video. Make more circles with scraps. Reserve any small dough pieces for patching.
Moisten your finger with some of the water and run it around the outside edge of one of the dough circles. This is going to help seal it.
Get your chicken mixture. Using a small ice cream scoop or table spoon, scoop up some of the chicken mixture and place it in the center of the dough circle. Pull dough over the chicken, trying not to let any of the mixture come out to the edge, as it will prevent it from sticking. Press down with your finger tips to seal. Continue to fill and seal all dough circles. Press the edges of each empanada with a fork to further seal and create a nice textured edge. If there are tears on the tops of the empanadas, moisten your finger with some water and try to pinch or smooth it closed. If that doesn't work, take a small piece of reserved dough and patch it. See video. Note: Using one tablespoon of filling in each empanada really packs these and mine tend to crack a little. I like the extra filling, instead of mostly dough, so I don't mind, but you can just fill them with 1 ½ to 2 teaspoons of chicken mixture and that will help prevent that.
Space empanadas about 2 inches apart. Brush some of the lightly beaten egg on the empanadas. You can skip this step if you'd like, but it gives them a shiny, golden brown color.
Bake empanadas on center oven rack for 16-20 minutes or until golden.
Serve with salsa and sour cream or the dipping sauce or topping of your choice. Recipe by: Diane Kometa
Published on by Dishin' With Di
Tagged: appetizer, appetizers, baked, cheese, chicken, chicken and cheese, chilies, cilantro, Cinco de Mayo, cream, cream cheese, demonstration, Diane Kometa, Dishin With Di, easy, egg, eggs, empanadas, from scratch, Garlic, green chilies, grilled salmon with mango salsa, homemade, How To Make, meat, meat pies, Mexican, pie crust, pie dough, quick, Recipe, salsa, snack, sour cream, tutorial, video, YouTube