Visit me on my YouTube Channel and Subscribeto get my latest recipes!
SUBSCRIBE!  I'd love to have you!  Help put me on the YouTube map and give me a try!  Your Subscription does make a difference!  I'd really appreciate it. Thanks Soo Much For Watching!
Leave me a comment!  Go to my YouTube Channel or my Facebook Page and let me know if there's something you'd like to see.
What you're craving, could be my next video!
Thanks so much for visiting!
Cauliflower Gratin Recipe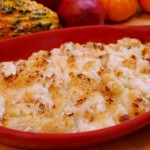 Prep time:
Cook time:
Total time:
Yield:

4-6

Difficulty:

easy

Recipe type:

Side dish
Ingredients:
1 3-4 pound head of cauliflower, cut into small florets

¼ c shredded Swiss cheese

¼ cup shredded mild cheddar cheese

½ c freshly grated Parmesan cheese

3 Tbs. all purpose flour

¼ c panko bread crumbs

1/8 tsp ground white pepper

2 Tbs. unsalted butter

Fresh nutmeg

1 ½ tsp salt

2 cups of whole or low fat milk

Non-stick cooking spray
Directions:
Preheat oven to 375 degrees F
Cut cauliflower into small florets, wash and pat dry.
Heat milk in the microwave until very hot (just below boiling)
Melt the butter in a medium pot over medium low heat
Add the flour and stir to combine. Cook for about 2-3 minutes or until the mixture starts to bubble slightly.
Add in the hot milk and whisk to combine. Cook until mixture comes to a boil. This should take about 5 minutes, as long as the milk is nice and hot. Once it comes to a boil, continue to whisk for about 2 until the mixture becomes thick.
Remove from heat. Add salt, pepper, several grates of fresh nutmeg (I added about ¼ teaspoon), the Parmesan cheese and ¾ of the Swiss and mild cheddar cheeses. Stir until well combined.
Spray a casserole dish with non-stick cooking spray. Pour half of the cheese mixture into the casserole dish and spread it out evenly. It doesn't have to be perfect.
Add the cauliflower and spread it out evenly. Pour the rest of the cheese mixture over top and spread it around. Again, it doesn't have to be perfect. Once it gets in the oven, everything works itself out. It's hard to mess this one up.
Mix the remaining Swiss and mild cheddar cheese with the panko bread crumbs and sprinkle that over top of the cauliflower.
Place uncovered in to the preheated oven for approximately 45 minutes or until cauliflower is fork tender and top has browned slightly. If it's tender, but not as browned as you'd like you can pop it under the broiler for a minute or two about 4-6 inches away from the heat. Be careful though, it can burn fast, so keep an eye on it and be sure to set the timer. I'd start with one minute. Enjoy!
Notes: Make ahead – Cut the cauliflower, prepare the cheese sauce and assemble the dish a day before baking, cover it and just pop it in the fridge. Top with the panko-cheese mixture, when ready to bake. Before baking, remove it from the fridge and let it sit at room temperature for about an hour and then bake as usual. If it's cold it will take longer and the top will brown before the cauliflower is cooked, so just be sure to leave it sit out for a bit to warm up or just lower the oven temp to 350F and cook it a little longer. Easy! It also makes a great take-a-long side dish, when you're invited as a holiday guest. You can cook it at home and just heat it up, when you get to your destination or if the host doesn't mind, you can have it all assembled, but just put the panko-cheese mixture in a zip-lock plastic bag and top it just before you put it in their oven. It's a winner either way and it's even tasty at room temp, so don't worry if it's on a buffet table! I hope this helps you out!
Published on by Dishin' With Di
Tagged: au gratin, baked, bechamel sauce, bread crumbs, butter, casserole, Cauliflower, Cheddar, cheddar cheese, cheese, Christmas, cream, creamy, demonstration, Diane Kometa, Dishin With Di, easy, flour, fresh cauilflower, from scratch, Gratin, homemade, How To Make, milk, New Year's, New Year's Eve, nutmeg, panko, panko bread crumbs, Parmesan, Parmesan cheese, quick, Recipe, sauce, side dish, Sides, Swiss cheese, Thanksgiving, tutorial, vegetable, vegetables, video, white pepper, white sauce, YouTube