Learn how to make a Carrot Cake Recipe with Cream Cheese Frosting! Rich and Moist Carrot Cake recipe with sweet cream cheese frosting and grated carrot. Plump, golden raisins, with or without nuts, this carrot cake is simply delicious and easy to make!
Nuts (walnuts, pecans, toasted nuts) are optional,  but the tangy and sweet cream cheese frosting is a must!  For a bakery style, easy dessert recipe for Thanksgiving, Christmas, Easter, or a Birthday, or when you just want a moist spice cake with great flavor, carrot cake is the best!  With the cinnamon and nutmeg, applesauce, raisins, carrots, nuts for crunch and a luxurious cream cheese frosting to top it off, carrot cake has it all!  Carrots make this a healthy dessert too!  Well, maybe not so much.  I think the sugar and cream cheese frosting cancel out any health benefits. Lol
This cream cheese frosting is just perfect for decorating and piping decorations.  Believe me, I'm no cake decorating expert, so if I can do it anyone can.  You just have to buy some of those cake decorating tips and if you don't have piping bags you can just use a disposable plastic food storage bag and cut the corner off. Trust me on this though; if you don't pipe decorations, it will still look beautiful and more importantly it will taste delicious!  I hope you enjoy this easy Carrot Cake Recipe!  Di 😉
P.S.  Don't let the length of the written recipe scare you.  I give a lot of details, but the recipe is easy.  Just watch the video and you'll see.  Also, the cream cheese frosting has a beautiful texture, is not overly sweet and holds up well to piping, as long as it's not too soft, in which case, you would just cover it and pop it in the fridge for bit to chill and then get back to decorating.
Request a Recipe!  Want to see more Dessert Recipes or Cake Recipes?  Go To this Recipe on YouTube or my Facebook Page to Leave a Comment!  What you're craving could be my next recipe!
Watch The Video Recipe!  
Learn How To Make Carrot Cake With Cream Cheese Frosting! 
Recipe by: Diane Kometa
Get updated when I release New Recipes!  It's Free! Do it! 
Don't Miss An Episode!
Carrot Cake Recipe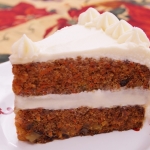 Prep time:
Cook time:
Total time:
Yield:

10-12

Difficulty:

easy

Recipe type:

dessert
Ingredients:
2 ¼ cups flour – spooned and leveled – Do Not Scoop the flour! Too much flour = dry cake!

2 tsp. ground cinnamon

¼ tsp. ground nutmeg

2 tsp. baking soda

1 tsp. salt

4 large eggs – room temperature

2 cups sugar

1 ¼ cups canola oil or vegetable oil

½ cup applesauce – room temperature

2 tsp. pure vanilla extract

3 cups peeled and grated carrots – almost 1 pound

1 cup golden raisins

¾ cup chopped walnuts or pecans (optional)

Cream Cheese Frosting

12 ounces cream cheese – softened

¾ cup (12 tablespoons) butter – softened

4 tsp. pure vanilla extract

5-6 cups powdered sugar (confectioners' sugar, icing sugar)
Directions:
Peel the carrots and then grate them over the large holes of a box grater. Transfer the grated carrots to a large bowl and set aside.
Preheat oven to 350 degrees F and place oven rack in center of oven. Grease two – 9 x 2 inch cake pans and line the bottoms of the pans with a circle of parchment paper, grease the paper and then flour the pans, shaking off any excess flour. Set aside.
Place the raisins in a small microwave-safe bowl and cover with water. Microwave on high for about 1 minute, until the water is hot. Let the raisins soak in the hot water for about 10 minutes, until soft and plump. Drain and pat dry on paper towels. Set aside.
In a medium bowl, add flour, baking soda, salt, cinnamon and nutmeg. Whisk until thoroughly combined. Set aside.
In the bowl of a stand mixer fitted with the paddle attachment or with a hand mixer, add the oil, sugar and vanilla and mix until combined. Add the applesauce and mix thoroughly. Scrape the bottom and sides of the bowl with a rubber spatula.
Crack the eggs into a small bowl or measuring cup and beat them lightly. With the mixer on low, gradually pour the beaten eggs to the oil, applesauce, and sugar mixture. Turn the mixer up to medium high and beat for 3 minutes, until the mixture is pale yellow. Scrape the bottom and sides of the bowl at least once.
With the mixer on low, add the dry ingredients and mix just until the flour begins to disappear. Use a large rubber spatula and scrape the sides and bottom of the bowl. Do not over mix.
To the bowl of grated carrots, add the chopped walnuts (if using) and the softened raisins. Toss the mixture with your hands to thoroughly combine.
Dump the carrot mixture into the batter. Using a large rubber spatula, gently fold the carrot mixture into the batter to combine. Do not stir or over mix.
Divide batter evenly between the cake pans. Bake for about 35-40 minutes or until a tooth pick or tester inserted into the center of the cake comes out clean or the top of the cake springs back when touched gently.
Set the pans on a wire rack to cool for 5 minutes and then run a knife around the edge of the pans to release. Turn the cakes out on to a wire rack to cool completely. Once cooled cakes can be frosted with cream cheese frosting.
Make Ahead – Storage: Unfrosted cakes can be wrapped in plastic wrap and refrigerated or stored at room temperature overnight. Freeze Carrot Cakes: Properly wrapped cakes can be stored in freezer bags and frozen for up to 2 months. Thaw carrot cakes in the refrigerator overnight, before frosting.
Make Cream Cheese Frosting: Add the softened cream cheese to the bowl of a stand mixer fitted with the paddle attachment or using a hand mixer. Beat for about a minute, until smooth. Add the softened butter and mix on medium speed to combine. Scrape bowl as needed. Add the vanilla extract and mix until combined. With the mixer on low, gradually add the powdered sugar. Beat on medium speed until thoroughly mixed, smooth and creamy, about 3 minutes. Add more powdered sugar if needed to reach desired consistency.
Assemble the Carrot Cake: Place a dab of frosting on the center of the cake stand or serving dish. Remove the parchment paper from the first cake layer and place the cake onto your serving plate with the flat side up (the side that had the parchment paper on it). Tuck overlapping strips of parchment or wax paper under the edge of the cake to keep the serving dish clean while frosting. Place about 1/3 of the frosting onto the cake leaving some cake showing around the edge. Remove parchment paper from the second layer and place the cake onto the frosting. For best results, spread a thin layer of frosting over the top and sides of the cake and refrigerate uncovered for about 30 minutes, until the frosting had firmed. Keep remaining frosting covered with plastic wrap. Once firm, frost the cake with remaining cream cheese frosting. Garnish with additional chopped walnuts by gently patting them into the frosting around the sides of the cake with the palms of your hands, if desired. Pipe decorations on the cake for a bakery style appearance for special occasions. If making ahead, refrigerate frosted carrot cake uncovered until frosting has firmed and then cover carrot cake lightly with plastic wrap. Remove from refrigerator 30-60 minutes before serving. Cover and refrigerate any leftovers. Enjoy! Recipe by: Diane Kometa
Published on by Dishin' With Di
Tagged: apples, applesauce, bake, baked, baking, best, birthday, butter, Cake, cakes, canola, carrot, carrots, cheese, Christmas, cinnamon, confectioner's sugar, cook, cooked, cooking, cream, cream cheese, cupcakes, decorating, decoration, demonstration, Dessert, Desserts, Diane Kometa, dish, Dishin With Di, Easter, easy, eggs, Fall, flour, from scratch, Frosting, fruit, golden, Halloween, healthy, homemade, How To Make, Icing, layer, moist, New Year's, nutmeg, nuts, oil, Old Fashioned, pecans, piping, powdered sugar, quick, raisins, Recipe, shredded, Simple, Spring, sugar, Sweet, Thanksgiving, tutorial, vanilla, vegetable, video, walnuts, YouTube