Classic Caramel Sauce Recipe and Salted Caramel Sauce! Easy recipe with step by step instructions to make sweet caramel sauce at home! Perfect for cakes, brownies, ice cream, cupcakes, cheesecake and drinks! Great in Salted Caramel Hot Chocolate or Caramel Macchiato!
This traditional caramel sauce is known as a wet caramel sauce, since it is made with water ( wet-method caramel).  Dry caramel sauce is made without water (dry-method caramel).  This classic caramel sauce recipe is made with white granulated sugar, heavy cream, vanilla butter and salt.  Salted caramel sauce simply has more salt and sea salt or kosher salt is preferred.  A traditional caramel sauce is not made with brown sugar, which is usually found in a quick caramel sauce recipe or a butterscotch sauce recipe.  Butterscotch and caramel sauce have similar ingredients and flavors, but the molasses in brown sugar adds a slightly different type of richness. Caramel sauce can also be made with milk, but this is not the preferred method to achieve the rich flavor and thick, creamy  texture that making it with heavy cream provides.  So, what makes regular caramel sauce become a salted caramel sauce? i It's simply more salt.  The preference is sea salt or kosher, as they provide a nice salty flavor without the harsh edge that table salt has.  You really should do a taste test.  If you use a low sodium salt or salt substitute you will really see a huge difference, as they have almost a chemical-like taste when compared to sea salt or kosher salt.
Recipe Advice
My advice in making this caramel sauce is to be patient and prepared.  Do not use a non-stick pot, as some may not be able to withstand the heat that is produced in making the caramel and the surface may be damaged.  Were' talking around 350 degrees F – give or take – I never use a thermometer, so I'm not exactly sure.  Just use a heavy bottomed pot and be sure your it isn't too small.  I used a 2 quart pot in the video, which seemed to work well.  This is important, because at one stage the scalding hot mixture foams up and could boil over onto your stove, counter or you!  It's extremely hot and serious burns could result, not to mention a miserable clean up.  Also, do not stir the liquid until after the cream has been added.  When you pour the water into the pot over the sugar,  it will eventually get absorbed.  You will only need to swirl the pan occasionally, once the liquid begins to boil.  When you do stir, after the cream is added, be sure you're using a heat proof sturdy spoon or spatula.  I used a silicone spatula that is safe up to 450 degrees F, so if you're not sure if something is heat proof, don't use it or it could melt in the pot!  Not a good thing and could totally ruin your day!  Anyway, have all of your ingredients ready and don't walk away from the stove once the mixture begins to boil.  It does take several minutes to achieve a deep amber color, but you do need to swirl the pot occasionally to be sure the mixture is cooking evenly and you also need to wash the sides of the pot down with a pastry brush moistened with some water to keep the sugar from crystalizing on the sides of the pot.  You also don't want to risk burning the mixture, which can happen fast once the color starts to change and will leave the sauce with a burnt taste.  You will start to smell it when it begins to change color, which means swirl and keep a close on it.  My recipe states medium-high heat, but I do want to point out that if you don't have your heat high enough the liquid will never change color.  Trust me, it happened to me when I first made this sauce and followed a recipe stating to use medium to medium-low heat.  The water will eventually evaporate and you'll be left with a hard clump of sugar in the pot and a sticky mess to clean up. You will have essentially made hard candy.  Not what you're looking for.  So, don't be afraid to turn the heat up to medium-high.  This caramel sauce is not difficult to make,  if you simply follow my directions and watch the video.  I've made this plenty of times and made all of the mistakes for you, so everything should be fine.   

Homemade caramel sauce is ideal for recipes like caramel apple pie, salted caramel brownies or copycat Starbucks Salted Caramel Hot Chocolate or Caramel Macchiato. It's also the perfect sauce  for topping desserts, especially ice cream or New York Cheesecake.    I have recipes for all of those and lots more, so stay tuned!  Thanks for stopping by and for watching!  Di  

Want to see more Dessert Sauce Recipes or  Salted Caramel Recipes?   Request a recipe or leave me a comment! Go to the comments section for this Recipe on YouTube or visit my Facebook Page!        What you're craving could be my next recipe! 
If you like this Homemade Caramel Sauce Recipe, you may also like some of my Chocolate Ganache Recipe, which is the perfect filling for my French Macarons!   So browse around my site and then get in the kitchen and make something delicious!
**All recipes are tested  – sometimes over and over again LOL
Watch The Video Recipe Demonstration!
Learn How To Make Caramel Sauce and Salted Caramel Sauce!               Recipe by: Diane Kometa
Subscribe for FREE to Dishin' With Di's YouTube Channel for the latest recipes!
Don't Miss An Episode!
Caramel Sauce – Salted Caramel Sauce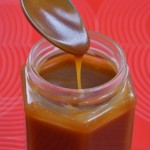 Prep time:
Cook time:
Total time:
Yield:

1 1/3 Cups

Difficulty:

medium

Recipe type:

dessert, sauce
Ingredients:
1 cup sugar

¼ cup water

2/3 cup heavy cream – room temperature

4 Tablespoons unsalted butter – cut into pieces

1 teaspoon pure vanilla extract

¼ teaspoon sea salt or kosher salt – For Salted Caramel Sauce use ¾ to 1 teaspoon

Special equipment:

Pastry brush and a cup of water for brushing sides of pan

Sturdy heatproof spoon or spatula – wooden spoon or silicone spatula

Notes: Sauce Pan: A non-stick sauce pan is NOT recommended, as some may not withstand the heat of cooking the caramel. Heavy Cream: for a thick caramel sauce use ½ cup heavy cream – may not be suitable for cold or frozen desserts. I find that 2/3 cup, which is what is stated in my recipe, works well for just about everything.
Directions:
Place a sauce pan over medium high heat. Add sugar and then slowly pour the water in the center of the sugar. Do not stir, but simply allow the sugar to absorb the water.
Wet a pastry brush with some water and brush down the sides of the pan to remove any sugar crystals. This will wash them back into the mixture. Always place brush back into the water after brushing,, so the liquid does not harden on the bristles..
Bring the mixture to a boil. DO NOT STIR! Stirring will cause the sugar to crystallize and make the sauce gritty. Very gently swirl the pan occasionally and be careful as the liquid becomes extremely hot. Cook, swirling and brushing down the sides occasionally.
After about 5-7 minutes the liquid will begin to change color. Continue to boil until the liquid reaches a medium to deep amber color. The deeper the color the more intense the caramel flavor. Watch carefully though, because once the liquid starts to deepen in color it progresses quickly and can go from amber to dark brown, leaving the caramel with an unpleasant burnt flavor. Note: If the heat is too low, when boiling the water and sugar liquid, the liquid may not change color and the water will eventually evaporate leaving only hardened sugar remaining in the pan.
Once the desired color has been reached, remove pan from heat and place it on a damp towel, so that it stays still while stirring. Carefully stream the heavy cream into the extremely hot sugar liquid. Be very cautious, as the hot liquid will suddenly bubble up vigorously and may splatter. Once all of the cream is in the pan, use a sturdy heatproof spoon or spatula and begin stirring. Reduce the heat to medium and return the pot to the heat and continue to stir until the mixture is smooth, about 1-2 minutes. You will notice the mixture clumping in the beginning and it may even stick to the spoon or spatula, but this is normal and as you stir it will become smooth. Be sure to scrape the bottom and sides of the pot with the spatula as you mix. Once smooth, remove the pot from the heat and stir in the salt and the butter, a few pieces at a time, until melted. Add the vanilla extract and stir until thoroughly combined and the caramel sauce is smooth. The sauce will appear thin, but will thicken as it cools.
Pour the hot caramel sauce into a heat proof bowl or container to cool.
Cooled caramel sauce can be used in recipes and as a topping poured over desserts. Store the cooled caramel sauce in the refrigerator for up to 2 weeks in an air tight container. Reheat caramel sauce in a sauce pan on low heat, until desired consistency is reached or in a microwave oven in a microwave safe container. Enjoy! Recipe by: Diane Kometa
Published on by Dishin' With Di
Tagged: amber, authentic, best, boil, brown, browned, burnt, butter, butterscotch, caramel, caramel sauce, caster, Christmas, Classic, cook, cream, creamy, deep amber, demonstration, Dessert, dessert sauce, Desserts, Diane Kometa, Dishin With Di, double cream, dry caramel, dry method, Easter, easy, Fall, fall desserts, filling, from scratch, granulated, Halloween, heavy cream, homemade, How To Make, ice cream topping, kosher salt, light amber, liquid, milk, Old Fashioned, pourable, quick, Recipe, rich, salt, salted, salted caramel, salted caramel sauce, salty, sauce, sea salt, Simple, stove, stove top, sugar, superfine, Thanksgiving, thick, thickened cream, topping, Traditional, turtle, tutorial, unsalted butter, vanilla, vanilla extract, video, water, wet caramel, wet method, whipping cream, white sugar, YouTube