How To Make Candy Apples From Scratch At Home! Quick & Simple Recipe With or Without A Candy Thermometer!
Red candy apples have been a classic, traditional halloween treat for years. Everyone loves fall apple recipes and it's very simple to learn how to make candy apples at home.  To make candied apples from scratch, requires few basic ingredients: sugar, cornsyrup, water and red food coloring. Some people make them with cinnamon, but I prefer the basic recipe.  Red candy apples are traditional, but you can make candy apples any color.  Hot pink candy apples have got to be the prettiest I've seen!   I'm partial to caramel candy apples, but my hub is a hard candy lover, so these are right up his alley.
Be sure to work fast when dipping the apples, because the candy coating cools very quickly and thickens.  Look at the apple in the video that I bite into. The candy was cooling as we were filming, so it got really thick.  I had to smack it down on the counter to crack it, otherwise I would have been picking my teeth up off of the floor! Lol  Check the Notes in the recipe for more tips!
What's your favorite Apple Recipe?  Fall Recipe?  Halloween Recipe? Leave me a comment! Go to this Recipe on YouTube or visit my Facebook Page! Let me know if there's something you'd like to see.
What you're craving could be my next recipe!
Watch The Video! Learn How to Make Candy Apples!                                Recipe by: Diane Kometa
Subscribe to Dishin' With Di's YouTube Channel for the latest recipes! It's FREE!
Don't miss an episode!
Candy Apples Recipe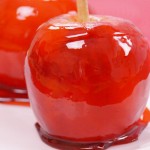 Prep time:
Cook time:
Total time:
Yield:

8

Difficulty:

easy

Recipe type:

Snack, Dessert
Ingredients:
¾ cup light corn syrup

1 cup water

2 ½ cups sugar

¾ tsp. red food coloring

8 apples – at room temperature – stems removed, washed and patted dry – see below Notes for removing wax from apples

8 wooden popsicle sticks
Directions:
Insert sticks into stem end of apples about half way through. Set aside.
Into about a 2 quart heavy pot, add the sugar, water, corn syrup and red food coloring. Stir with a rubber spatula to combine.
Place the pot over medium heat. Attach the candy thermometer to the side of the pot. Do not stir while mixture is cooking! Bring to a boil and cook for about 15-25 minutes until mixture reaches 300-310 degrees F. If not using a thermometer: test mixture after about 15-18 minutes, by placing a drop of candy mixture into cold water. It should harden into a brittle thread when ready.
Off the heat, tilt the pot to one side and dip the apples in and quickly turn to coat with the candy. Once coated, hold apple above the pot for a couple seconds to let excess dip off. Place coated apples on greased parchment or foil. Work quickly, as the mixture cools fast and becomes very thick. A thick coating is not what you want.
Let apples cool for at least 10 minutes to harden before eating. Store candy apples in an airtight container, in the fridge, for about 3 days. Wrap candy apples in cellophane and serve them at a Halloween party or hand them out for trick or treat. Recipe by: Diane Kometa
Notes: 1) Apples purchased from a grocery store often come with a waxy coating, which will prevent the candy from sticking to the surface and does not always come off easily by washing the apples. To remove the wax from the apples, bring about 6 cups of water to a boil. After inserting the wooden sticks into the apples, quickly dip apples in the boiling water, one at a time for 5-10 seconds and then thoroughly dry them. The candy should stick no problem! 2) If the candy mixture gets too thick during the dipping process, simply reheat it over medium heat and continue coating your apples. 3) Apples that have a very thick candy coating will be almost impossible to bite into, but can be smacked down gently on the counter to crack. 4) Clean up: Hardened candy in the pot can be dissolved by filling the pot with water and boiling until candy has dissolved.
Published on by Dishin' With Di
Tagged: apples, candied apples, candy apples, Christmas, Classic, demonstration, Desserts, Diane Kometa, Dishin With Di, easy, Fall, fall recipe, Fall recipes, from scratch, fruit, Halloween, homemade, How To Make, Old Fashioned, quick, Recipe, snacks, sugar, Thanksgiving, Traditional, tutorial, video, YouTube