Quick and EASY and Pretty DARN Good! I'd say the BEST Caesar Dressing Recipe, but you have to try it for yourself. NO RAW EGGS either!  I'd eat it with a spoon, but that's just me and I love it with my homemade croutons!
Written Recipe Below
Learn how to make the Caesar Salad with the BEST Caesar Dressing! 
Recipe by: Diane Kometa
Subscribe to Dishin' With Di's YouTube Channel for the latest recipes!
It's FREE!  Do it!  Don't Miss an Episode!
Want to see more Salad Recipes?  Leave me a comment! Go to this Recipe on YouTube or visit my Facebook Page! Let me know if there's something you'd like to see. What you're craving could be my next recipe!
Caesar Salad Recipe – Caesar Dressing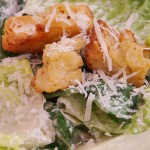 Prep time:
Cook time:
Total time:
Yield:

Makes about 3 1/3 Cups

Difficulty:

easy

Recipe type:

Appetizer / Side Dish
Ingredients:
Dressing

2 cups mayonnaise

2/3 cup freshly grated Parmesan cheese

3 Tbs. fresh lemon juice

1 tsp. Worcestershire sauce

2 Tbs. extra virgin olive oil

1 tsp. Dijon mustard

2 tsp. granulated sugar

3-4 large cloves of garlic – rough chopped

1 Tbs. anchovy paste

½ tsp freshly ground black pepper

Pinch of salt

Salad

1 Large Head Romaine lettuce

Croutons – Get my Easy Homemade Croutons Recipe

Additional freshly shredded Parmesan cheese for topping (optional)
Directions:
Wash and thoroughly pat dry Romaine lettuce. Cut into bite sized pieces. Keep chilled in the refrigerator until ready to serve.
Using a food processor, blender or immersion blender, blend all ingredients for the dressing until creamy and well combined.
Pour a small amount of dressing over the lettuce. You can always add more, but you can't take it out. Add some croutons. Toss and coat well. Add more dressing if desired.
Place into serving bowls. Top with a few more croutons and some fresh shredded Parmesan cheese if desired. It looks nice, so try it! Add some grilled chicken or shrimp and make it meal! Enjoy! Recipe by: Diane Kometa

Note:   The dressing is best when made ahead.  I usually make it at least the night before I want to use it and keep it in an airtight container in the refrigerator.  It just gets better!  If you want to use it right after you make it, I would suggest chilling it for about 30-60 minutes in the fridge first.  I've kept leftover dressing refrigerated for about a week. 
Published on by Dishin' With Di
Tagged: appetizers, best, Caesar dressing, Caesar salad, Christmas, croutons, Diane Kometa, Dishin With Di, easy, eggless, from scratch, Garlic, homemade, How To Make, lettuce, mayonnaise, New Year's, New Year's Eve, Parmesan, quick, Recipe, Romaine, salad, salads, side dish, Sides, Thanksgiving, vegetable, video, YouTube