Easy, Creamy, Roasted Butternut Squash Soup Recipe! Perfect homemade soup recipe for fall, winter, Thanksgiving and Christmas!  Simple to make and really delicious!
What's your favorite Soup Recipe?  Squash Recipe? Leave me a comment! Go to this Recipe on YouTube or visit my Facebook Page! Let me know if there's something you'd like to see.
What you're craving could be my next recipe!
Watch The Video! Learn How to Make Roasted Butternut Squash Soup!
Subscribe to Dishin' With Di's YouTube Channel for the latest recipes! It's FREE! 
Don't miss an episode!
Roasted Butternut Squash Soup Recipe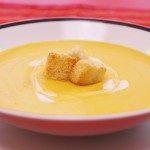 Prep time:
Cook time:
Total time:
Yield:

2-4

Difficulty:

easy

Recipe type:

Side Dish, Main Course
Ingredients:
1 ½ lbs. butternut squash – peeled, seeded and cut into chunks

1 Tbs. olive oil

1/8 tsp. ground nutmeg

Salt and ground white pepper to taste

2 Tbs. unsalted butter

¼ cup sweet onion – chopped

1 clove garlic – fine minced

1 ½ Tbs. Honey

¼ tsp. fresh ginger – fine minced

1/8 tsp. hot chili sauce – more or less – (optional)

2-3 cups Vegetable broth or chicken broth (for thicker soup 2 cups and for a bit thinner, up to 3)

¼ cup heavy cream – room temperature (or heat in microwave for about 10 seconds to warm)
Directions:
Preheat oven to 400 degrees F
Place squash on baking sheet and drizzle with 1 Tbs. olive oil. Sprinkle with salt, white pepper and nutmeg. Toss to coat. Arrange in a single layer. Place in center of oven and roast for about 30 minutes or until squash is tender. Turn once about half way through cooking time.
In a 3 quart pot over medium heat, melt the butter and then add the onion and a pinch of salt. Cook until tender. Do not brown.
Add the minced garlic and cook for another 30 seconds, until fragrant. Do not allow garlic to brown.
Add the broth, ginger, honey and hot sauce. Stir. Add the cooked squash. Bring to a simmer over medium heat. Cook for 5 minutes.
Remove from heat. Allow to cool slightly for about 5 minutes. Using an immersion blender, puree until smooth. If using a regular blender or food processor, blend in batches, until smooth. Only fill a blender half way. I also open the plug on the lid slightly, while blending, to release steam. Use caution with splashing liquid with all methods. Return to pot.
Return the pot to medium heat. Stir in the heavy cream until combined. Heat through stirring constantly. Remove from heat. Serve. Top with some of my Homemade Croutons for a little crunch. Give them a try! They're simple to make! Enjoy!
Published on by Dishin' With Di
Tagged: baked, best, butter nut squash, butter squash, butternut squash, chicken, chicken broth, Christmas, cream, creamy, demonstration, Diane Kometa, Dishin With Di, easy, fall recipe, fresh, from scratch, Garlic, ginger, Halloween, healthy, homemade, honey, hot chili sauce, How To Make, New Year's, New Year's Eve, Old Fashioned, onion, pumpkin squash, puree, quick, Recipe, roasted, side dish, Sides, soup, Soups, Thanksgiving, tutorial, vegetable broth, vegetables, vegetarian, video, winter squash, YouTube