Easy, Creamy Butternut Squash Risotto Recipe! This is one of my favorites! Great as a side dish or quick dinner recipe! Simple to make and really delicious!
Butternut Squash Risotto
What's your favorite Risotto recipe?  Recipe with Saffron?  Butternut Squash recipe?  Leave me a comment! Go to this Recipe on YouTube or visit my Facebook Page! Let me know if there's something you'd like to see.
What you're craving could be my next recipe!
Watch The Video!  Learn How To Make Butternut Squash Risotto!
Recipe by: Diane Kometa
Subscribe to Dishin' With Di's YouTube Channel for the latest recipes! It's FREE!
Don't Miss An Episode!
Butternut Squash Risotto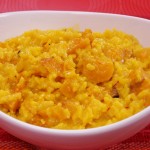 Prep time:
Cook time:
Total time:
Yield:

4

Difficulty:

easy

Recipe type:

Side Dish, Main Course
Ingredients:
1 ½ lbs. butternut squash peeled, seeded and cut into 1 inch chunks

1 cup Arborio rice

¾ cup grated Parmesan cheese

¼ cup onion – finely chopped

1 tsp. garlic – minced

¾ tsp. Saffron threads

32 ounces of chicken or vegetable broth or stock

1/3 cup white wine

4 Tbs. unsalted butter

Olive oil

Salt and fresh ground black pepper
Directions:
Preheat oven to 400 degrees F.
Place squash on a baking sheet lined with foil. Toss squash with ½ tsp salt and 1/8 tsp pepper and olive oil. Roast for about 25-30 minutes or until tender. Set aside. While the squash is in the oven, move to the next step.
In a small pot, heat the stock to a simmer. Reduce heat to low to keep warm.
Melt butter in a 3-4 quart heavy pot over medium low heat. Add the onion and garlic and season with salt. Cook for about 10 minutes until onion is tender and translucent.
To the onions and garlic, add the rice and toss to coat. Add the wine and stir to combine. Cook for about another 2 minutes or until rice has absorbed some of the wine and it looks thick.
To the rice, add 1 cup of stock, saffron threads, ¾ tsp. salt or to taste and ground black pepper. Stir to combine.
Continue to cook over medium low heat stirring occasionally for about 10 minutes or until most the liquid has absorbed and then add another cup of stock. Continue to cook down and add stock for about another 30 minutes or until the rice has absorbed almost all of the stock and is tender. Remove the pot from heat and add the squash and Parmesan cheese. Gently stir to combine. Serve immediately. Enjoy! Recipe by: Diane Kometa
Published on by Dishin' With Di
Tagged: aborio rice, alla milanese, best, broth, butter, butter nut, butter nut squash, butter squash, butternut squash, chicken, Christmas, creamy, demonstration, Diane Kometa, Dishin With Di, easy, from scratch, Garlic, homemade, How To Make, meal, milanese, nut, onion, orange, quick, Recipe, Rice, risotto, roast, roasted, Saffron, side, side dish, Sides, squash, stock, Thanksgiving, tutorial, vegetable, vegetables, video, wine, winter squash, yellow, YouTube