Visit me on my YouTube Channel and Subscribe to get my latest recipes!
SUBSCRIBE!  I'd love to have you!  Help put me on the YouTube map and give me a try!  Your Subscription does make a difference!  I'd really appreciate it. Thanks Soo Much For Watching!
Leave me a comment!  Go to my YouTube Channel or my Facebook Page and let me know if there's something you'd like to see.
What you're craving, could be my next video!
Thanks so much for visiting!
Buttermilk Substitute Recipe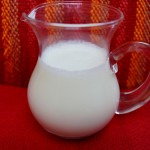 Prep time:
Cook time:
Total time:
Yield:

1 Cup

Difficulty:

easy

Recipe type:

Substitute
Ingredients:
1 tablespoon white distilled vinegar or lemon juice

Whole milk
Directions:
In a measuring cup, add the vinegar or lemon juice.
Add the milk and fill to the 1 cup mark. Stir.
Let the mixture sit for at least 5 minutes.
That makes 1 cup of buttermilk substitute. Use in any recipe requiring buttermilk.
Published on by Dishin' With Di
Tagged: buttermilk, demonstration, Diane Kometa, Dishin With Di, easy, homemade, How To Make, Lemon, lemon juice, milk, quick, Recipe, sour milk, substitute, tutorial, video, vinegar, whole milk, YouTube