Learn how to Make Buttermilk Biscuits! Quick and Easy Recipe! A perfect buttermilk biscuit is soft and moist and flaky inside and golden brown on the top and bottom AND delicious with butter!  Make this easy buttermilk biscuits recipe and try them with jam or gravy!
What's your favorite Biscuit Recipe?  What Recipes do make with Biscuits?  Leave me a comment! Go to this Recipe on YouTube or visit my Facebook Page! Let me know if there's something you'd like to see.
What you're craving could be my next recipe!
Watch The Video! Learn How To Make Buttermilk Biscuits From Scratch!
Subscribe to Dishin' With Di's YouTube Channel for the latest recipes! It's FREE!
Don't Miss An Episode!
Buttermilk Biscuits Recipe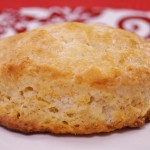 Prep time:
Cook time:
Total time:
Yield:

8

Difficulty:

easy

Recipe type:

Side Dish, Appetizer
Ingredients:
2 cups Flour – poured and leveled – not scooped

¼ cup unsalted butter –cut into small cubes and put in the freezer for 15 minutes – very cold

¼ cup shortening – cut into small pieces and put in the freezer for 15 minutes -very cold

2 tsp. baking powder

1/2 tsp. baking soda

2 ½ tsp. sugar

1 tsp. salt – I use fine sea salt

¾ cup buttermilk – cold – 1 or 2 tablespoons more if dough is dry – shake container before pouring

2 Tbs. additional buttermilk for brushing

2 1/2 inch biscuit or cookie cutter or a firm glass the same size

Note: If using salted butter instead of unsalted butter, use only ½ teaspoon salt
Directions:
Preheat oven to 425 degrees F. Line a baking sheet with parchment paper.
In a large bowl, thoroughly whisk together the flour, baking powder, baking soda, salt and sugar.
Place the butter into the bowl. Using a pastry cutter, two knives or a fork, cut the butter into the dry mixture until it look like crumbs. There should be some small and larger pieces of butter still visible. If the butter and shortening are getting very soft, pop the bowl in the freezer to chill for about 5-10 minutes. Cold fats make nice flaky biscuits.
Make a well in the center of the flour mixture and pour in the cold buttermilk. Stir and toss mixture with a fork until just combined. The dough should be soft, sticky and a little lumpy.
Lightly four work surface. Place dough on work surface and gently flatten into a circle about 1/2 to 3/4 inch thick.
Using a floured 2 ½ inch round cookie cutter or the rim of a sturdy glass, cut the dough straight down and place onto baking sheet: 2 inches apart for more crisp biscuits or side by side touching one another, for softer biscuits. Brush tops lightly with buttermilk and bake for about 12 -15 minutes or until tops are golden brown and a tooth pick inserted into the center comes out clean. Serve warm.
Note: The biscuit dough can be frozen and cooked at a later date. Cut biscuits and place on the baking sheet 2 inches apart, cover lightly with plastic wrap and freeze biscuits on baking sheet. Once firm, remove biscuits from sheet and place into an airtight container or freezer bag for easy storage and return to freezer. To cook, remove frozen biscuits from freezer and allow to sit at room temperature for about 15 minutes. Place biscuits on a baking sheet, as described in #6, brush tops with buttermilk, milk or cream and bake at 400°F for about 15 – 20 minutes or until done.
Published on by Dishin' With Di
Tagged: appetizer, appetizers, at home, baking powder, baking soda, Basic, best, biscuit, biscuits, bread, bread quick bread, breakfast, butter, butter milk, buttermilk, Christmas, cooking, cream, crusty, demonstration, Diane Kometa, dinner rolls, Dishin With Di, dough, drop, Easter, easy, fast, flaky, flour, from scratch, homemade, How To Make, making, milk, moist, Old Fashioned, oven, quick, Recipe, rolled, rolls, scones, shortening, Sides, Simple, soft, southern, style, sugar, tall, tender, Thanksgiving, tutorial, video, YouTube