Buttercream Frosting Recipe! How To Make Buttercream Frosting: for cupcakes, cakes, decorating: Buttercream Frosting: Recipe & Video: Icing: For cupcakes, cakes, decorating, cookies, desserts, breads.
Perfect every time! Great for piping or spreading on your favorite desserts!  If it was legal, I'd eat it with a spoon!  Hey, I think it is legal! With simple ingredients: powdered sugar (icing sugar), milk, unsalted butter and vanilla extract you can learn how to make buttercream frosting!   You can use buttercream and cream cheese frostings together and swirl them on in a piping bag or use the cream cheese in the middle layer(s) of a cake and the buttercream on top! That's a great combo! You can even mix the two together, but you'd have to make them seperately, so you may want to make the buttercream first and pop it in the fridge and then do the cream cheese the next day. You may have to cut back on the sugar a bit too.  I haven't made it that way yet, but I've heard it's FAB! Use for Cinnamon Rolls / buns, Red Velvet Cake, Pumpkin Cupcakes, Carrot Cake, Chocolate Cupcakes, Brownies, Christmas Cookies, muffins, breads or anything you'd like with this homemade icing!  This Buttercream Frosting Recipe is creamy, delicious!
During the holidays, I encourage friends not to spend a lot of money on fancy desserts when entertaining. Making the frosting with raspberry, mint, cinnamon or pumpkin pie spice for Fall, Halloween, Thanksgiving, Christmas, New Years Eve or Valentine's Day adds a special touch. My family always loves this icing topped on cookies, cupcakes, cakes, mini-cupcakes and muffins!  It's usually on more than one thing on the dessert menu.  It's even great spread on breads!  It only requires a few ingredients to make Buttercream Frosting and you probably already have them, so there's no need to buy the can frosting again!   Get in the kitchen and give it a go!
Do you want to see more Dessert Recipes!  Go to the comments section for this Recipe on YouTube  or my Facebook Page and Request a Recipe or Leave a Comment!  What you're craving could be my next recipe!
Watch the Video Demonstration: Learn how to make Buttercream Frosting for cakes, cupcakes and desserts.  Recipe by: Diane Kometa
Get updated when I release New Recipes!  It's Free! Do It! 
Don't Miss An Episode!
Buttercream Frosting Recipe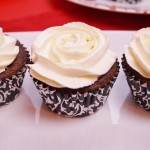 Prep time:
Cook time:
Total time:
Yield:

1 1/2 cups

Difficulty:

easy

Recipe type:

Dessert
Ingredients:
½ cup unsalted butter – softened – room temperature

1 ½ -2 cups powdered sugar / confectioners' sugar /icing sugar

1-2 Tablespoons milk – room temperature

1 teaspoon vanilla extract
Directions:
Sift the sugar to ensure that there are no lumps.
Using a hand mixer or stand mixer, beat the butter until fluffy and very pale. Start with the mixer on low and move it up to high. Scrape down the sides of the bowl as necessary. With a stand mixer it usually takes about 5 minutes, so it may take slightly longer with a hand mixer. Patience is the key.
With the mixer on low, gradually add about ½ cup of the powdered sugar. Once it begins to combine, turn the mixer up and beat until thoroughly incorporated.
Add 1-2 teaspoons of the milk, with the mixer on low speed. Turn the mixer up and beat thoroughly to combine.
Continue to add the sugar and milk alternately. Beat thoroughly after each addition. The frosting will become very fluffy. The sweetness and texture are personal preference, so adjust as desired. If you need a thinner frosting, add more milk a teaspoon at a time. If it needs to be thicker, add more sugar 1-2 tablespoons at a time. Keep in mind that adding more sugar will also make the frosting sweeter, so make sure you taste as you go.
With the mixer on low, gradually add the vanilla extract. Turn the mixer up and beat until thoroughly combined.
Use immediately or store in the refrigerator in an air tight container for up to two weeks. You can also freeze the frosting in an air tight container for a couple of months. Either way, when you're ready to use it, let it soften to room temperature and then beat it with the mixer to fluff it back up again.
Enjoy on cake, cupcakes or your favorite dessert! Try it on my Red Velvet Cupcakes or my Old Fashioned Chocolate Cupcakes!
Note: This recipe will "spread on" about 12 cupcakes or one layer of a 9″ cake, however if you are piping the frosting, you should make another half recipe or double it depending on how much you plan to pipe on each cupcake. It's always better to have too much, than not enough! You can refrigerate or freeze leftover frosting. Also, I use the whisk attachment in the video, but I often use the paddle, which works well. If you don't have a stand mixer and I know most people don't, you'll still get good results with a hand mixer, but it will just take a bit longer. Good butter helps too. Cheaper butters (store brands) may contain a higher percentage of water, which may cause some difficulties when beating. They also don't taste as nice as brands that may cost a little more, so since the main ingredient here is butter and this is all about the taste and texture, so spend a few extra bucks, if you can. It doesn't have to be over-the-top expensive butter. I use Land of Lakes. I like the way it tastes and performs and when it's on sale, it beats out the store brand, so I stock up. To each his own. Recipe by: Diane Kometa
Published on by Dishin' With Di
Tagged: American, bakery, bakery style, Basic, best, birthday, butter, butter cream, buttercream, buttercream frosting, Cake, cakes, Christmas, confectioner's sugar, cupcake, cupcakes, decorating, demonstration, Desserts, Diane Kometa, Dishin With Di, Easter, easy, eggless, from scratch, Frosting, Halloween, homemade, How To Make, Icing, making, milk, New Year's, New Year's Eve, Old Fashioned, piping, powdered sugar, quick, Recipe, roses, spreading, sugar, Thanksgiving, topping, tutorial, Valentine's Day, vanilla, video, whipped, without eggs, YouTube