This is the best barbecue chicken recipe, without barbecue sauce, that I have ever eaten! The meat is very flavorful, and delicious, and the chicken is very easy to cook, since there's NO BASTING involved!  I make a barbecue rub/paste, with brown sugar, garlic powder, dried thyme leaves, salt, pepper, canola oil, and store-bought barbecue seasoning mix.  Brown sugar adds a nice sweetness to the chicken and using BBQ seasoning in this recipe, adds a smoky, barbecue flavor and it's also convenient to use to marinate chicken, meat or even vegetables.  I prefer to use chicken thighs for this recipe, as they have a lot of flavor and are naturally more juicy than chicken breast. I have made huge batches of this barbecued chicken for parties, marinating the meat for at least 6 hours or overnight, so that marinade really gets into the meat of the chicken.  If you don't have that kind of time, I have marinated the chicken for an hour or two, when in a hurry,  and it still tastes great! My husband usually does the barbecuing on his infrared grill.  He loves grilling on that thing! The infrared cooks faster than our old gas grill and meats come out really juicy and delicious. I like serving a batch of this juicy and delicious chicken recipe with homemade macaroni salad, loaded baked potato salad and broccoli salad, among other side dishes. Leftover chicken is great to eat cold or reheated, if you have any. I sometimes use it to make barbecue chicken pizza or chicken salad.  Sooo, get in the kitchen and make barbecue chicken on the grill!  Written recipe below.
Watch The Video!
Learn How To Make Brown Sugar Barbecue Chicken!  Recipe by: Diane Kometa
 Get updates when I release new recipes!  It FREE!
Don't Miss an Episode!
 Want to see chicken recipes? Leave me a comment!  Go to my YouTube Channel or my Facebook Page and let me know if there's something you'd like to see.  What you're craving could be my next video!
Brown Sugar Barbecue Chicken Recipe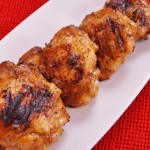 Prep time:
Cook time:
Total time:
Yield:

8 Thighs

Difficulty:

easy

Recipe type:

Main Course – Entree
Ingredients:
8 Chicken thighs – rinsed and patted dry

1 1/2 Tbs. Barbecue Seasoning – I used McCormick

1 Tbs. Light brown sugar

2 1/4 tsp. Kosher salt

3 Tb. Canola oil

1/4 tsp. Dry thyme leaves

1/4 tsp. Garlic powder

1/8 tsp. Fresh ground black pepper
Directions:
In a large bowl, combine barbecue seasoning, light brown, salt, thyme, garlic powder and pepper. Mix well.
Add canola oil. Mix to combine thoroughly. It will look like a rough paste and may not appear to be enough, but it just needs to coat the chicken. If too much is added, it becomes overpowering.
Add the chicken. Toss to coat well.
Cover and refrigerate 4-6 hours or overnight. Turn occasionally.
About 1 hour before cooking, remove the chicken from the fridge. Place it on a large platter or some large plates in a single layer and allow it rest at room temperature.
Note: The follow cooking instructions are based on allowing the chicken to sit at room temperature for about 1 hour and cooking the chicken on an infrared grill. Cooking times and temperatures will vary. Adjust as necessary. Preheat your grill to 400 degrees F with the lid closed.
Place the chicken on the grill, skin side up. Close the grill and cook for about 10 minutes or until lightly browned. See video. Flip over and cook skin side down for about 15 minutes or until the skin is brown and crisp and the internal temperature is 165 degrees F.
Remove the chicken to a platter to rest for at least 5 minutes before serving. Serve with your favorite sides! Try with my Homemade Macaroni Salad, Broccoli Salad or Loaded Baked Potato Casserole/Salad! Enjoy! Recipe by: Diane Kometa
Published on by Dishin' With Di
Tagged: Barbecue, BBQ, BBQ chicken, best, brown sugar, canola oil, chicken, chicken thighs, cooked, demonstration, Diane Kometa, Dishin With Di, easy, from scratch, Garlic, Grilled, grilled chicken, homemade, How To Make, infrared grill, marinade, marinated, marinating, meat, oil, on the grill, paste, quick, Recipe, Rub, sauce, seasoning, sugar, Summer, thyme, tutorial, video, YouTube