Colorful Broccoli Salad with bacon, cheese and cranberries/craisins!  Can be made ahead!  Quick and easy side dish recipe for any holiday! This recipe for broccoli salad couldn't be easier!  The dressing for broccoli salad is made with mayonnaise/mayo, sugar, vinegar, and fresh ground black pepper. It's a sweet dressing, that goes perfectly with the salty bacon. It's actually very similar coleslaw dressing or dressing for macaroni salad.  You can use a fat free or light mayo to make this a more healthy recipe. Fresh broccoli florets are used not frozen, as they would become soggy. There's also no need to cook the broccoli, since this is a raw salad. I cut the tops from the broccoli and put the stem in the freezer to save for broccoli soup.  The broccoli is placed in an extra large bowl and some tasty ingredients are added: cheddar cheese cut into small cubes, crumbled fresh cooked crispy bacon, minced red onion, sliced almonds and dried cranberries (known as craisins).  I use the craisins, rather than making the salad with raisins, because I like their tart/sweet flavor and the color they add to the salad.  I love colorful Summer salads and side dishes and this one looks beautiful! Green, red, orange and flicks of lightness from the onions and almonds and then the creamy dressing coating it all makes your mouth water and also make you want to get the amera out! 🙂  This salad is also served for Easter with ham and for other holidays or gatherings, since it's one of my sons' and husband's favorites. Back to the craisins!  I soak them in hot water to make make them pump and juicy.  I prefer the dried to fresh cranberries, simply because I usually have them on hand.  Into the big bowl, all of the ingredients are simply tossed together.  This salad should be made in advance, to let the ingredients mingle.  I usually make it one day before serving and then cover and refrigerate.  When you're ready to serve, just toss everything around a bit at set it on the table! Goes perfectly with my Brown Sugar BBQ Chicken and Classic Macaroni Salad!  Make my Guacamole & Salsa and Fruit Tart and Chocolate Cupcakes and my Nutella Popsicles for dessert and you've got a party menu!
What's your favorite broccoli recipe?  Cold side dish recipe! Salad recipe?  Leave me a comment! Go to this Recipe on YouTube or visit my Facebook Page! Let me know if there's something you'd like to see.  What you're craving could be my next recipe!
Watch The Video!  Learn How To Make Broccoli Salad!                              Recipe by: Diane Kometa

Subscribe to Dishin' With Di's YouTube Channel for the latest recipes! It's FREE!
Don't miss an episode!
Broccoli Salad / Broccoli and Cheese Salad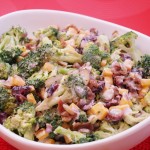 Prep time:
Cook time:
Total time:
Yield:

8-10

Difficulty:

easy

Recipe type:

Side dish
Ingredients:
2 heads broccoli

½ cup red onion – finely chopped

4 ounces cheddar cheese – cut into small cubes

1 cup mayonnaise

1/3 cup sugar

2 Tablespoons vinegar

8-10 slices bacon (about ½ lb.) – cooked until crisp and crumbled

½ cup dried cranberries – soaked in hot water until soft- drained and patted dry

¼ cup sliced almonds – broken into pieces

1/8 teaspoon ground black pepper

Salt to taste
Directions:
Wash broccoli and pat dry.
Trim the tops (florets) from the broccoli and cut into smaller pieces.  Place into a large bowl. The thick ends can be frozen for other uses.
Make the dressing: In a small bowl, combine mayonnaise, sugar, vinegar and pepper.
To the broccoli, add crumbled bacon, cranberries, almonds, onion and cheese.  Toss to combine.
Pour the dressing over broccoli salad.  Toss to thoroughly combine.  Season with salt to taste.
Cover with plastic wrap or lid and refrigerate for several hours or overnight to allow flavors to mingle.  Toss well before serving.  Serve cold.  Enjoy! Recipe by: Diane Kometa
Published on by Dishin' With Di
Tagged: 4th of July, almonds, appetizers, bacon, best, broccoli, Cheddar, cheese, Christmas, Cold, craisins, cranberries, demonstration, Diane Kometa, Dishin With Di, Easter, easy, florets, fresh, from scratch, green, healthy, homemade, How To Make, mayonnaise, onion, quick, raw, Recipe, red, red onion, salad, salads, side dish, Sides, sugar, Summer, Thanksgiving, tutorial, vegetables, video, vinegar, YouTube