Visit me on my YouTube Channel and Subscribeto get my latest recipes!
SUBSCRIBE!  I'd love to have you!  Help put me on the YouTube map and give me a try!  Your Subscription does make a difference!  I'd really appreciate it. Thanks Soo Much For Watching!
Leave me a comment!  Go to my YouTube Channel or my Facebook Page and let me know if there's something you'd like to see.
What you're craving, could be my next video!
Thanks so much for visiting!
Bolognese Sauce – Pasta Bolognese Recipe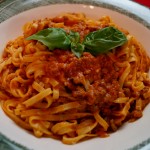 Prep time:
Cook time:
Total time:
Yield:

6-8

Difficulty:

easy

Recipe type:

Entree, Main Course
Ingredients:
1 lb. ground beef – I use 90% lean

1 – 28 oz can tomato sauce

4 ounces of pancetta diced in about ¼ inch pieces

(Pancetta is a pork product, so if you'd prefer not to use it, you can leave it out)

¼ c red wine – I used Marsala

2 cloves garlic – finey chopped

4 tsp. dried parsley

1/8 tsp ground nutmeg

1/8 tsp ground cinnamon

1/4 tsp. dried oregano

1/4 tsp dried thyme

1 dried bay leaf

1 tsp. salt

Pinch of black pepper

4 fresh basil leaves – chopped –about 2 Tbs.

½ c heavy cream

¼ cup milk-room temp

1 celery stalk

1 carrot

1 medium onion – I used a sweet onion – about ½ cup

Olive oil

1 pound of pasta of your choice
Directions:
In a mini food processor or by hand, finely chop the celery carrot and onion. This is a quick cooking sauce, compared to traditional Bolognese which can take several hours, so the vegetables need to be cut as small as possible so they can cook fast and release the most flavor in a short period of time.
Add about 1-2 tablespoons of olive oil to a pot that's been heated over medium high heat. Add the pancetta and cook until slightly brown. If you don't have pancetta on hand, you could substitute a little regular slab bacon, but it will be a bit greasier, so cut back on the oil or skip the oil all together. You could even try using turkey bacon.
Add the celery, carrot and onion (this combination of vegetables is known as a mirepoix (pronounced meer-pwah). Stir. Cook until the vegetables start to get soft.
Add the garlic, nutmeg, cinnamon, oregano, thyme, bay leaf, salt and pepper. Cook and stir for about one minute.
Add the ground beef and cook until brown. Chop the beef to break it apart as it cooks. I like mine finely chopped, but if you prefer, leave it a little chunkier. Be sure the meat browns, as this adds flavor to the sauce.
Add the sauce, wine, basil and parsley. Stir to combine. When mixture begins to boil, reduce the heat to medium-low and cover partially with a lid. Cook for about 20 minutes stirring occasionally.
Gradually drizzle a few splashes of the milk into the sauce and stir. Return the lid to the partial cover. Stir occasionally. Repeat after about 20 minutes and return lid to partial cover and cook for about another 20 minutes stirring occasionally.
Heat the heavy cream in the microwave or a small pot, just until warm. Gradually stir the cream into the sauce. Cook for about 5 minutes and then remove from the heat. Note: If you would prefer not to use heavy cream, you can skip this step.
Remove half of the sauce from the pot and place it into a separate bowl. This reserved sauce will be used to serve with the pasta. If there's a lot left over, I usually freeze it for another meal.
Cook your pasta in salted water until it's almost done. The pasta will be added to sauce, so it will finish cooking then. Remove about one cup of the cooked pasta water from the pot and set it aside.
Return the pot with the remaining sauce back to the burner over medium heat.
When the pasta is ready, add the pasta directly from the water into the sauce using a pasta fork or tongs. Toss the pasta with the sauce to thoroughly coat the pasta.
Add about ½ cup of the pasta water to the sauce. Toss the pasta with the reserved water and the sauce to combine. Cook the pasta with the sauce until the water has absorbed and then you're ready to serve.
Serve with extra sauce on the side and top with Parmesan cheese, if desired. As my mother would say, this will stick to your ribs! Enjoy!!
Published on by Dishin' With Di
Tagged: bacon, basil, bay, Beef, best, bolognese sauce, carrot, carrots, celery, Christmas, cinnamon, cream, demonstration, Diane Kometa, Dishin With Di, easy, from scratch, Garlic, ground beef, heavy cream, homemade, How To Make, Italian, meat, milk, New Year's, nutmeg, onion, onions, oregano, pancetta, parsley, pasta, pasta bolognese, pork, quick, Recipe, red wine, sauce, thyme, tomato, tomato sauce, tomatoes, tutorial, Valentine's Day, vegetable, vegetables, video, wine, YouTube