Making muffin recipes from scratch is much better than using a muffin mix and it's also much easier than most people imagine.  I make simple blueberry muffins with buttermilk, oil, butter, eggs, vanilla, lemon zest, flour, sugar, baking powder, baking soda, salt and blueberries.  Lots of blueberries! Combining the dry with the wet ingredients in a bowl and gently mixing, ensures a light fluffy muffin.  I always say my muffins want to be cupcakes!  I joke about it but it's true!  These muffins have a cake-like texture compared to those that are more dense like blueberry bread.  I've worked on this blueberry muffin recipe for while and my husband said that they are the best blueberry muffins he's tasted!  I was striving for really good muffins, but I'll take "best muffins" anyday!   I must admit they are delicious.  I love the combination of lemon and blueberries in these muffins and the buttermilk in the batter, makes them light and fluffy. They are perfect with coffee and I like to pop them in the toaster and then spread them with some salted butter, but they're just as good without it.  I can't really deem them healthy blueberry muffins, but you could use some wheat flour to change that if'd like, but they just wouldn't be the same. Sorry. These muffins are best fresh and eaten the day they're made, but I freeze them and pop them in the microwave to thaw and them split them and into the toaster they go.  Fresh muffins again!  You should try this recipe and see what you think.  I'm can't imagine that you'd be disappointed, after all my hub said they're the best blueberry muffins and I know I tell him I'm always right, but I think I'll give him this one!  lol  So, get in the kitchen and learn how to make Blueberry Muffins from Scratch!
Watch the Video!  Learn How To Make Blueberry Muffins From Scratch
Subscribe to Dishin' With Di's YouTube Channel for the latest recipes! It's FREE! Leave me a comment! Go to this Recipe on YouTube or visit my Facebook Page! Let me know if there's something you'd like to see. What you're craving could be my next recipe!
Mom's Best Blueberry Muffins From Scratch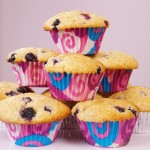 Prep time:
Cook time:
Total time:
Yield:

12 Delicious Muffins

Difficulty:

easy

Recipe type:

Breakfast / Dessert
Ingredients:
2 ½ cups all-purpose flour – spoon flour into measuring cups and level off with the back of a knife

1 cup plus 2 TBS. sugar

1 ½ tsp. baking powder

1/8 tsp. baking soda

¼ tsp salt

Zest of one lemon – about 1 tablespoon

¼ cup canola or vegetable oil

1/3 cup unsalted butter – melted and cooled

2 large eggs – lightly whisked – at room temperature

¾ cup buttermilk – room temperature – I have a buttermilk substitute recipe, if you don't have it

1 ½ tsp pure vanilla extract

1 ½ cups fresh blueberries – washed and patted dry

About 1/3 cup coarse sugar – I used Demerara, which is coarse light brown raw cane sugar
Directions:
Preheat oven to 375 degrees F
Line a standard muffin tin with 12 cupcake liners
Place sugar in a large bowl
Zest the lemon into the bowl with the sugar. With your fingertips, rub the sugar and the lemon zest together for a minute or two, until the sugar is moistened and fragrant.
Add the flour, baking powder, baking soda and salt to the sugar and zest. Mix well with a whisk to thoroughly combine the ingredients. It's very important that everything is evenly distributed. Use a spatula or spoon to stir up from the bottom, to ensure that all of the sugar has been mixed through. Gently stir in the blueberries. Set aside.
In another bowl or large measuring cup, whisk together the buttermilk, melted butter, oil, eggs and vanilla.
Make a well in the center of the flour. All at once, add the wet ingredients to the dry. Fold gently with a spatula, being sure to scrape the sides and bottom, just until mixture is combined – about 12 strokes. There may be a few streaks of flour, but that's ok, as long as there are no big globs of unmixed flour.
Using an ice cream scoop, a spoon or a ¼ cup measure, evenly distribute the batter into the cupcake liners. Top each muffin with about ½ tsp of the coarse sugar. Use more or less. It makes the tops a little sweet and gives them a nice crunch.
Bake for 20-25 minutes or until tops are golden and a toothpick or wooden skewer inserted into the center of the largest muffin comes out clean.
Remove from oven and place the muffin tin on a wire rack to cool for about 10 minutes. Remove the muffins from the tin and place on the rack to cool. Eat warm or at room temperature.
The muffins are best eaten the day they are made, but can be stored at room temperature in an airtight container for a few days or wrapped and frozen for a couple of months. I like to reheat my day-old or previously frozen muffins, by splitting them in half sideways (see video) and them popping them into the toaster until warmed and lightly browned. Served with some salted butter and a cup of coffee, they are just wonderful. Perfect served for a holiday breakfast or brunch! Enjoy!
Published on by Dishin' With Di
Tagged: best, blueberries, blueberry, bread, breakfast, butter, buttermilk, Christmas, demonstration, Desserts, Diane Kometa, Dishin With Di, easy, eggs, flour, from scratch, homemade, How To Make, Lemon, milk, muffin, muffins, quick, quick bread, Recipe, sugar, Thanksgiving, tutorial, vanilla, video, YouTube