Blueberry Lemon Cheesecake Bars are perfect as a summer dessert or anytime you'd like to take your mouth for a quick visit to cheesecake heaven!  Quick & Easy to make Lemon Cheesecake Filling and Graham Cracker Crust and Streusel Topping! These are ADDICTIVE! I could not stop eating them, so I made my Hub take them to work!  It's like a mini version of a New York cheesecake! You can cut the cheesecake into bars, squares or make mini cheesecake bites, by cutting them small and putting them into mini cupcake liners or paper candy cups, which is what I do for parties.  Watch out Cheesecake Factory!  Now you can make cheesecake at home, from scratch and have it from oven to table in no time!  You may also like my Fruit Tart Recipe, which is made with a cream cheese filling!
Want to see more Cheesecake Recipes?  Dessert Recipes?  Leave me a comment or Request a Recipe! Go to This Recipe on YouTube or my Facebook Page.  What you're craving could be my next recipe!  😉
Watch The Video!  
Learn How To Make Blueberry Lemon Cheesecake Bars!                           Recipe by: Diane Kometa
Get updated when I release New Recipes!  It's Free! Do It! 
Don't Miss An Episode!
Blueberry Lemon Cheesecake Bars Recipe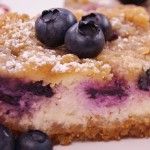 Prep time:
Cook time:
Total time:
Yield:

9 or more servings – cut smaller for mini cheesecake bites

Difficulty:

easy

Recipe type:

Dessert
Ingredients:
Crust

9 Graham crackers

2 Tbs. white granulated sugar

¼ cup melted unsalted butter

Filling

2 – 8 ounce packages cream cheese – softened

2/3 cup white granulated sugar

2 eggs – room temperature

¼ cup fresh lemon juice – from about 2 lemons

2 Tbs. lemon zest –packed – from about 2 lemons

1 tsp. pure vanilla bean paste or pure vanilla extract

Pinch of salt

1 ½ cup fresh blueberries rinsed and patted dry or frozen blueberries, thawed, drained and patted dry

Streusel Topping

1/2 cup light brown sugar – packed

3 Tbs. cold unsalted butter – cut into small cubes

6 Tbs. all-purpose flour

Pinch of salt
Directions:
Preheat oven to 350 degrees F.
Line a 9×9 or 8×8 pan with foil leaving about 6 inches overhang on each side. Curl foil under and press down. Spray with non stick spray or grease lightly with butter. I don't grease my pan, but I do run a butter knife around the edges when it comes out of the oven, as the topping can stick slightly. Grease it as a precaution.
Make the crust: Put the graham crackers into a large plastic zip-lock bag and seal it. Place the sealed bag on the counter and using a rolling pin, crush the graham crackers into crumbs by smacking and rolling them. You can use a food processor for this or do it by hand in a large bowl. Open the bag and add the 2 tablespoons of sugar and melted butter. This is the fun part! Seal the bag and squish the mixture together with your hands until it is thoroughly combined and resembles wet sand. Pour the crust mixture into the prepared pan. Spread out evenly and firmly press down. Bake on center rack of preheated oven for about 12-15 minutes or until lightly browned and firm. Set on rack to cool while you make the filling.
Make the cheesecake filling: While the crust bakes, zest 2 lemons (about 2 packed tablespoons) into the sugar in a medium size bowl. With clean hands and using the tips of your fingers, rub the sugar and lemon zest together until mixed through and sugar becomes damp and has a strong lemon fragrance. Set aside. Into a mixing bowl, add the softened cream cheese. Using a hand mixer or stand mixer, beat on medium speed until smooth. Add the sugar and lemon zest mixture and beat until thoroughly combined. Add the eggs one at a time, beating well after each addition. Add the vanilla bean paste or vanilla extract and a pinch of salt. Mix well. Add the fresh lemon juice and mix well until smooth and creamy. Scrape down bowl as needed. Set aside.
Make the topping: in a medium size bowl, combine the light brown sugar, flour and salt. Add the cold butter. Using a pastry cutter or fork, press the butter into the dry mixture until crumbly.
Put it together: Pour the cheesecake filling into the baked crust. Spread evenly using a spatula or the back of a spoon. Evenly place the blueberries over the top of the cheesecake. Sprinkle the topping over the blueberries and spread evenly with your hands. Place on the center rack of preheated oven for about 35-45 minutes or longer depending on pan size, as well as oven temperature accuracy. Bake until top is golden brown and center jiggles only slightly. I used a 9×9 pan and it was done in about 45 minutes. Remove from oven to wire rack. While still hot, carefully run a butter knife around the edges of the pan to release any stuck topping. Allow to cool completely to room temperature before covering to refrigerate. If covered and refrigerated while too hot, steam will form and make the top crust mushy. Once cooled, cover with foil or plastic wrap and refrigerate for a few hours or overnight to set.
To Serve: Remove from pan by grabbing the foil sides and carefully lifting onto a cutting board. If not chilled enough it may crack. Peel foil from sides and cut cheesecake into desired size pieces. Cut into small pieces and placed in regular or mini-cupcake liners to serve a crowd. To serve as a beautiful individual dessert, cut into larger portions, dust with powdered sugar/icing sugar, garnish with fresh blueberries, slices of lemon and whipped cream. Cheesecake bars must be refrigerated. Place in an airtight container and refrigerate. Enjoy!! Recipe by: Diane Kometa
Published on by Dishin' With Di
Tagged: bake, baked, baking, bars, Berries, best, biscuits, blueberries, blueberry cheese cake, blueberry cheesecake, breakfast, brown sugar, butter, Cake, cheese cake, Cheesecake, cheesecake bars, cheesecake squares, Christmas, citrus, cook, cooked, cooking, cream cheese, Crust, demonstration, Desserts, Easter, easy, eggs, fast, Father's Day, flour, fresh, from scratch, fruit, graham crackers, granulated sugar, homemade, How To Make, juice, Labor Day, Lemon, lemon cheesecake, lemon juice, lemon zest, lemons, lemony, making, Memorial Day, mini cheesecakes, Mother's Day, New Year's, New Year's Eve, quick, Recipe, salt, Simple, Spring, squares, streusel, sugar, Summer, Thanksgiving, topping, unsalted butter, Valentine's Day, vanilla, video, white