Easy to make, healthy salsa/salad recipe with loads of flavor! Addictive! This is a healthy dip/salsa recipe served with tortilla chips, but also goes well as a side dish with chicken or with fish or as a topping.  I make my black bean salad with cilantro, because I love it's fresh flavor, but it can be made without cilantro if you prefer. This recipe is made with fresh corn, but canned or frozen corn can also be used. Simple ingredients are used to make this salsa recipe: canned black beans, fresh white corn, fresh plum tomatoes, jalapeno pepper, red onions, fresh lime juice, and ground cumin. I deseed the jalapeno, so it's not a spicy.  I also use some granulated sugar for a hint of sweetness to compliment the acidity of the lime juice and a touch of apple cider vinegar is used to help bring out the flavors and add another dimension of flavor to the recipe.  It's a fresh tasting, easy to make, healthy salad or salsa recipe and I get complimented on it all the time. (some people call this recipe corn and black bean dip, although I don't think of that way)  It's really a quick salad recipe and is on my list of easy summer salad recipes, but it's also one of my favorite Cinco de Mayo recipes! My friend makes it with chick peas and I have used black eyed peas in this, but I really prefer this salad with black beans.  It's very addictive, so be sure to make a big batch for your next gathering. Get in the kitchen and Learn How to Make Black Bean Salad: Recipes & Videos from the end of this video demonstration are on this site, along with others you may like!
Want to see more recipes with beans?  Salsa recipes?  Mexican style recipes?  Request a Recipe or Leave me a comment! Go to This Recipe on YouTube or my Facebook Page and let me know if there's something you'd like to see.  What you're craving could be my next video!
Watch The Video!  Learn How To Make Black Bean Salad/Salsa!            Recipe by: Diane Kometa
Get updated when I release New Recipes!  It's Free! Do It! 
Don't Miss An Episode!
Black Bean Salad/Salsa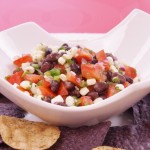 Prep time:
Cook time:
Total time:
Yield:

6-8

Difficulty:

easy
Ingredients:
1 ½ cups Fresh corn (about 3 ears), frozen corn or 15 ounce canned corn – drained

15 oz. can black beans about 1 ½ cups – drained and rinsed

2 plum tomatoes- small dice

3 Tbs. fresh cilantro – fine chopped

1/3 cup red onions – finely chopped

½ tsp. garlic – minced

1 jalapeno – seeded and finely chopped – wear gloves

1 Tbs. olive oil or vegetable oil

1/8 rounded tsp. white granulated sugar

1 ½ tsp apple cider vinegar

¾ tsp ground cumin

3 Tbs. fresh lime juice – about 1 lime

Salt to taste
Directions:
Combine all ingredients in a bowl. Cover and refrigerate for at least an hour. Serve as an appetizer with tortilla chips, as a side dish or topped over chicken or fish. Recipe by: Diane Kometa
Published on by Dishin' With Di
Tagged: appetizer, appetizers, apple cider vinegar, bean, beans, black beans, canned, canned corn, cilantro, Cinco de Mayo, corn, cumin, demonstration, Diane Kometa, dip, Dishin With Di, easy, fresh, fresh corn, from scratch, frozen corn, Garlic, healthy, homemade, How To Make, jalapeno pepper, lime, lime juice, Mexican, olive oil, onion, onions, peppers, quick, Recipe, red onion, salad, salsa, side, side dish, Sides, snack, Spring, Summer, summer salad, tomatoe, tomatoes, tutorial, vegetable, vegetables, vegetarian, video, vinegar, white corn, YouTube