Blueberry Pancakes! Learn how to make  Mom's best, homemade, from scratch Blueberry Pancake Recipe! Blueberry Pancakes that are easy to make, light and fluffy.  Fresh blueberries in old fashioned pancakes like your grandmom used to make.  No pancake mix here!  Make them at home with my buttermilk pancake recipe and you'll see how simple it is to make the best pancakes!
I love basic pancakes and syrup, but my husband likes his with a pat of butter on top and bacon on the side.  Sometimes I serve my blueberry pancakes with some whipped cream, just like my french toast and pumpkin pancakes recipes.  It's soo good!  Oh, and you'd love them with my pumpkin spice syrup, but a good maple syrup is great too, just be sure to heat it up first.  The pumpkin spice syrup is easy to make and great served with the pancakes. Top them with whipped cream (I have a really nice whipped cream recipe too, btw) for a special occasion or holiday like Easter, Christmas, Thanksgiving, birthday or anniversary breakfast. I love baking and cooking, so people get spoiled around here!  Who doesn't love flapjacks for breakfast!  When I was a kid my mom always called pancakes flapjacks. In the UK that's a granola or cereal bar, but in the US it's a basic American pancake recipe.  They also call them hot cakes/hotcakes, but I haven't done my homework on the whole hot cake recipe name origin. Well anyway, now you won't have to go to ihop or use Bisquick or pancake mix anymore.  Now you have a quick and easy blueberry pancake recipe to make fluffy pancakes from scratch with a few ingredients, just like grandmom made!
Watch The Video!
Learn How To Make The Best Blueberry Pancakes From Scratch!
Recipe by: Diane Kometa
Subscribe to Dishin' With Di's YouTube Channel for the latest recipes! It's FREE! Leave me a comment! Go to this Recipe on YouTube or visit my Facebook Page! Let me know if there's something you'd like to see. What you're craving could be my next recipe!
Blueberry Pancakes From Scratch! Mom's Best Recipe!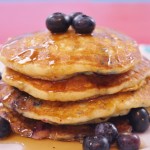 Prep time:
Cook time:
Total time:
Yield:

Makes about 14 – four inch pancakes

Difficulty:

easy

Recipe type:

Breakfast
Ingredients:
2 cups all purpose flour

2 tsp. baking powder

1 tsp. baking soda

3 Tbs. Sugar

1 tsp. salt

2 eggs lightly whisked – room temperature

2 cups buttermilk – room temperature

¼ cup unsalted butter – melted and cooled

1 1/2 tsp. pure vanilla extract

3 cups fresh or frozen blueberries (thawed and drained)
Directions:
Preheat oven to 225 degree F (If you are making a half batch, you won't need to do this)
Preheat a non-stick skillet over medium heat or an electric griddle to 350 degrees F. In a large bowl, add the flour, baking powder, baking soda, sugar and salt. Whisk thoroughly to make sure that all ingredients are distributed evenly. Set aside.
In another bowl or large measuring cup, using a whisk combine the buttermilk, eggs, melted butter and vanilla extract.
Dump the wet ingredients into the dry ingredients all at once. Using a spatula or spoon, fold the mixture until it is just combined and is still a bit lumpy. Grease your skillet or griddle lightly with some non-stick spray, vegetable oil or melted butter. Using a ¼ cup ice cream scoop, measuring cup or a ladle, place batter onto preheated skillet or griddle. Leave a couple of inches between each pancake. Place some blueberries evenly onto the wet batter of each pancake. Use as many or as few as you'd like. Cook the pancakes for about 3 minutes or until you see a few bubbles burst on the top of the pancakes and the edges begin to get dry. See video. Use a spatula to lift the pancake to check underneath to see if it's golden brown. Gently flip the pancakes and cook on the other side for about another 2 minutes.
If you are making a large batch, place the cooked pancakes on a baking sheet, cover with foil and place in the preheated oven to keep warm, as you continue to cook the rest of the pancakes. Delicious topped with maple syrup and/or Whipped Cream. Enjoy!! Recipe by: Diane Kometa
Published on by Dishin' With Di
Tagged: baking powder, baking soda, batter, best, blueberries, blueberry, bread, breakfast, butter, buttermilk, Christmas, demonstration, Diane Kometa, Dishin With Di, easy, eggs, flapjacks, flour, from scratch, homemade, hotcakes, How To Make, milk, mix, Old Fashioned, pancake, pancakes, quick, Recipe, sugar, Thanksgiving, tutorial, vanilla, video, YouTube