An Easy, Old fashioned, just like your mom used to make, Beef Stew.  Fork tender beef and vegetables, in a delicious rich gravy that's perfect for bread dunking!  No fuss, one pot, lots of nutrition and just delish.  A healthy dinner and the best comfort food in the Fall and Winter. This is a recipe you'll have on your list every year.  Add your own touches and make it special for your family.  This is the kind of recipe you can play with and it still turns out great!
Watch the Video!  Learn How To Make Old Fashioned Beef Stew!
Subscribe to Dishin' With Di's YouTube Channel for the latest recipes! It's FREE! Leave me a comment! Go to this Recipe on YouTube or visit my Facebook Page! Let me know if there's something you'd like to see. What you're craving could be my next recipe!
Beef Stew Recipe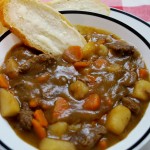 Prep time:
Cook time:
Total time:
Yield:

4-6

Difficulty:

easy

Recipe type:

Main Course / Entree
Ingredients:
3 large potatoes

3 large carrots

1 pound of beef cubes-chuck, round roast or filet tips – cut into 1 inch cubes

1 stalk of celery

1 medium sweet onion

3 beef bouillon cubes

1 dried bay leaf

½ teaspoon browning sauce (optional)

½ cup marsala or sherry wine (optional)

Salt & pepper

Olive oil

3 cups hot water

2 tablespoons all purpose flour
Directions:
In a large pot over medium-high heat, add about 2 tablespoons of olive oil. Just swirl it around to cover the bottom of the pot lightly.
Add the meat. Be sure there is some space in between each piece of meat. Do not over crowd the meat, as it may not brown. If necessary, brown the meat in batches. Cook the meat until it is nice and brown, turning as necessary. Brown is good. Browned food adds flavor.
Add the hot water to the browned meat. Add one bouillon cube, the bay leaf, ½ salt and 1/8 teaspoon pepper or to taste. Stir. Raise the heat and bring to boil. Reduce heat to medium-low and cover. Cook for approximately two hours or until meat is tender, but not falling apart. If you have filet tips, this may only take one hour.
While the meat is cooking, prepare the vegetables. Cut the carrots into thin slices and the potatoes into one inch cubes.
Finely mince the onion and celery or use a mini food processor. This not only aids in adding big flavor fast creating a rich gravy, but is also more appealing to kids. They don't usually like celery and onions, so I always pulverized mine to hide them. Making the carrots and potatoes small is also more appealing to children as well as adults. I much prefer smaller more uniform vegetables than big chunks. It's still hearty, but presents much better.
After the meat has cooked, add the remaining two beef bouillon cubes, the wine, one teaspoon salt, pepper to taste, the browning sauce, onions and celery, carrots and potatoes. Stir. The water should almost cover the vegetables. If too much water has cooked away, add a little more hot water. Note: If you don't have wine or prefer not to use it, you can try adding one tablespoon of worcestershire sauce or nothing at all. I made this for many years without either and it was perfectly fine, so don't worry.
Raise heat to medium-high and bring to boil. Reduce heat and cover. Cook for about 30 minutes or until vegetable are tender.
Mix the 2 tablespoons of flour with ½ cup cold water until well combined. This is known as a slurry. Add about half of the slurry to the gravy and stir. Add the rest to make a thick sauce. Bring to boil and cook for about another 10 minutes stirring occasionally. Remove the bay leaf.
Serve with crusty bread for dunking and a spoon. I never eat beef stew with a fork. You don't want to miss any of that delicious gravy, but then again, that's what the bread is for! Add this to your recipe list for the Fall and Winter months every year. My family always looks forward to it and I hope yours will too! Enjoy!
Published on by Dishin' With Di
Tagged: Beef, bouillon, broth, carrots, celery, Christmas, demonstration, Diane Kometa, Dishin With Di, easy, from scratch, healthy, homemade, How To Make, Irish, meat, Old Fashioned, onions, Potatoes, quick, Recipe, soup, steak, stew, stock, Traditional, tutorial, vegetables, video, YouTube