Lasagna Recipe! A Classic Italian dish! This recipe for Beef and Cheese Lasagna (lasagne) is made with a ricotta cheese filling (I use 3 cheeses) and a thick, rich, meat sauce ("ragu"). I use lean ground beef in this recipe, but have used pork or Italian sausage for the meat sauce, especially when I make a Bolognese sauce, but for Christmas I make it without sausage because not everyone eats pork or likes sausage.  Lasagna originated in Naples, Italy, but you don't have to be Italian to make a great lasagna! The world over, people love Lasagna and there are endless versions of this classic Italian dish made with béchamel (white sauce), marinara sauce, seafood, chicken, cheese and vegetables.  Vegetable lasagna (vegetarian) is another one of my favorites with spinach, cheese and a béchamel sauce and with mixed vegetables, cheese and a red sauce (marinara).  The noodles and cheeses are in there no matter what, so they're all delicious.  I mean really, how can you go wrong with pasta and cheese. It's what makes lasagna so incredible and why soo many people love it!
Lasagna is an Italian-American family favorite for Christmas, but it perfect for any holiday and one of the best comfort food recipes! Who can resist a hearty, three cheese lasagna recipe?  You heard me right! 3 cheeses: ricotta cheese, mozzarella cheese and parmesan cheese! Sheets of lasagna noodles layered with a 3 cheese filling, and a thick, rich, meat sauce.  The whole thing gets topped with more cheese and baked in the oven until it's hot and bubbly!  Mmmm.  Extra sauce is must for serving, so I made sure you get plenty of sauce with this recipe and then some.  If I spend over 2 hours cooking something, I feel like I deserve to have some leftovers, don't you?  You can freeze the extra sauce and enjoy your efforts another day, so don't get alarmed when you see a lot leftover, you'll be happy when you make another meal from it when you're in a pinch.   I always say "too much is better than not enough"! I also say "all things in moderation", so lasagna falls under both sayings.    😉
You can also make lasagna ahead and freeze it, which can really make life easy during the holidays. Simple ingredients and one of the best Italian recipes ever! The best lasagna recipe in the world!  Haha  I saw that somewhere as a lasagna recipe title and I had to throw it in for fun.  Whoever wrote that was pretty darn full of themselves. I guess they thought "meat lasagna recipe" sounded too boring.  Haha  Anyway, I hope you enjoy my "simple" beef and cheese lasagna recipe.  Di  😉
Do you want to see more Lasagna Recipes or Italian Recipes?  Go to the comments section for this Recipe on YouTube  and Request a recipe or leave me a comment!  What you're craving could be my next recipe! You may also like a few of my other pasta recipes: Vegetable Lasagna Recipe, Spinach and Cheese Stuffed Shells Recipe,  Bolognese Sauce Recipe, or my Spaghetti Carbonara Recipe.  I also have a Quick Marinara Sauce Recipe for those busy weeknight meals, you may enjoy!
Watch The Video!
Learn How To Make Beef and Cheese Lasagna! Recipe by: Diane Kometa
Get updated when I release New Recipes!  It's Free! Do It! 
Don't Miss An Episode!
Beef and Cheese Lasagna Recipe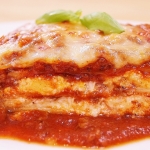 Prep time:
Cook time:
Total time:
Yield:

9-12

Difficulty:

medium

Recipe type:

entree, main course,
Ingredients:
12 uncooked dried Lasagna noodles (not no-boil) cook a couple extra in case some break

For the Sauce:

2-3 Tbs. Olive oil

3/4 cup chopped sweet onion

1 3/4 – 2 lbs. lean ground beef

2 tsp. finely minced garlic

1 – 6 ounce can tomato paste

3/4 cup Marsala wine or red wine of your choice (low sodium beef stock or low sodium beef broth can be substituted)

3 – 29 ounce cans tomato sauce

Water from rinsing the tomato sauce cans (usually about 1 1/2 cups)

1/2 tsp. dried oregano leaves

1/2 tsp. dried basil leaves

Pinch crushed red pepper flakes

1 1/2 Tbs. light brown sugar

Salt – I use fine sea salt and freshly ground pepper

Cheese Filling

1 1/2 lbs. whole milk ricotta cheese

16 ounces shredded mozzarella cheese – divided – 12 oz. for cheese filling and 4 oz. for topping

1 cup (4 ounces) finely grated Parmesan cheese divided – Grate you own in the food processor

2 eggs – lightly whisked

2 Tbs. finely chopped fresh Italian parsley (2 tsp. dried parsley can be substituted)

Salt – I use fine sea salt and fresh ground pepper
Directions:
Make the sauce: In a large pot, over medium high heat, add the olive oil and the onions. season with a little salt and fresh pepper. Cook for about 2 minutes, until soft. stir occasionally. Do not brown.
Add the ground beef and season with salt and fresh pepper. Chop the meat into small pieces using a spatula or wooden spoon. Cook until well browned. Drain off excess fat, if necessary.
Stir in the tomato paste and then pour in the wine or beef stock. Scrape the browned bits from the bottom of the pan and stir and cook for about 2 minutes.
Pour in the tomato sauce. Rinse each sauce can with water to get any remaining sauce from bottom of the cans and pour the saucy water into the pot. Don't skip this step, because you are the water is necessary for cooking meat sauce.
Add the dried oregano, dried basil, light brown sugar and season with salt. Stir to combine all ingredients. When the sauce begins to bubble, reduce the heat to medium low and partially cover the pot with a lid. Cook the sauce, stirring occasionally, for about 2 1/2 hours, until thick and rich. Season to taste, with more salt and pepper, if desired. Remove from the heat to cool slightly, before layering the lasagna. Note: This meat sauce recipe yields about 12 cups of sauce. Approximately 6 cups of sauce will be used for the lasagna and about 2-3 cups more can be used for serving, if desired. The remaining sauce, once cooled, can be stored in an airtight container and refrigerated for about 1 week or frozen for about 2 months. Too much is better than not enough, is what I always say.
Cook the lasagna noodles: While the sauce cools, cook the noodles. In a large pot (8 quart is best) of salted, boiling water add the lasagna and cook for about 10 minutes, according to package directions or until al dente. Drain and lay the noodles flat on a lightly greased baking sheet with parchment paper or waxed paper between layers to cool for easy handling.
Prepare to Bake Lasagna: Preheat oven to 375 degrees F and place the oven rack in the center position. Grease a 9×13 inch baking dish with non-stick spray or butter and line a large baking sheet with foil. Cut a piece of foil large enough to cover the baking dish. Spray the underside of the foil with non-stick spray or grease with some butter. Set everything aside.
Make the 3 Cheese Filling: Into a large mixing bowl add the ricotta cheese, 3/4 of the mozzarella cheese (12 oz.), 3/4 of the parmesan cheese (3 oz.), chopped parsley and the eggs. Season with a little salt and fresh ground pepper to taste. Mix well to thoroughly combine.
Layering: Spread 1 1/2 cups of the meat sauce on the bottom of the baking dish. Place 4 lasagna noodles (overlapping) on top of the sauce. Add half of the 3 cheese mixture in spoonfuls and spread evenly with a rubber spatula or the back of a spoon. Top the cheeses with 1 1/2 cups of meat sauce and spread evenly. Repeat this process starting again with another 4 noodles, the remaining cheese mixture, 1 1/2 cups of sauce and top with the last 4 lasagna noodles. Top the noodles with another 1 1/2 cups of meat sauce and sprinkle with the remaining 4 ounces of mozzarella and remaining 1 ounce of parmesan cheese. Cover the lasagna with the greased pieces of foil and crimp the edges. Place the baking dish on foil lined baking sheet.
Bake the Lasagna: Bake in preheated oven for about 30-40 minutes or until hot and bubbly and then carefully remove the foil cover and continue to bake for another 15-30 minutes or until cheese begins to brown slightly. Remove from the oven and let rest for about 20-30 minutes to cool before serving. Slicing the lasagna while very hot will cause the ricotta filling and sauce to ooze out and the lasagna will collapse on the plate. Spoon some additional sauce on each serving dish, top with a big piece of lasagna and garnish with some fresh basil leaves or springs of fresh parsley, if desired. Enjoy! Lasagna Recipe by: Diane Kometa
Published on by Dishin' With Di
Tagged: Beef, casserole, cheese, Christmas, dinner, Easter, eggs, gravy, Italian, Lasagna, lasagne, meat, meat sauce, mozzarella, New Year's, New Year's Eve, noodles, Old Fashioned, Parmesan, Parmigiano Reggiano, pasta, paste, puree, ragu, ricotta, sauce, Thanksgiving, tomato, tomatoes, tutorial, Valentine's Day, video, YouTube