Easy Healthy Oatmeal Breakfast Recipe! Banana Cranberry Oatmeal: Low Fat, Nutritious Meal Idea! Quick & Simple! Great for weight loss or a diet! Kids and adults love it! Whether you're body building, trying to lose weight or just looking for something delicious for breakfast, that happens to be packed with nutrition, fiber and is low in fat, this Banana Cranberry Oatmeal Cereal Recipe has it! No cooking with pots, pans or in the oven! Just use the microwave, oats, a few ingredients and in minutes you're eating a hot, delicious and healthy breakfast cereal! There's nothing worse than trying to eat right or lose weight and finding that you're meals are bland or boring. Start the day right and keep this quick healthy oatmeal breakfast cereal as part of a healthy diet. I eat this all year round and just love it! Because the soluable fiber in oats limits how much cholesterol your body absorbs, it's said that oats may help lower cholesterol levels potentially reducing the risk of cardiovascular disease. So there ya go! Healthy and Delicious! WIN, WIN!  You may also like my Banana Berry Oatmeal Smoothie Recipe – Click Here -> Banana Berry Oatmeal Smoothie
Watch the Video!  Learn How To Make Banana Cranberry Oatmeal!

Visit me on my YouTube Channel and Subscribeto get my latest recipes!
Leave me a comment!  Go to my YouTube Channel or my Facebook Page and let me know if there's something you'd like to see.
What you're craving, could be my next video!
Healthy Oatmeal Breakfast Recipe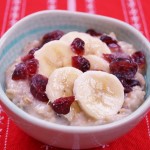 Prep time:
Cook time:
Total time:
Yield:

1

Difficulty:

easy

Recipe type:

Breakfast
Ingredients:
Oats – Regular or quick-cooking

Non-fat milk

1 Banana

Dried cranberries
Directions:
Place oats in a deep microwave-safe bowl and pour about twice as much milk over them. Add some dried cranberries.
Place in the microwave and cook on HIGH for about 2 minutes. Be sure to keep an eye on it as it cooks, because it will bubble up and could spill over into the microwave. Stir. Continue to cook until desired doneness checking every 15-30 seconds. I like mine creamy, so I cook it for a total of 3 ½ -4 minutes. The bowl may be hot, so be careful when removing it from the microwave.
Add some banana. I use ½ of a banana. With the back of a fork, mash the banana into the oatmeal.
Add honey according to taste. Stir. Enjoy! You've just made a healthy and delicious breakfast!
Published on by Dishin' With Di
Tagged: banana, bananas, best, breakfast, cereal, Christmas, craisins, cranberries, Cranberry, demonstration, Diane Kometa, Dishin With Di, easy, from scratch, healthy, homemade, How To Make, milk, oatmeal, oats, Old Fashioned, quick, Recipe, Thanksgiving, tutorial, video, YouTube