I must say, these Banana Chocolate Cupcakes, with mashed ripe bananas mixed with cocoa powder in the batter, make this a favorite banana dessert. Chocolate cupcakes are one of my favorite desserts.  They're so simple and just the perfect portion, but the combination of bananas and chocolate in this cupcake recipe is fab and takes a chocolate cupcake to another level!  I top each cupcake with a creamy, smooth cream cheese frosting. The flavor from the ripe bananas combined with chocolate and that sweet and tangy cream cheese frosting are just a match made in food heaven!  I usually frost my chocolate cupcakes with vanilla buttercream frosting, although I do love them with a good raspberry buttercream frosting, but the flavors with this cupcake recipe seem go much better with cream cheese frosting. You could even make this a chocolate banana cake recipe, but you'll have to adjust the time and temperature. This is an original recipe, so I'd have to test that.  I made these cupcakes with yogurt, instead of with buttermilk or sour cream, since it gives similar results, has zero fat and more people seem to have yogurt on hand at home. I make my cupcakes with butter and not with oil, as the oil seems to make them a bit too moist for my liking.
These cupcakes are great as is, but I do want to try them with peanut butter frosting and chocolate frosting, because I think they'd make great toppings with the banana and chocolate cake.  I saw a recipe for a banana cake with a pastry cream filling and I have a great pastry cream recipe, so that could be a winner too, but I'm all about chocolate, so this chocolate banana cupcakes recipe is at the top of the list right now!  I took these babies to a BBQ recently and they were gone in 20 minutes! That was a picky crowd too. (my husband's side lol).  So get in the kitchen and make Banana Chocolate Cupcakes with Cream Cheese Frosting! From Scratch! It's Easy!
Want to see more Cupcake Recipes or Dessert Recipes?  Go to this Recipe on YouTube or My Facebook Page and request a Recipe or Leave me a Comment!  What you're craving could be my next Recipe!
Try more Chocolate Recipes! Chocolate Cupcakes Recipe with Chocolate Ganache Frosting Recipe, Mint Chocolate Cupcakes with Mint Buttercream Frosting Recipe, Chocolate Mug Cake Recipe, Double Chocolate Chip Muffins Recipe
Watch the Video!  Learn How To Make Banana Chocolate Cupcakes!
Recipe by: Diane Kometa
Get updated when I release New Recipes!  It's Free! Do It! 
Don't Miss An Episode!
Banana Chocolate Cupcakes Recipe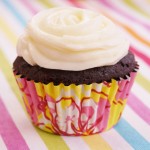 Prep time:
Cook time:
Total time:
Yield:

Makes 24 cupcakes

Difficulty:

easy

Recipe type:

Dessert
Ingredients:
3/4 cup unsalted butter – room temperature

2 cups sugar

2 eggs – room temperature – lightly whisked

1 cup mashed bananas – about 2 large

1 1/2 tsp. pure vanilla extract

2 cups flour – poured not scooped

3/4 cup unsweetened cocoa powder – sift after measuring

1 1/2 tsp. baking powder

1 tsp. baking soda

1 tsp. salt

3/4 cup non-fat Greek yogurt – room temperature
Directions:
Preheat oven to 350 degrees F. Place oven rack in center of oven and line muffin tins with 24 cupcake liners.
Using a hand mixer or stand mixer, beat butter slightly until smooth.
With the mixer on low, gradually add the sugar. Beat on medium high for 2 minutes.
In the meantime, place dry ingredients in a bowl and whisk together thoroughly until all ingredients are distributed evenly. Set aside.
With the mixer on low, add the beaten eggs to the creamed butter and sugar. Mix until thoroughly combined.
Add vanilla extract to mashed banana and stir to combine. With the mixer on low, gradually add the banana mixture to the butter,sugar and egg mixture. It may separate, but just continue and then beat on medium until well combined.
With the mixer on low, gradually add one third of the dry ingredients until moistened. Add half of the yogurt and mix until just combined. Add another third of the dry mixture and mix until just combined. Add the rest of the yogurt until combined and then finish with the last of the flour. Do not keep mixing. Use a spatula to combine the last bits of flour.
Fill the cupcake liners about 3/4 full and smooth with the back of a teaspoon if necessary. There's is exactly enough for 24 cupcakes, so there will be no leftovers. Sorry. You'll just have to lick the beaters.
Bake for about 16 to 18 minutes or until a tester comes out clean or the top of the cupcake springs back when touched with your finger tip. Place on a cooling rack for about 5 minutes and then remove the cupcakes from the tin to the rack to cool completely.
Frost with my Cream Cheese Frosting! Enjoy! Recipe by: Diane Kometa
Note: These cupcakes can be stored at room temperature for a 2-3 days without frosting. If frosted with Cream Cheese Frosting, they must be refrigerated, so remove frosted cupcakes from the fridge about 15 minutes before serving. I've made these in advance and before frosting them, put them in the fridge in an air tight container with plastic wrap placed directly on the cupcakes and stored them for several days. I then frosted them the day they were to be served.
Published on by Dishin' With Di
Tagged: banana, bananas, best, butter, Cake, cheese, chocolate, chocolate cupcakes, Christmas, cocoa powder, cream, cream cheese, cupcake, cupcakes, demonstration, Desserts, Diane Kometa, Dishin With Di, easy, eggs, flour, from scratch, Frosting, fruit, Greek yogurt, Halloween, homemade, How To Make, Icing, quick, Recipe, sugar, Thanksgiving, tutorial, vanilla, video, yogurt, YouTube