Learn how to make an Easy Banana Chocolate Chip Muffins Recipe From Scratch!
This recipe produces a light and tender banana muffin, that is moist and delicious.  I make the muffin batter with vegetable oil instead of butter, use some brown sugar for added flavor and add chocolate chips to make this recipe a little more special than my other banana muffin recipes or banana bread recipes.  If you'd like to make this a more healthy banana muffins recipe, use a fat free, cholestrol free egg replacement product.
I hope you enjoy this easy Banana Chocolate Chip Muffins Recipe!  Get in the kitchen and give it a try!
If your a fan of banana and chocolate chips, you may also like my Banana Chocolate Cupcakes,  Chocolate Chip Pumpkin-Banana Muffins with Streusel Topping or my Chocolate Chocolate Chip Muffins (Double Chocolate Chip Muffins), also found on this site, along with more muffin and quick bread recipes.
What's your favorite Muffin Recipe?  Recipes with Bananas?  Leave me a comment! Go to this Recipe on YouTube or visit my Facebook Page! Let me know if there's something you'd like to see.
What you're craving could be my next recipe!
Watch The Video!
Learn How To Make Banana Chocolate Chip Muffins From Scratch!
Recipe by: Diane Kometa

Subscribe to Dishin' With Di's YouTube Channel for the latest recipes!
It's FREE!
Don't Miss An Episode!
Banana Chocolate Chip Muffins Recipe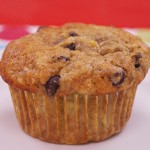 Prep time:
Cook time:
Total time:
Yield:

12

Difficulty:

easy

Recipe type:

Breakfast, Dessert, Snack
Ingredients:
1 ¾ cups all purpose flour – spooned into measuring cup and leveled not scooped

1 teaspoon ground cinnamon

1 teaspoon baking powder

½ tsp. baking soda

½ teaspoon salt

2/3 cup white granulated sugar

¼ cup light brown sugar

1 ½ cups very ripe mashed bananas – about 3 bananas

2 large eggs – room temperature

1/3 cup canola oil

2 Tablespoons milk – room temperature

1 teaspoon pure vanilla extract

1 cup semi sweet chocolate chips
Directions:
Preheat oven to 350 degrees F and place oven rack in center position. Line a standard muffin pan with 12 liners. Set aside.
Into a large bowl, sift together the flour, baking powder, baking soda, salt, cinnamon, white sugar and light brown sugar. Whisk together to be sure everything is thoroughly combined. Add the chocolate chips and mix to combine. Set aside.
In another bowl or large measuring cup, add the oil, eggs, vanilla and milk. Whisk to combine thoroughly. Add the mashed banana and mix through with a rubber spatula.
All at once pour the wet ingredients into the dry ingredients and gently fold together with a rubber spatula, just until combined and the flour disappears. Do not over mix. Over mixing will create dense, tough muffins.
Distribute the batter evenly into 12 muffin liners. The batter will come close to the top of the liner. Bake for about 20-25 minutes or until a tester inserted into the center of a muffin comes out clean or when a muffin is touched gently on the top, it springs back. Be careful when checking, as the tester can stick into a banana or chocolate chip and come out moist, but the muffin may be done. I baked mine for 23 minutes, using a dark pan. Allow muffins to cool in the pan for a few minutes, before removing. Light, moist, flavorful muffins that are perfect served warm! Enjoy! Recipe by: Diane Kometa
Note: Freeze leftover muffins on the day they are baked, in an airtight container or freezer bag. Reheat thawed muffins briefly in the oven or cut in half and pop in the toaster. Yum!
Published on by Dishin' With Di
Tagged: at home, bake, baking, banana bread muffins, banana muffins, bananas, best, bread, breads, breakfast, brown sugar, butter, canola oil, Chips, chocolate, chocolate chip, Christmas, cinnamon, cook, demonstration, Desserts, Diane Kometa, Dishin With Di, easy, eggs, flour, from scratch, homemade, How To Make, milk, moist, muffin, muffins, oil, Old Fashioned, quick, quick bread, Recipe, semi sweet chocolate, snack, sugar, Thanksgiving, tutorial, vanilla, vegetable oil, video, white, without, YouTube