Easy Healthy Oatmeal Breakfast Recipe! Banana Berry Oatmeal Smoothie! Low Fat, Nutritious Meal Idea! Quick & Simple! NO COOKING! Learn how to make this healthy oatmeal breakfast cereal recipe. Fresh strawberries, blueberries, bananas and rolled oats combined with honey and almond milk create this delicious oatmeal smoothie recipe. And it's vegan friendly!
Whether you're trying to lose weight or just looking for something delicious for breakfast, that happens to be packed with nutrition, fiber and is low in fat, this Banana Berry Oatmeal Smoothie Recipe has it! Delicious and Healthy!  Quick, nutritious meal idea for children and adults! Smoothies for breakfast are great when you're on the go and we all love a quick breakfast recipe! If you're trying to eat right, start the day right and keep this quick healthy oatmeal breakfast cereal smoothie recipe as part of a healthy diet.   I hope you enjoy this easy and healthy Banana Berry Oatmeal Smoothie Recipe!  It reminds me of an oatmeal cookie! You've gotta try it!
What's your favorite Oatmeal recipe?  Smoothie Recipe?  Leave me a comment! Go to this Recipe on YouTube or visit my Facebook Page! What you're craving could be my next recipe!
Watch The Video! Learn How To Make a Banana Berry Oatmeal Smoothie! Recipe by: Diane Kometa
Get updated when I release New Recipes!  It's Free! Do It! 
Don't Miss An Episode!
Banana Berry Oatmeal Smoothie Recipe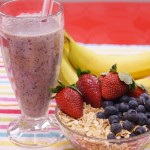 Prep time:
Cook time:
Total time:
Yield:

1

Difficulty:

easy

Recipe type:

Breakfast, Beverage, Drink, Snack
Ingredients:
¼ cup rolled oats

¼ cup blueberries

3-4 large strawberries

½ of a large banana

2/3 – 1 cup vanilla almond milk

1-2 tablespoons honey

Ice – If berries are frozen, you can skip
Directions:
Put everything into a blender and turn on low speed. Increase speed gradually to high and blend, until smooth and only very small pieces of oats remain. Pour into a tall glass and enjoy! Delicious!
Note: This can be made ahead, but he oats may absorb some of the liquid, so add additional milk or some water if needed. Enjoy! Recipe by: Diane Kometa
Published on by Dishin' With Di
Tagged: almond milk, banana, berry, best, beverage, blueberry, breakfast, cereal, demonstration, Desserts, Diane Kometa, diet, Dishin With Di, drink, easy, from scratch, healthy, homemade, How To Make, low fat, milk, milkshake, nutritious, oatmeal, oatmeal breakfast, oatmeal smoothie, oats, quick, quick oats, Recipe, shake, smoothie, smoothies, snack, strawberry, tutorial, vanilla, vegan, vegan recipe, vegetarian, video, YouTube