Learn How To Make Apple Pie From Scratch! Mom's Best Homemade Apple Pie Recipe with Pie Crust. Making pie dough by hand gives apple pie a light and crisp homemade crust and there's nothing like the smell of fresh apples baking in the oven in that lovely pastry! Making recipes with apples really gets me into the fall baking mode, especially when thinking about easy Thanksgiving desserts. Thanksgiving is not complete unless you make homemade apple pie, but apple pie is also the perfect addition to a 4th of July party menu.  It's a dessert that's welcome on the table anytime of year!  With homemade pie crust, fresh apples, apple pie spices (cinnamon & nutmeg) and homemade whipped cream or vanilla ice cream, you'll make the best apple pie ever! No canned apple pie filling with premade crust for you again!
Homemade Pie Crust Recipe -> Mom's Best Pie Crust Recipe 
It's so simple to make easy desserts with apples. I sometimes make apple crumble or apple crisp or an apple cobbler or apple strudel. I also have an old fashioned apple cake recipe, that is really good too! My Hub loves apple turnovers and apple tarts, but his favorite is this good old fashioned American apple pie recipe. If I don't want to make a whole pie, I'll make him some apple hand pies or mini apple pies, which are the perfect few bites to satisfy a craving.  Mmmm  I hope you enjoy this delicious and easy apple pie recipe, as much as we do!  Di
What's your favorite apple recipe?  Pie Recipes?  Leave me a Comment or Request a Recipe! Go to this Recipe on YouTube or my Facebook Page! What you're craving could be my next recipe!
Watch The Video!  Learn How To Make Apple Pie From Scratch!             Recipe by: Diane Kometa
Subscribe to Dishin' With Di's YouTube Channel for the latest recipes! It's FREE!
Don't Miss An Episode!
Apple Pie Recipe From Scratch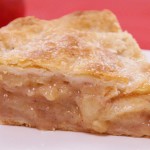 Prep time:
Cook time:
Total time:
Difficulty:

easy

Recipe type:

Dessert
Ingredients:
Pastry for a 9" double crust pie – prepared and chilled in fridge for at least 1 hour.

Try My Homemade Pie Crust Recipe -> Link above

¼ cup flour

¾ cup sugar

½ tsp. ground nutmeg

½ tsp ground cinnamon

1/8 tsp. salt

6 medium red delicious apples – washed, peeled and sliced thin

1 Macintosh apple – washed, peeled and sliced thin

Half a lemon – for the juice

2 Tbs. unsalted butter – cold – cut into small pieces

1-2 Tbs. cream or milk for top crust

1 Tbs. sugar for sprinkling

Note: If you'd like, get to my Pie Crust Recipe and watch the video demonstration on how to make the dough. I used my Deep Dish Crust in the video, even though this is not a deep dish pie recipe. I find it easier to make the crust for this pie when I have a little extra dough to work with.
Directions:
Remove dough for bottom crust from fridge and let stand at room temperature for about 10 minutes before rolling. If using prepared crust, follow instructions on the box. Roll bottom pie dough about 12 inches in diameter. Line pie plate and trim edges if necessary. Cover with plastic wrap and return to fridge, while you prepare the apples. It needs to chill at least 20 minutes.
Place oven rack in the center position. Turn oven on to 425 degrees F.
Peel, core and slice apples thinly placing them in a very large bowl as you go. After slicing a few apples, squeeze a little lemon juice over them and toss to coat to prevent browning. Continue until all sliced apples are in the bowl.
Remove dough top dough disk from fridge and set on counter.
Whisk together the sugar, flour, cinnamon, nutmeg, and salt in a bowl. Sprinkle about half of the mixture over the apples and toss gently to coat. Add the rest of the sugar mixture and toss apples gently to thoroughly coat. Set aside. Wipe hands before the next step.
Roll out top crust onto floured work surface to about 12 inches in diameter. The dough is getting warm at this point, so place it on a baking sheet or large cutting board lined with a piece of plastic wrap and pop it in the freezer for 5-10 minutes or the fridge for 15. If you skip this step the top crust will cook too fast and may also tear as you place it over the apples. Do not put apples into bottom crust until top crust is ready.
Carefully turn the apples into pie dough lined pie plate, arrange evenly mounding apples in the center. Dot the apples evenly all over with the pieces of butter. Wipe hands.
Carefully cover apples with top crust. Trim dough if necessary leaving about 1 inch overhang. Tuck edges of top crust under edges of bottom crust and pinch gently with fingertips. Crimp edges.
Brush the top crust lightly with cream or milk. Sprinkle with sugar. Make 5 slits near the center of the top crust to allow steam to escape. (See video)
Place pie on a baking sheet lined with foil. Place baking sheet on center rack of preheated oven. And bake for 40-50 minutes or until crust golden brown and filling begins to bubble through the slits. During last 20-30 minutes of baking, cover the edges of the crust with a pie protector or some foil to prevent over browning. You can also place a piece of foil over the whole top crust, if it appears to be browning too much during the last 10-15 minutes of baking.
Set pie on a rack to cool for at least 2 hours before cutting. Apple Pie Recipe by: Diane Kometa
Published on by Dishin' With Di
Tagged: American, apple, apples, baked, best, butter, Christmas, cinnamon, cream, Crust, deep dish, delicious, demonstration, Dessert, Desserts, Diane Kometa, Dishin With Di, dough, Easter, easy, Fall, flour, from scratch, fruit, homemade, How To Make, milk, Mom's, nutmeg, Old Fashioned, pastry, Pie, pie crust, quick, Recipe, red, shortening, Simple, Spring, sugar, Summer, Tart, Thanksgiving, tutorial, video, whole, Winter, YouTube